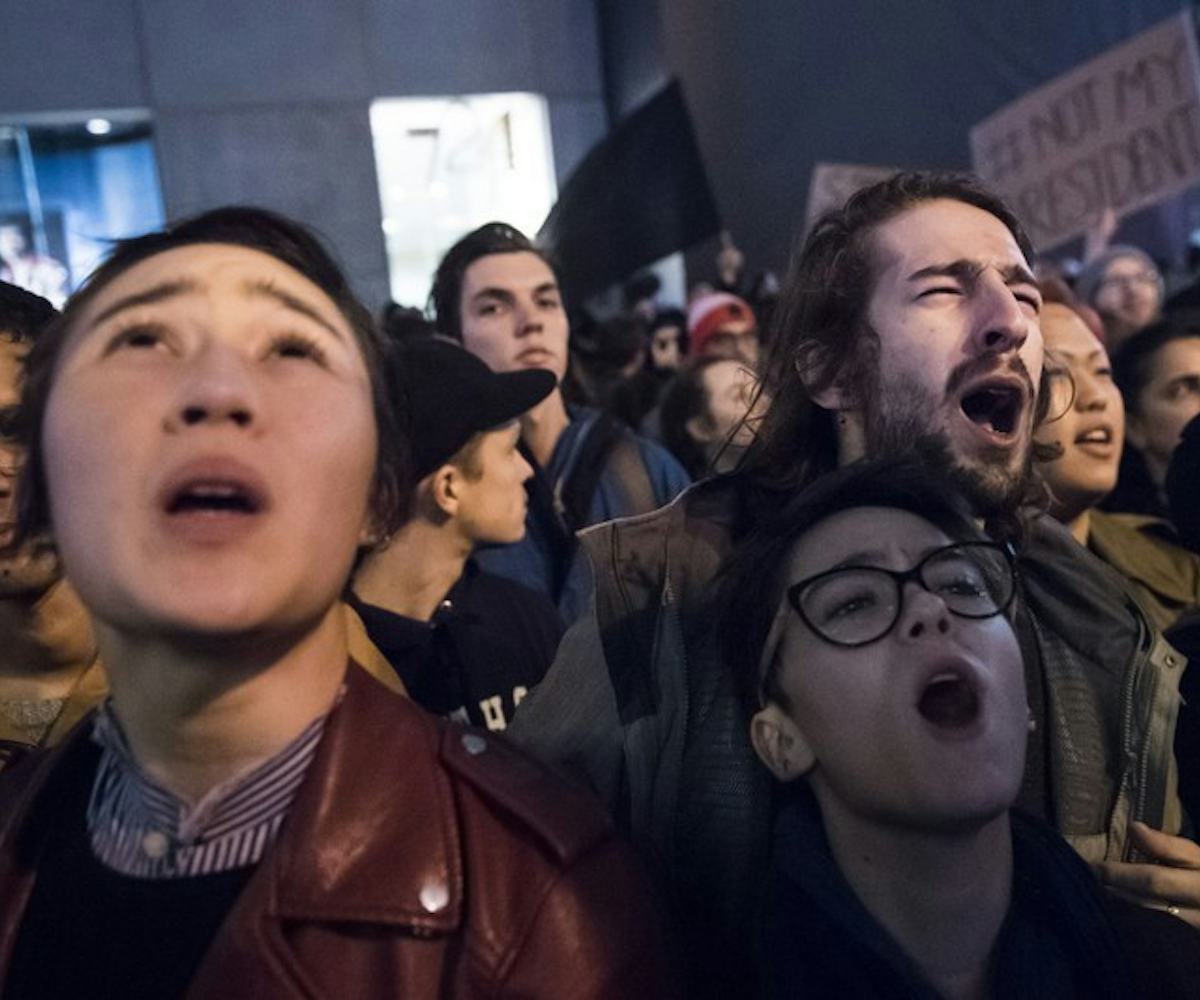 IMAGE: JABIN BOTSFORD/THE WASHINGTON POST VIA GETTY IMAGES BY TIM CHESTER
8@8: Your Morning Scoop
People are planning to collectively scream at the sky on the anniversary of Trump's election win
Today is...
National Pumpkin Day!
News of the Day:
+ College campuses nationwide often host "cathartic screams" during finals week for students to come together and release tension before exams. In Trump's America, everyone is tense all the time, not just coeds. Yoko Ono's reaction to Trump's election was to start a communal primal scream, and it appears that this tradition is being continued in cities around the country with events like "scream helplessly at the sky on the anniversary of the election." Boston, New York, and Seattle are the cities celebrating (or mourning?) so far, so be sure to RSVP on your favorite social platform or create a chapter in your city. There will likely be blizzards from so many "snowflakes" in one place at one time, so you should totally take a vacation day for this.
+ Once again, Paris Jackson has given us a new reason to love her. She recently showed off her new ink on Instagram, which takes the form of an alien face on the side of her breast. While not the most conventional choice of tattoo design or placement, it's unabashedly her, which is exactly what you want out of a tattoo. Here's hoping for a bomb red carpet outfit to formally show it off.
+ Every so often, Ray-Ban decides to bless us with a relaunch of its most iconic frames. This time, it's the Clubmasters, which is what every cool person wore in the '80s. If your parents didn't pass some down to you, you'll want to take advantage of this limited-edition revamp, but hurry, because there were only 650 pairs made. Run over to the website ASAP—they're only available until tomorrow, too!
+ Sour Patch Kids are now… hot? A new "Fire" Flavor of Sour Patch Kids will be gracing the shelves of bodegas soon, and we're kind of unsure how to feel about this foray into the world of spicy candies. Those (lucky?) few who got to sample these babies early are giving them wishy-washy reviews, and aren't really elaborating about what the flavor actually is. Guess we'll just have to try them when they're out.
+ Love Starbucks' famous bottled frappuccinos, but not the milk they're made with? You're not alone. Thankfully, starting in 2018, we'll be able to enjoy four new Starbucks bottled drinks made with almond milk instead. Almond milk frappuccinos will be available in both vanilla and mocha flavors, and there will also be two new Doubleshot Coffee Smoothies using almond milk as a dairy substitute. Keep in mind, though, that these drinks aren't completely vegan or dairy-free. You'll want to try one of each, though, if your diet allows.
Deal of the Day:
Everyone seems to have black luggage, which is equal parts boring and hard to find at baggage claim. Our favorite luggage brand Away has partnered with renowned photographer Gray Malin to bring some light to the conveyor belts of airports everywhere. This collab means new unique suitcase colors and interior linings that showcase Malin's aerial photographs. So, even if you're just going on a business trip, your hotel room will still have a killer view. There are three colors and four sizes, and they launch today for a limited run. Grab one while you can, here.
Advice of the Day:
"I like to choose compassion over judgment and curiosity over fear." —Tracee Ellis Ross
GIF of the Day: