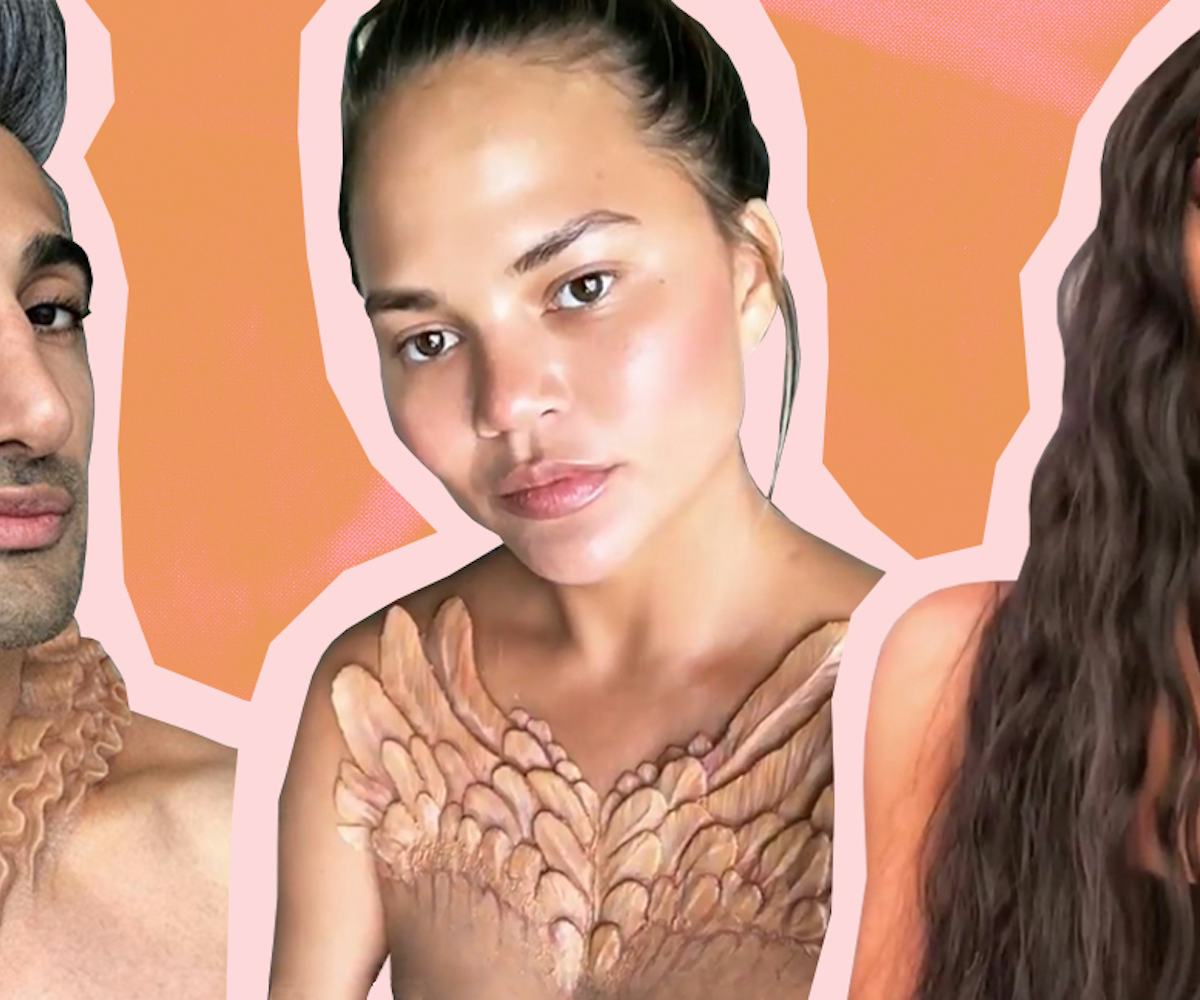 WTF Is This New Body Modification Fashion Brand?
We get some answers from the founder of A. Human
Kim Kardashian has recently been seen sporting a choker that moves to the rhythm of her heartbeat; Chrissy Teigen has a chest piece that looks like a set of wings; Queer Eye's Tan France has a neckpiece that looks like the tail of a dragon. These aren't some new filters, nor are the three starring in some upcoming sci-fi film. It's called fashion.
You have to have spent a lot of time on the internet to find yourself perpetually unimpressed, and I thought I'd reached that point. Little girl expertly spinning on two wheels of her toy Jeep? Child's play—literally. A song about Doja Cat being a cow going viral? Do you even internet? But when I started seeing fleshy-looking accessories attached to the bodies of celebrities, I was rendered speechless, but also curious. This wasn't your typical FitTea or Fashion Nova endorsement, this was… different and strange and I knew I didn't want any part of it, but also maybe I did. So I went directly to the source, which in this case is A. Human founder Simon Huck.
A. Human is "a fashion brand from the future where self-expression isn't defined by what you put on your body, but how you change your body," as per its website. Or, as Huck puts it, it's a "one-hour thrill ride that allows you to explore, interact, and engage in a futuristic retail store environment." The body modifications (which include the ones already posted on social media, along with "biological heels," horn shoulders, and a human heart) will be displayed in an interactive exhibit where interested attendees will experience "jaw-dropping sights, sounds, visuals, and theatrical surprises."
Guests will be able to try on the different accessories and, though they won't be able to buy anything just yet (the modifications are for spring/summer '19 and for display only), the brand will be taking pre-orders from interested customers. Though Huck says the company is "unable to disclose our installation methods," we imagine it requires a makeup artist's help of some kind to look realistic. As for price, that's being kept a secret, too, but Huck says it's "designed to be accessible and affordable to all." He also stresses that the pieces are "for everybody, regardless of age, gender, race, size, disability, or other traits."
Now that we have the what, we'll let Huck explain the why: "I wanted to create a futuristic experience with a fresh perspective," he tells us. "Most things sci-fi or future feel too dark or dystopian. Questioning the future of fashion or rather the future of self-expression allowed us to explore this in a way that's never been done before." He pulled inspiration from Nicola Formichetti (with whom he collaborated), Thierry Mugler, Iris van Herpen, and Alexander McQueen. Huck continues:
At A. Human, we believe that modifying your appearance shouldn't be limited to clothing, tattooing, and piercing, and that alterations to how the body functions shouldn't be made only for repair. We believe that everybody, at every stage of life, should have the freedom to make their own choices about how they look, feel, and experience the world. In a nutshell, our body modifications are designed to provoke curiosity and enable self‐expression.
And people are definitely curious. The brand has garnered up a lot of buzz so far, thanks in part to the celebrity endorsements (Kim is old friends with Huck, and Teigen is friends with Kim, and France, well, I'm not sure how he got involved but his almost two million Insta followers probably didn't hurt), but also due to how atypical it is. Which is the point! Fashion is supposed to shock and provoke! But, after thinking about it for a full 24 hours, I can't seem to figure out why anyone would want these faux flesh pieces to live on their real-life bodies, even temporarily. I have a hard time believing the next step after animal print shoes and bike shorts are horns sticking out of people's shoulders. It's not practical! But hey, I don't understand a lot about why fashion people do the things they do, and I'll be the first to eat my words once I see someone with an exposed heart attached to their chest sitting front row. Until then, I'll stay skeptical.
For the non-skeptics among us, A. Human will be on display from September 5 through 30 at 48 Mercer Street in New York City. Tickets cost $40 and are available here. Huck promises it will be like a "Disney World for adults," and, who knows, you might just see Kim or Teigen walking around with a new set of wings or... something.