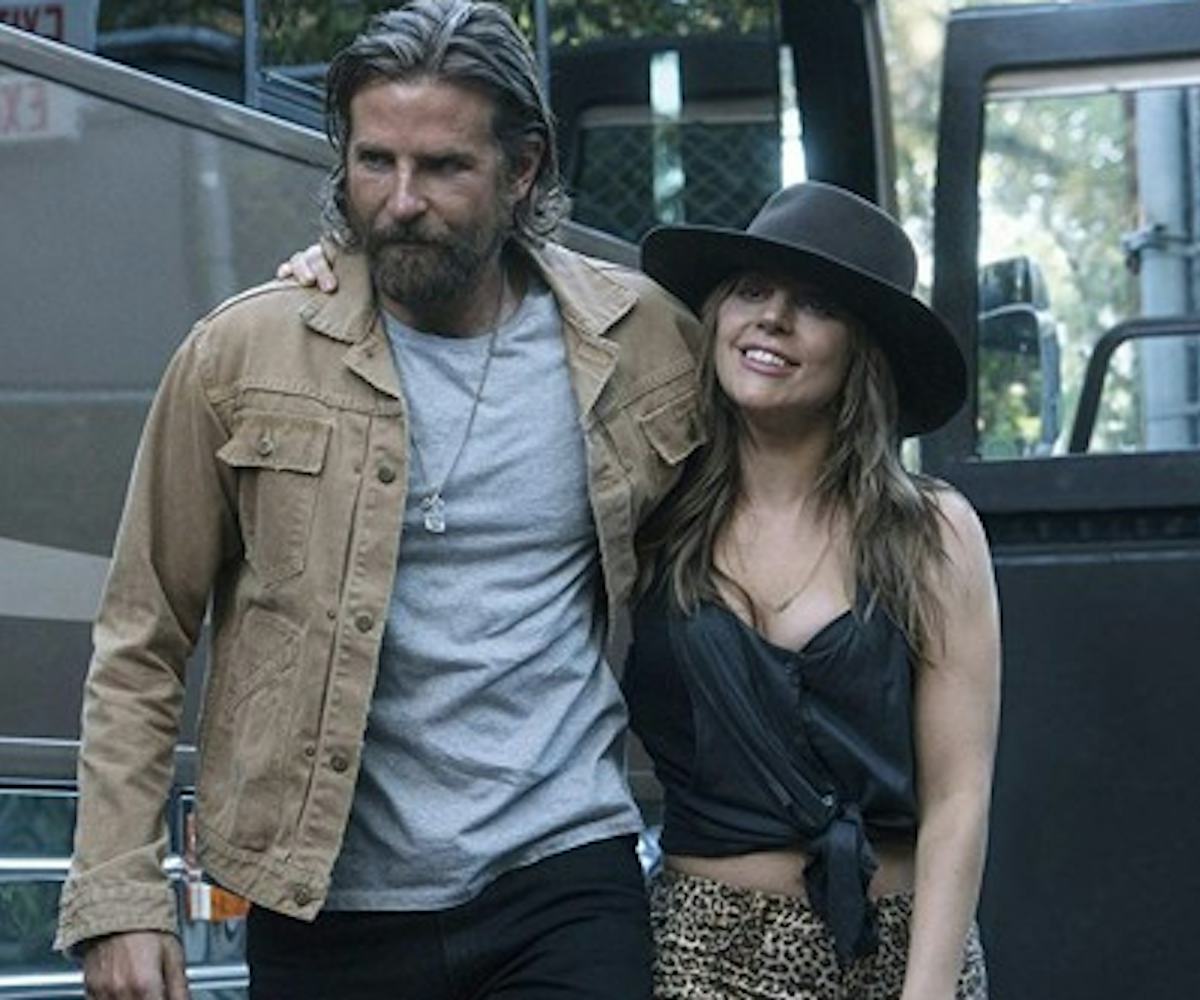 Photo Via Warner Brothers.
'A Star Is Born' And The Unfair Burden Placed On Women In Toxic Relationships
It's the same partner who's always to blame
Spoilers for A Star Is Born ahead.
By now, you've likely heard about Bradley Cooper's remake of A Star Is Born, starring Cooper and Lady Gaga. This is the fourth retelling of this particular story, and the original premise is one centered around the relationship between a fading star and a rising talent; it's a narrative that normalizes toxic relationships and perpetuates the notion that a woman is somehow responsible for the personal and professional well-being of her grown male partner. And while the 2018 version works within these problematic confines, it is a different, more self-aware version of this story, one that attempts to shift the burden of responsibility back onto the man.
Cooper's version tells the story of an aging rockstar named Jackson Maine, who discovers a young songwriter named Ally (Gaga, of course) while she's singing at a drag bar. The two immediately embark upon a whirlwind creative and romantic partnership that eventually skyrockets Ally to fame. However, as her career flourishes, Jackson begins to grapple with both his own professional spiral into irrelevance and worsening addiction problems, which threaten to derail Ally's burgeoning stardom in the process. 
This foundational premise—that for a woman to thrive, a man must fail—is emblematic of the way in which we often put the responsibility for a man's personal struggles onto the women closest to them, as can be seen in the way in which, recently, Ariana Grande was blamed by fans for the death of Mac Miller.It's no secret that women have long been forced to carry the burden of relationships, whether by answering for their partners' mistakes or picking up the pieces of their shattered egos. But there's no need to continue to use art to glorify toxic relationships in which a woman is saddled with her partner's addiction. Shouldering the struggles of those you love—even if it derails your own trajectory—is something women are continually told to do, but it's a horrible message to be broadcasting from a cultural platform—and it's one Cooper actively sought to avoid. As Taffy Brodesser-Akner noted in herNew York Times profile of Cooper, he worked to make it clear that Jackson is an "agent of his own ruin," and that while his addiction and spurts of jealousy obviously affect Ally, the onus is clearly placed upon him whenever he does screw up—as it should be. Unlike in previous versions of this type of narrative, Ally's rise isn't directly correlated to Jackson's fall—and perhaps that's why 2018's A Star Is Born is such a step in the right direction.
Cooper's willingness to openly acknowledge that this isn't merely a story about how a woman led to a man's ruin, or how she could have done more to save him. Instead, it emphasizes the way in which an already damaged man can accelerate his own demise. Most importantly, the film forces Jackson to take responsibility for his own actions and reaffirms that it wasn't Ally's job to save or fix him. At a time in which we're addressing double standards in relationships and sexist misplacements of blame, A Star Is Born is an essential part of the larger discussion surrounding the responsibilities of women toward men, and vice versa.
A Star Is Born is in theaters now.