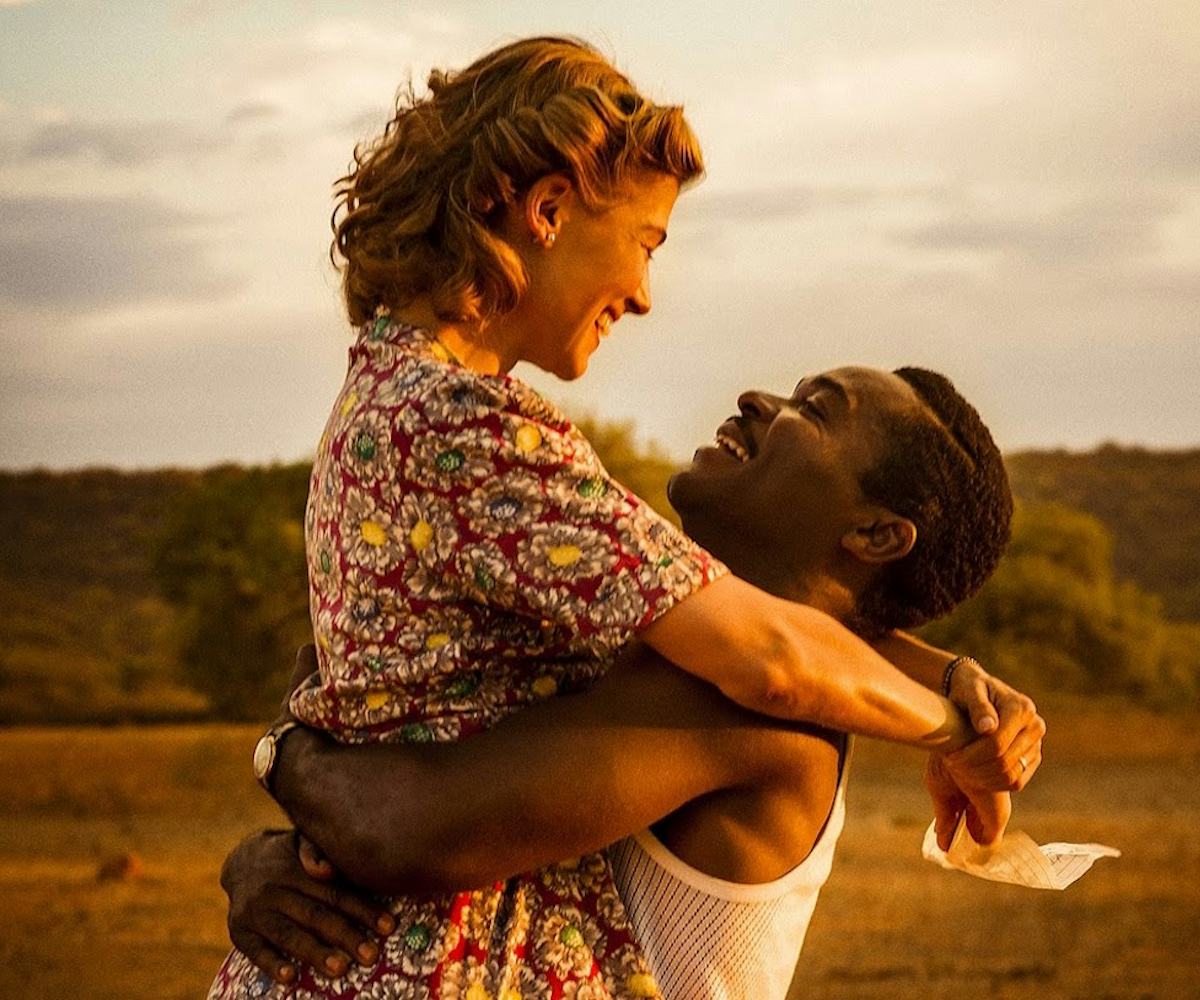 Photo via Fox Searchlight Pictures
'A United Kingdom' Tackles Race, Politics, And Love
The film premieres on February 17
Director Amma Asante hit it big in 2013 with Belle, her period drama about a mixed-race woman fighting for her place among the aristocracy in 18th-century England. Her follow-up, A United Kingdom, is another gorgeously mounted story that succeeds at being both educational and urgent. Asante opens the film with office worker Ruth Williams (Rosamund Pike) and dashing flirt Seretse Khama (David Oyelowo) meeting cute at a missionary dance in London circa the late 1940s. As played by Pike and Oyelowo, the pair's chemistry crackles, a match of both intellect and good looks.
Of course, their union doesn't jibe with Williams's upper-crusty parents, despite the fact that their daughter's suitor is in fact a prince of Bechuanaland (then a British protectorate, now the republic of Botswana). They only see color (her father goes so far as to disown her), as do the people of his colony, who are horrified when he returns to his homeland, freshly married with his blonde bride in tow.
More dangerous than his citizens, however, are the colonial authorities, led by Alistair Canning (a smarmy Jack Davenport), who'll stop at seemingly nothing to break up the happy couple in a bid to not offend apartheid South Africa, which shares a border.
Ruth and Seretse's plight is undeniably harrowing: For a long stretch of the film, they're forced apart, with Seretse exiled off to London, while Ruth is forced to remain in Africa. 
Even as A United Kingdom veers into geopolitical territory, with Seretse going up against Labour prime minister Clement Attlee, who's stridently loyal to South Africa, Asante wisely keeps the emotional stakes as her main point of focus. She's a deft juggler of multiple threads—but no matter how vast the narrative, her characters come first.
As Ruth, Pike delivers a performance in sharp contrast to her cold and calculated Oscar-nominated work in Gone Girl. A United Kingdom proves she can play warm and resilient just as expertly. Oyelowo matches her in their tender scenes together, and is bracingly forceful when the story calls for it, in a way that recalls his towering performance as Martin Luther King Jr. in Selma. Together they root Ruth and Seretse's battle in wholly sincere terms that strike a universal chord.