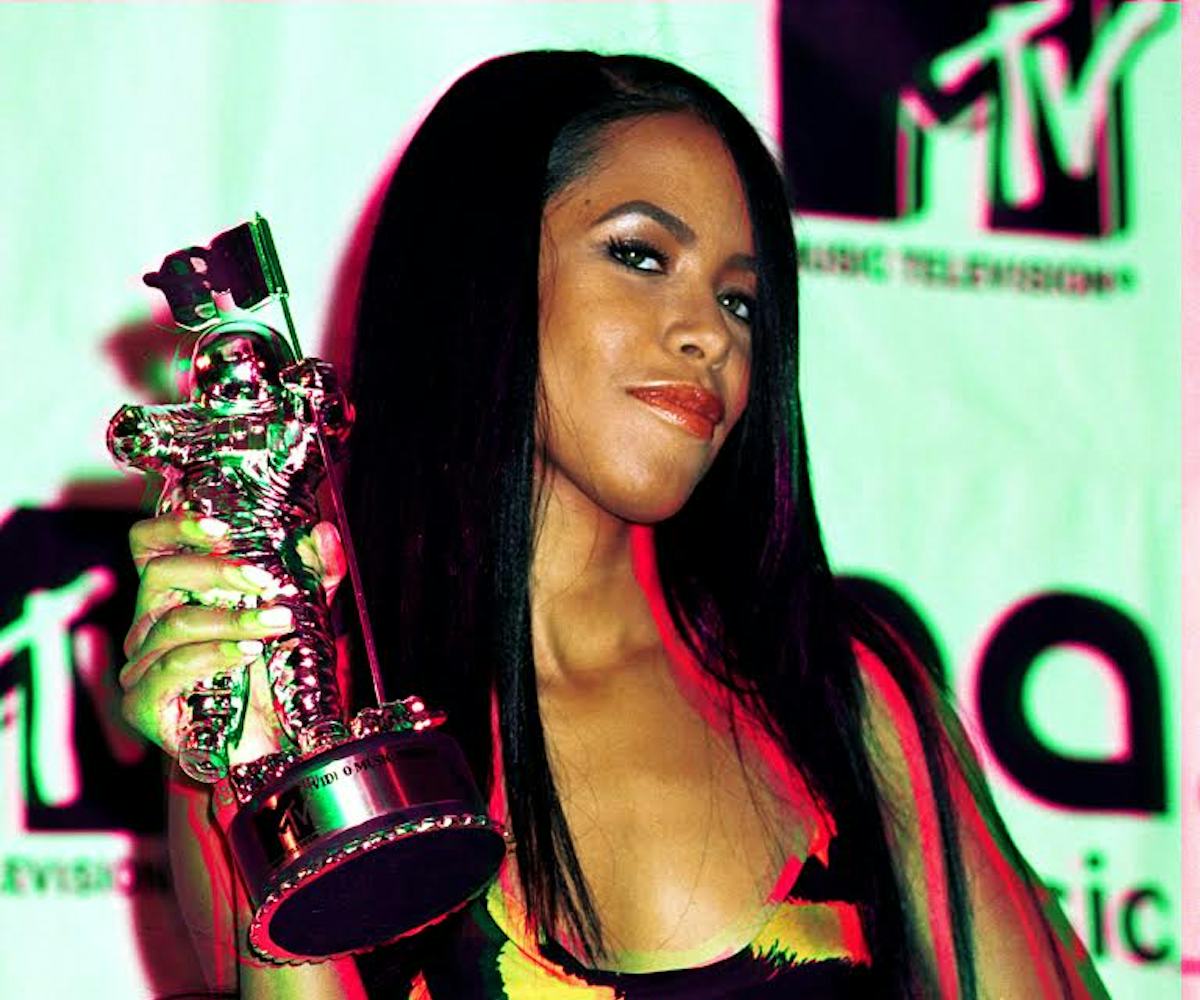 Photo by George De Sota / Getty Images
15 Years After Her Death, 9 Artists Remember Aaliyah
"Without Aaliyah there would be no me"
Fifteen years ago today, the music world lost one of its most magnetic stars when a plane carrying Aaliyah and eight others—the pilot and seven members of her inner circle—crashed shortly after taking off in the Bahamas. She was only 22 at the time.
While it's devastating that Aaliyah left us so soon, it's remarkable to think of all she contributed while here. Her sophomore album, One in a Million, is a benchmark for any genre, not just R&B, and her collaborations with Timbaland and Missy Elliott set the standard for combining pop music with avant-garde flourishes. Here, nine musicians reflect on what Aaliyah meant to them.
JoJo
Aaliyah was the flyest. Her style, her voice, her presence was sexy, yet street, yet sweet. I hoped that when I got older, I could be half as effortlessly cool as her. I was signed to the label her uncle started for her, Blackground Records, so even though she had passed by the time I signed, I always felt connected to her in a way. Her pictures and plaques were all over the office, and I was there so much during my 12- and 13-year-old days. Knowing that she came out and dominated the charts the way she did at 14 gave us all the hope that I could do the same at 13, years later.
Ty Dolla $ign
Aaliyah is one of my favorite artists. One In A Million is one of my favorite albums ever. I can't wait until there is another artist who is remotely close to the type of artist Aaliyah was because I don't think we've seen it yet.
Sevyn Streeter
Without Aaliyah, there would be no me! She inspired my generation, from the way we dress to the way we carry ourselves. She was cool, fly and everything she did appeared effortless. She made it cool to go from sexy to tomboy chic. We looked up to her like she was our cool big sister. Her music is a whole different beast—always innovative and relatable. Forever one of my biggest inspirations. 
Skylar Grey
Aaliyah was an influence not just in her music but in her style. She wasn't afraid to play with androgynous fashion or be a tomboy. She was tough and cool, and I was definitely influenced by that.
Rockie Fresh
Aaliyah inspired me a lot as an artist. She taught me a lot about how women think when I was younger trying to figure out these women. As an artist, she also showed that you can take it beyond the music. I was really inspired by her acting career, too.
Naomi from Prinze George
Aaliyah was the ultimate cool girl triple threat. She had a beautiful voice, she could dance, and she was a good actress. She made excellent music that we still listen to, but she also represents a time when mainstream radio music was more sophisticated. Her hits stand the test of time because so much quality songwriting went into crafting them.
WILLS
Sometimes I tell myself there is a "pure" version of Aaliyah. I don't believe in "purity," but I still do this exercise where I imagine a teenage black girl who dresses in baggy, gender non-conforming clothes and sings intuitive melodies that straddle the saintly and the sinnerly. In her complexity, she feels pure to me. That is the Aaliyah I feel inspired by as a musician because she reminds me that music is not magical or mystical, it's just a space to voice your personal truth. Then there's the posthumously blog-constructed Aaliyah. That "blog Aaliyah" feels less pure and I have a hard time buying in. That Aaliyah scares me because she reminds me how black youth is insidiously marketed, capitalized, and only retains value if it doesn't age or dies prematurely. It reminds me of Whitney, Nina Simone, and Lauryn Hill, complex black girls who the world stopped supporting upon maturation. Either way, for better or worse, the universe chose Aaliyah to tell this story. Even in her absence, she continues to do so.
Kevin Garrett
For someone to have the impact Aaliyah did in such a short time and at such a young age, and for it to carry posthumously the way it has, is inspiring, and really puts an emphasis on the strength of a song. "We Need A Resolution" is a song I've revisited in certain situations, that acts as a nice source of melodic influence. She's a legend and helped pave the way for a lot of artists, especially female singers.
Imad Royal
There's so much I can say about Aaliyah's legacy. Her music was nothing short of iconic, genre-bending, and honest. What she built with Timbaland and Missy will go down in history as a very important era in music.