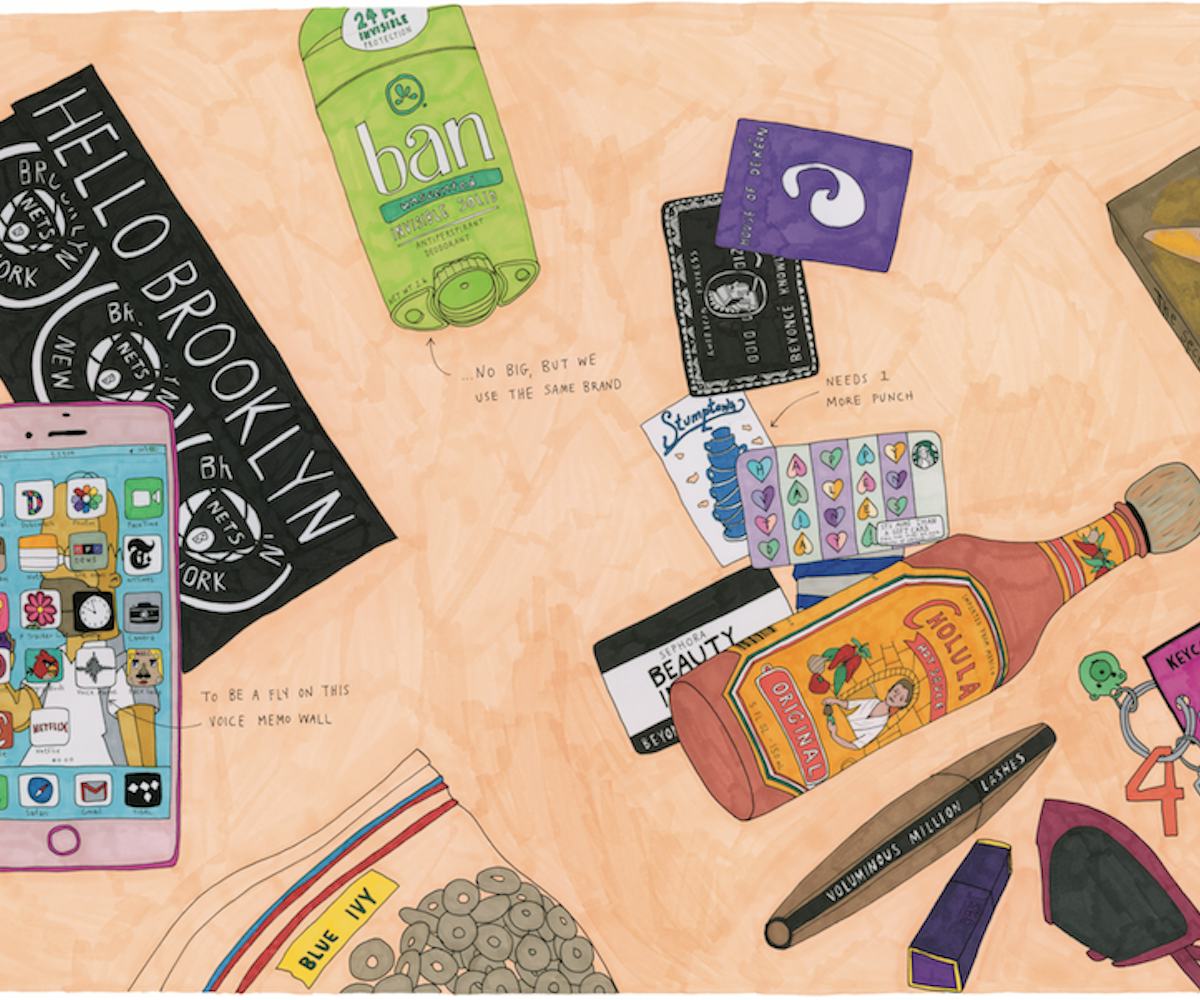 image courtesy of Viking
Look Inside Beyoncé's Bag Thanks To Abbi Jacobson's New Book
Is there anything more instantly revealing about a person than a look inside their bag? It feels, in effect, like an unadulterated glimpse straight into a person's mind, proof positive that the eyes aren't a window into a person's soul, their battered NPR tote bag is. Okay, so maybe we're being a bit dramatic, but who among us doesn't love the Us Weekly What's in My Bag feature? Nobody among us. We all love it.
All of which is to say, we were pretty excited about the release of creator and star of Broad City Abbi Jacobson's new book. Titled Carry This Book, it offers peeks into the bags of the kind of people—both real and fictional—whose lives we want to know all about. Jacobson, whose Broad City alter ego is an artist, illustrated the imagined interiors of the bags of everyone from Janis Joplin and Leslie Knope to Steve Jobs by employing a combination of on-the-record facts (e.g. Joplin drank Southern Comfort and smoked Marlboros, thus both items are in her bag) and calculated assumptions (e.g. Jobs was once quoted saying "stay hungry, stay foolish," so his bag has lots of super sour Warhead candies because those are super foolish to eat if you're super hungry).
For fans of Broad City, the book's irreverent humor and brightly colored palette will be instantly familiar and wildly welcoming—especially since Jacobson's character Abbi, as well as co-creator and co-star Ilana Glazer's character, Ilana, are represented in the pages. As an added fun part of the book, none of its spreads are clearly labeled, so it usually takes a second or two for readers to determine just whose bag is being represented (there's an index in the back of the book and plenty of easily discernible clues on the pages themselves, though), making the guessing of just who exactly is playing Candy Crush on their Blackberry part of the book's enjoyment. (Hint: We're hoping she breaks this country's biggest glass ceiling in a few days from now.) 
To check out a few of Carry This Book's spreads, click through the slideshow below. 
Kanye sure does travel light, doesn't he?
So. Much. Cash. (Do we think Oprah uses it as, like, toilet paper? We'd get it if she did.)
Of course, Bey knows that Cholula is the best. OF COURSE SHE DOES.