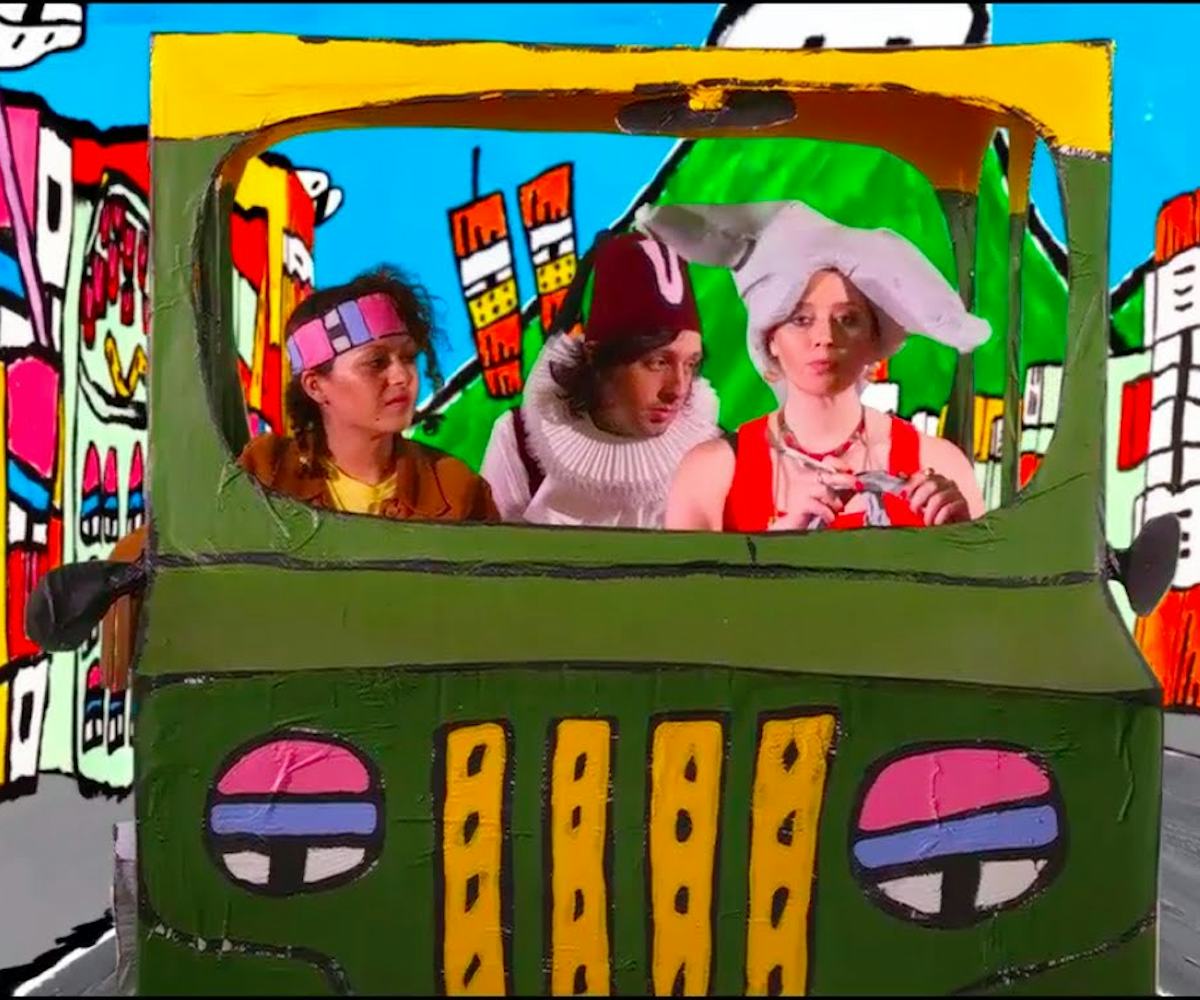 Adam Green On 'Aladdin,' Macaulay Culkin, And Making New York Fun Again
"It had the spirit of a summer camp"
Subverting the age-old Arabian (and then Disney) classic
Aladdin
, Adam Green has scripted, directed, scored, and starred in its most far-out, ketamine-imbued interpretation to date. Aptly titled 
Adam Green's Aladdin, 
the remake, from the former Moldy Peaches member, is staged entirely within a campy paper-mache set, handmade by Green, with an eclectic cast that ranges from film vets, like his BFF Macaulay Culkin, Natasha Lyonne, and Alia Shawkat, to musicians, like MGMT's Andrew VanWyngarden and Har Mar Superstar. 
The 82-minute film, which opens April 7 at 
, narrates a world where Aladdin is a burnt-out musician (haphazardly spending 30,000 "space bucks" on cocaine) who happens upon a magic 3-D printing lamp in the wreckage of an alien spacecraft. With a redneck Zoë Kravitz mindlessly asking for a printed asparagus chair and an entitled Princess Bip Ling demanding printed ecstasy, Green's unusual art project makes colorful commentary on overconsumption and privacy—themes outlined by a radical rebel group and tyrannical Sultan. We caught up with Green to learn more about the four-year process behind his hyper-sensory, deeply personal, and very independent creation. 
The DIY sets in this film are remarkable. Tell me about the process behind making these. 
Everything is made out of paper-mache; there are like 30 rooms and somewhere near 500 unique props that were made for the film. It took four years to make, from when I started writing the script to now. I've been doing paper-mache sculptures for years in art shows, and my wife Yasmin Green, who produced the movie, was like, "You should make the whole movie look like your drawings." Paper-mache is this really inaccurate medium in the sense that it dries in crazy, unpredictable ways—warped and expressive. That's how the line style I draw in looks, anyways, so when I was painting black lines on paper-mache sculptures, they looked like my drawings. 
How does this affect the film? 
So many films are in documentary style and trying to represent realism. It's almost like my movie is anti-reality in the sense that everything is handmade. 
That sounds like a massive undertaking. 
I had a ton of help—a lot of volunteers from New York: people that had worked on indie films, people that had been to art school, and people that came to help from the Internet. It had the spirit of a summer camp [because] the whole movie was shot during the summer in this hot warehouse in Red Hook, Brooklyn. It wasn't near a train, so anytime people got there, they'd have to stay and hang out. I was offering people, over the summer, the opportunity to step into a real-life cartoon for a while and act in it. There was a sense of community, and I feel like this was my own attempt to make New York fun again. 
You've recruited a very diverse cast. How did you decide who to bring on board? 
Being a musician and coming on here as a director, I had a unique group of people that I could call upon to be in the movie. Actors and musicians like to hang out with each other—they always have, so I saw 
Aladdin
as a movie where they could be in scenes together. For example, a scene could be Zoë Kravitz acting with Har Mar Superstar and Bip Ling. The more professional actors, like Macaulay Culkin and Natasha Lyonne, were really excellent and you can tell the difference, but I like that. It's all intuitive and I was casting who I knew. I didn't have a casting director and wasn't able to pay people. 
Bip Ling, the voice behind 
plays the princess. Why was she the right fit? 
I was looking at 
Aladdin
through modern eyes and when I interpreted the Princess, I thought she could be a Kardashian-type person. I went through a bunch of indie actors in my mind but ultimately landed on Bip Ling. I met her when I was doing a DJ gig in Rome and she has this crazy decadent life, where she's getting photographed all the time with this amazing Internet persona. The princess in my 
Aladdin
is also on a reality show and a bit of a rebel punk. This is Bip Ling's first acting gig, but it's undeniable when you see her on-screen that, holy shit, she's the princess in 
Aladdin
. 
Macaulay Culkin also appeared in your 2011 film, The Wrong Ferrari. Why do you like working with him? 
Macaulay Culkin is on another level. He's one of those charismatic people that captured the heart of America at a young age. He's an icon in a very special way, where I think that people feel very close to him even though they don't know him. He's distinctly American—an American icon in a way that's thoughtful, intelligent, subversive, and cool. 
What about the original Aladdin attracted you to rewrite it? 
I was drawn to the story because, on one hand, it felt like a materialistic fairytale, where you could acquire unlimited wealth for free. But on the other hand, it was kind of about how love is more important than that. I was thinking about contemporary planetary things that are happening, like overproduction, so I came up with the idea that the lamp would be a 3-D printer. If we had a 3-D printer that printed out an analog version of the Internet, would there be room for all the crap people would print out? 
How did you subvert the Sultan in your interpretation? 
I was thinking about the idea of privacy, and the Sultan in my Aladdin is very technology obsessed in the sense of surveillance. He incriminates people based on surveillance and puts them in jail for life in a tyrannical way. I think people forget that we value privacy, but it's something that's thrown out the window all the time. I wanted to go down and say, "I think we do value it, even though it's invisible and hard to constantly remind everyone of." 
This is a very interdisciplinary project for you. Tell me about the full new album you recorded for your Aladdin. 
The lines I wrote are active inside of my drawings and sculptures, and then the music you're hearing is music I made. A movie is a great opportunity to combine elements and make complete artwork. For the album, my idea was to make it psychedelic and bubblegum. Everyone in
Aladdin
is wearing bell bottoms throughout the whole movie, so I wanted to make my album sound like bell bottoms. 
is about Aladdin and the Princess' dysfunctional relationship. To write it, I was remembering about a bunch of different embarrassing experiences and messed up relationships. Everything was coming out like a Jack in the Box, punching me in the face. 
is a song about being incredibly promiscuous. 
You've said you wrote the movie script like you write lyrics. What's this process like?
I put my phone on airplane mode and let myself write for a two-hour period: a mixture of memory, free associations, poems, song lyrics—a long scroll of thoughts. I usually don't look at it until a few days later and then go in to pick out different parts. Sometimes I'll leave scraps of paper or index cards around my studio and end up with 30 different ideas. I'll put them on the floor and see if there are any connections. When I was writing 
Aladdin
, I'd group my ideas into characters, but it's all based on my subconscious. I assigned my subconscious the task of rewriting 
Aladdin
in accordance to my own life.