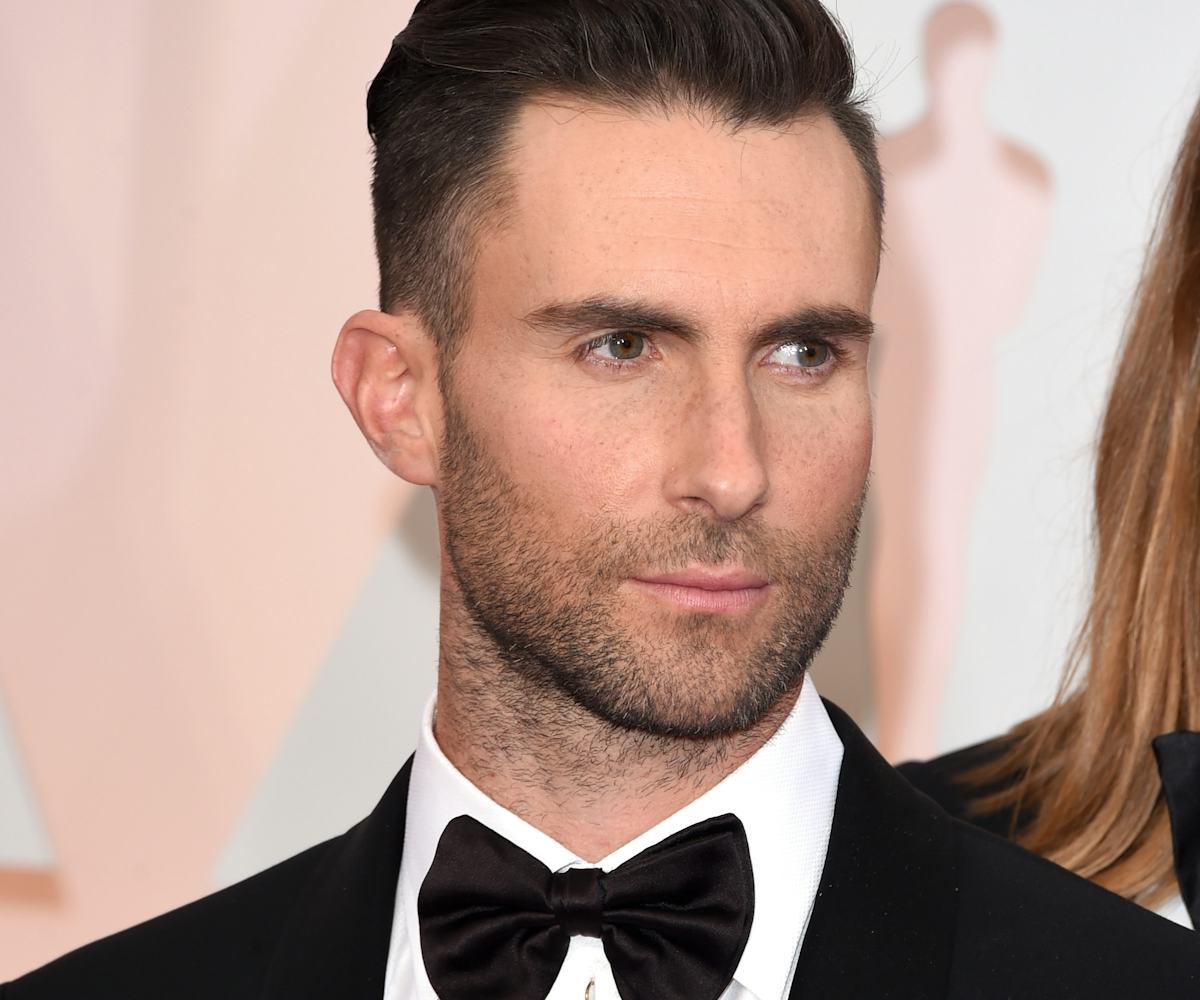 Photo by Jason Merritt / Getty images
There's Something Very Sketchy About Adam Levine's New TV Show
Since joining NBC's The Voice as a judge, Adam Levine's career has gone nuclear (somewhat like his hair here), so it's no surprise that he's looking to extend his reach in the realm of reality television. But before the first episode of his new show Songland has even aired, the Maroon 5 front man is already under fire. According to entertainment lawyer Wallace E. J. Collins III, the songwriters who participate in Levine's songwriting competition must sign what he calls, "one of the most onerous such television contest submission agreements I have encountered." 
Essentially the agreement states that all participants must cede full control of their songwriting catalogue to NBC/Universal, who then reserves the right to use the songs in whatever manner they see fit. What seems most egregious, however, is the stipulation that you have to give up control of your song "even if you do not get selected to be on the Songland TV show.' In other words, whatever song you use to audition, automatically becomes property of NBC/Universal, whether you make the show or not. 
Meanwhile, the show's website claims that contestants who audition for the show, have no obligation to sign over "any portion of the copyrights" to their material, but if they make the show, they'll have to "enter into further agreements or sign other documents."
Levine, who is executive producing Songland, likely had little to no involvement when the contracts were being drawn up, so it's unfair to accuse him of any wrongdoing or sinister intentions. Nevertheless, for someone who was once a struggling singer/songwriter himself, news of his show's sketchy infrastructure will hopefully cause him to spring into action. 
Update: Songland producer—and industry legend—Dave Stewart has responded to our tweet for this post (and the world at large) with this:
Through the link, you can read a point-by-point refutation of almost all the concerns brought up by Collins. The thoroughness here is impressive and appreciated. Overall, it's worth a read and proves that, if nothing else, those behind Songland are not only aware of the criticisms, but will most likely actively avoid the sort of entanglements and practices Collins proposed. That is to say, even if the contracts as first drafted were unfair (something Stewart denies), a light has been shed on the process such that the show is now in a position to offer artists security going forward. While only time will show whether or not things work out for the best, we've become rather optimistic all of a sudden.