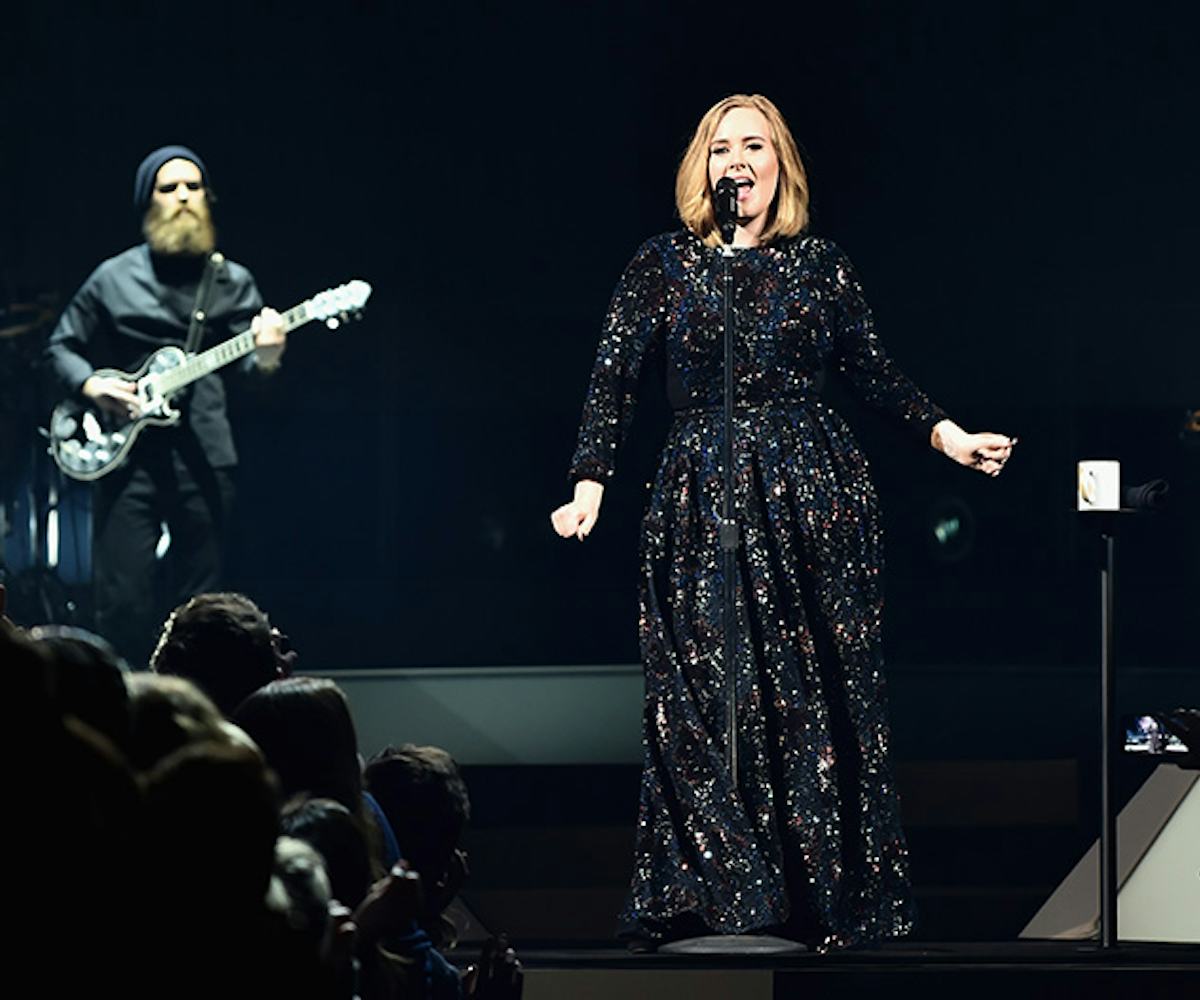 Photo by Gareth Cattermole/Getty Images.
Adele Kicked Off Her World Tour With A Proposal
decked out in bespoke burberry, of course
Last night, Adele kicked off her world tour in Belfast, Ireland. Decked out in a sparkling sequin custom gown by Burberry, she dazzled her audience—and even initiated a proposal.
In honor of the Leap Day tradition, where women propose to men, Adele decided to ask her 11,000-person audience if anyone needed help. One fan, Neil, who traveled from Essex, England to see her perform, was the lucky winner.
His girlfriend, who joined Adele on stage, revealed that she had already asked him that morning and that he responded with a "maybe." While he still seemed hesitant at the concert, Adele clearly would not stand for anything but "yes," leading the crowd to chant, "Come on Neil!" She also warned him by telling him, "I've got cameras all around here. I'm making a DVD. I'm going to make you the front cover if you don't do it." Neil finally said "yes," of course, because who would want to be on Adele's bad side? The singer jumped with excitement at his response. Check out the video below (the proposal begins around 2:20):
We expect to hear about a lot more candid moments from the remaining 99 concerts—and expect to see many more gorgeous dresses. Christopher Bailey, the CEO and chief creative officer of Burberry, who is responsible for designing the sequin stunner from last night, announced that the brand will be dressing her exclusively for her 100-date tour. That's a lot of Burberry.  
To make things even better, Burberry also posted a sketch to their Instagram of the amazing dress she wore last night. We can't wait to see what they come up with next.