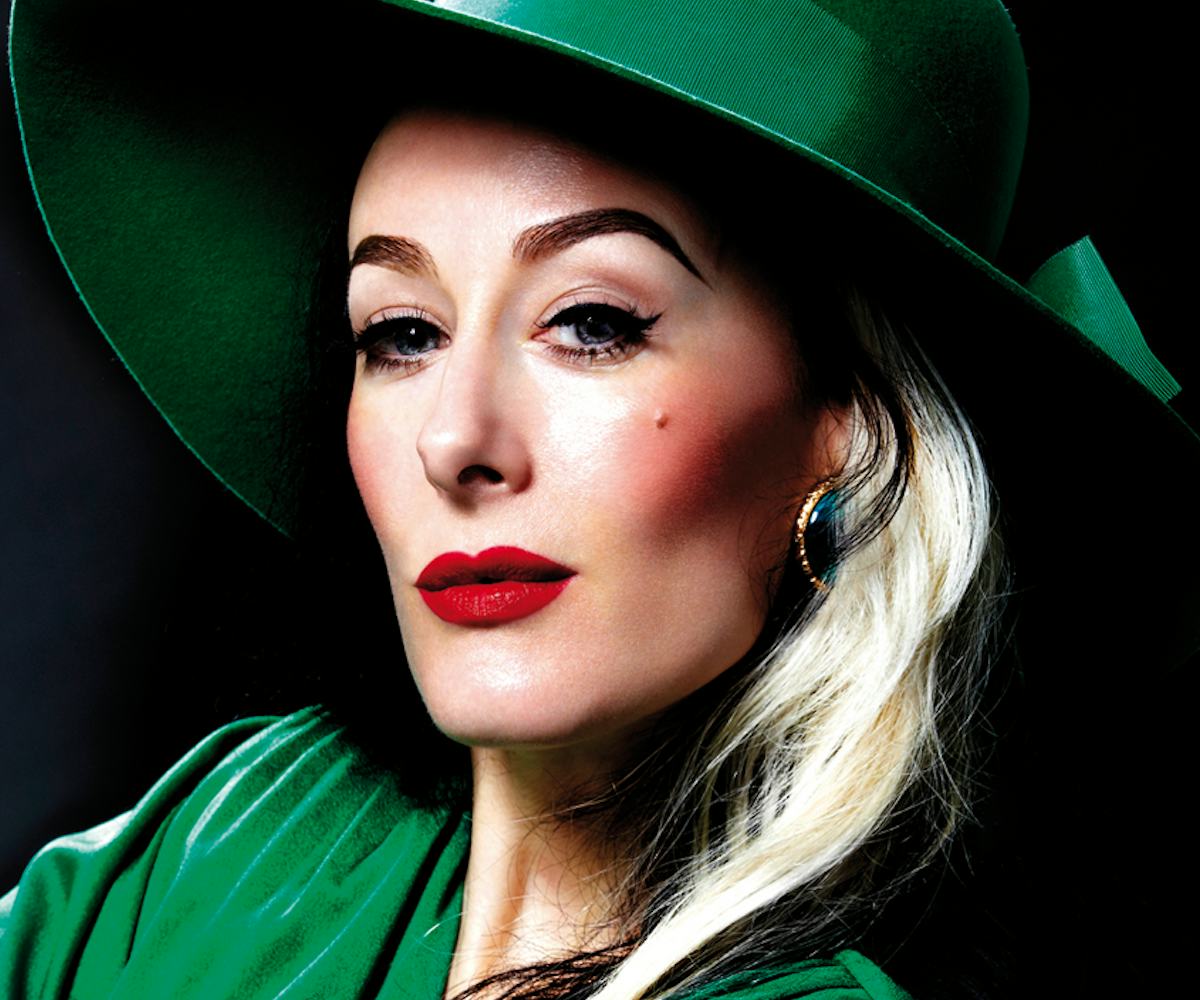 the insider: alex box
Illamasqua's mastermind shares with us her must-have products.
Alex Box, the Creative Director and makeup mastermind behind cult beauty brand Illamasqua, stands before me with Cruella de Vil dyed locks (one half is black, one half is white), wearing a red silk kimono dress, and a bright red lipstick to match. Basically, she looks insanely cool. But turns out, she's got the skills to back it up; Box, the chosen makeup artist for designers like Karl Lagerfeld, Alexander McQueen, and Vivienne Westwood and starlets like Lady Gaga and Kate Moss (maybe you've heard of them?), is visiting New York City for the first time in two years to celebrate the launch of the Illamasqua counter at Bloomingdale's on 59th Street. I had the honor to speak with her about the brand, the importance of taking risks with your makeup, the products you need to have, and why PJ Harvey and Paris Hilton serve as surprising inspiration.
Did you ever think that Illamasqua would get to this point--you know, landing in Bloomingdale's and having such a major following?
From the beginning we wanted it to be--I wanted it to be--a palette of potential. The idea that you could have a brand that wasn't just so elitist that there was only one of them in the world and you had to make a pilgrimage; that it would be in the high street and it would be somewhere that people could go to experience really professional color and a sense of identity, a sense of creativity, something that was just as exciting to a club kid as it would be to my mum. On a day-to-day basis you feel like a million different people, a million different things; one day you might want to be like a vamp and the next day you might want to look coquettish and like you've got no makeup on, and instead of shying away from that you need to embrace that. I think our counters are a place where people have found themselves, and lost themselves, and I think that because of that, that's what's built. That's where we are now, because everywhere needs that--everywhere needs a counter that is a specific thing or a go-to older brand, but they also need an Illamasqua.
The brand has so many crazy shades, like yellow or blue lipstick. What's your advice for becoming more adventurous with your makeup?
I personally think that a big change for someone can be just texture. A big leap for someone can be shiny [lipstick] instead of matte; it doesn't have to be full-on color. It could be, 'OK, I'm very used to being matte and I want to wear highlighter but I don't want to look like I'm wearing drag or something.' So I think a really good entry point is to come and try our skin base. People overlook things like our foundations when the drive towards something quite adventurous with color. You might not have had the confidence to try color because you've not felt that your skin looks fine. The entry point for me, for anyone that's never tried Illamasqua, is our Hydra Veil and our Skin Base.
What other Illamasqua products do you love?
Box red lipstick, obviously, because it's my signature lipstick but also totally selfishly I made it for myself. I'm always ordering red lipstick and I wanted to wear a really true, blue red and it's been our bestseller and I'm really proud of that. Our loose pigment Furore, which I literally put on everything because it balances the skin and it just looks incredible, and Heroine eye shadow, which I use to contour everything.
Who are your beauty icons?
I was talking earlier about PJ Harvey, that I love her because she is not someone that you think about makeup straight away, but she's used makeup with her album incarnations since Rid Of Me. Every album she does she has an incarnation, even if it's really subtle. That's what I do with the collections: I create little worlds for those collections to live in.
Illamasqua makes such great products for Halloween; what's your ultimate costume?
My ultimate Halloween costume is Paris Hilton.  And ''ve done it--you can see it on my Instagram! It's the opposite of me, completely, and I really go to town on it. We did it for Halloween, not last year, the year before, and nobody recognized me.