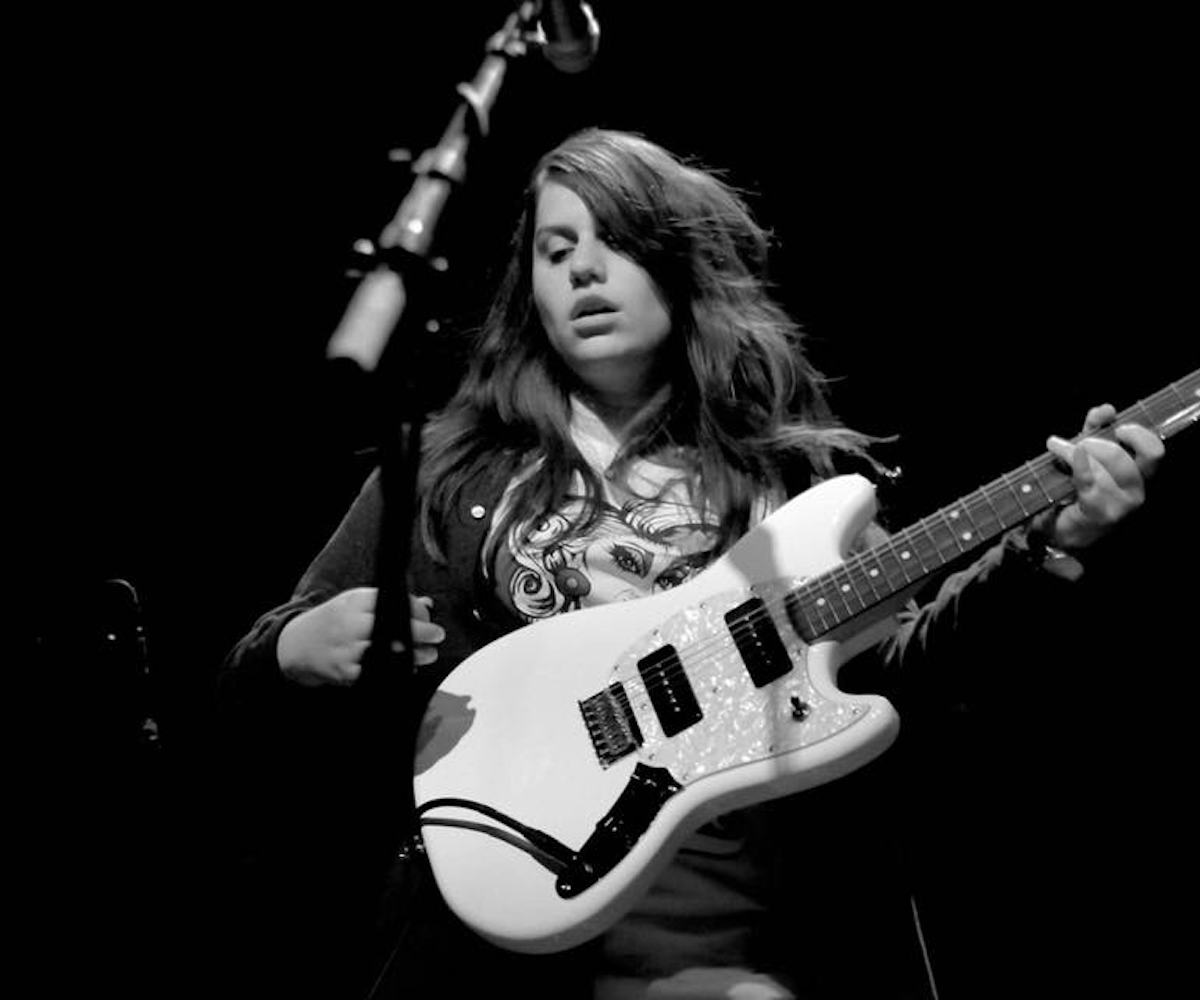 Photo by Howard Shiau
Alex Lahey Refuses To Make Clickbait Music
But you'll still want to hear everything she does
Post-grad ennui and the bizarre feeling of being out of school are topics that have been tread by plenty of artists, but Alex Lahey's specificity, wry humor, and sun-streaked guitar melodies (not to mention her brilliant, tongue-in-cheek music videos) breathe new life into these universal experiences.
Her EP, B-Grade University, originally released last summer and re-released this January by Dead Oceans, is 18 minutes of intelligent, gracefully constructed indie rock that touches on the gray area abyss of modern romance ("You Don't Think You Like People Like Me"), the allure of the elite education bubble ("Ivy League"), and the messy, surreally hilarious aftermath of a breakup ("L-L-L-Leave Me Alone"), with a sense of place and distinctness that recalls Car Seat Headrest's Will Toledo or Bully's Alicia Bognanno.
Fresh off of South by Southwest and just at the beginning of her North American tour, Australia-native Lahey took some time to chat about her college experience, unique approach to music videos, and what she wants you to get out of an Alex Lahey concert.
How was South by Southwest?
I think we did like eight shows, and I had to do a bunch of press stuff, and it adds up. But it's so worthwhile. It is a pretty overwhelming experience, at the best of times. It's one of those things that you kind of have to do. It's a rite of passage.
What was the university culture like where you're from? 
It sounds like in America you split up and everyone goes to college and lives on campus and stuff, whereas that's not a thing as much here. With uni culture here, you look at the ones in your city and your area, and you pick one and go for it. I think it's easy to sort of find yourself sticking to the same circles from high school, but you can also break off, and there's more choice if you break off. You're not as much in the system; college life is a real thing in America, but in Australia, you can do all the clubs and societies but you can also do it a bit half-assedly, there's a bit more scope. For myself, I started a music and arts degree and finished an arts degree. The reason I didn't finish a music degree was because writing and recording and playing shows, I felt like I was getting the knowledge and experience that I really needed.
I love the specificity of your lyrics and the fact that they feel like encapsulations of complete experiences. When something happens to you, like the "Cleanskin wine/ Mulholland Drive" line from "You Don't Think You Like People Like Me," do you feel in the moment that it could be part of a song?
All my songs are written about things that I've done. With the Mulholland Drive line, I've actually never seen it, but I just thought it was a good way to start a song. That line was sitting there for ages. I came up with the concept for the song and realized that maybe it was time to use that line, and that kind of shaped the song into something that we've all experienced, that kind of hypothetical scenario. 
How do you feel about all the praise and attention for "You Don't Think You Like People Like Me?" I feel like it's a song with a message that so many people can relate to, but also the way you describe it is so unique to you own experience. Is it trippy at all that it's gotten so popular?
Yeah for sure, I wrote that song about 18 months ago, and when I wrote it, I was recording a couple standalone singles to precede the EP. I was recording those, and my manager walks up in the studio and says we need to record ["You Don't Think"] right now and release it. Interestingly enough the other single that got kind of shafted was "Wes Anderson," which is now the lead single in America, so I'm glad that Wes had its time to shine. 
Does it feel different gigging as a solo act versus playing as part of Animaux [Lahey's previous band]?
I think Animaux was really a product of the type of music I was learning [in school], but applying it to a more accessible setting, whereas the music that I'm playing now is the music that I actually listen to. I've never been a real jazz head; I understand it and appreciate it, but my true love lies in songs and songwriting. This music is more reflective of what I want to make.
It's like taking ownership; it's a big change, just speaking more about "me," and "I," and "myself." I think the difference is when you're doing press for a band, you're speaking on behalf of a group of people, which is hard because it's hard to consolidate the thoughts of a collective group of people, but at the same time, it's difficult to consolidate your own thoughts. It's almost like there's less room to hide. 
A lot of the record is about that out of college kind of existential settling. Does that feel more solidified now that you've got this record out and are playing shows?
I think there's always gonna be that feeling in any stage of life. Even though I'm out of school, effectively working and building a career, it's still a slow burn… Now I'm wondering about what the next stage will be: maybe moving out, moving in with a partner, finding that independence, and being in the unique position where I'm a young person who is their own boss, and that's something that is sort of a double-edged sword in its own way, and you want to make sure that you're making decisions that are viable for yourself and your job.
I love all the film references on the EP. I'm curious about some of your non-musical influences.
At the moment, I'm at the National Gallery in Washington, D.C. I like going to galleries and seeing art; my best friend is a visual artist, and she's always showing me things. I actually prefer watching TV shows to films. I just finished all of Black Mirror, which is pretty creepy but also really good; I'm thinking about starting Stranger Things. I think people think I'm more of a film buff than I am. Sometimes I just don't have time to sit and watch a two-hour film.
I love the Bob Ross-inspired "Ivy League" video. How'd you come up with that visual? Did you grow up really being into music videos?
I really don't feel comfortable being in front of a camera and acting, I sort of freeze up. But that said, I really do love the music videos that my friend Jam [Nawaz] and I made. It's been really fun and a good experience. "Ivy League" is my favorite, it's so ridiculous. We had two days to make it, from concept to finished product; we shot it in like three and a half hours. I just think it's hilarious because it's a bit smoke and mirrors because it was such a frantic rush to get done.
I love how people conceptualize [their videos]. I grew up watching Michael Jackson film clips on this DVD thing my mom bought me when I was 10 and I love the conceptual nature of those songs. Troy Sivan and Tove Lo really use the visual medium as a way to explore their music, and just me, as a music lover, it's something that I really connect with and admire. 
What takeaway do you want someone to have whose first exposure to Alex Lahey might be this tour?
I think I just want people to come away seeing some great songs in a really strong performance. There are so many shows I've gone to see live where I get one or the other. I want people to get the best of both worlds, where there's good songwriting and you can discover something about yourself while still seeing a great band. That's what I'm looking for in a live show; I'm not looking for clickbait. I want really good songs played really well.