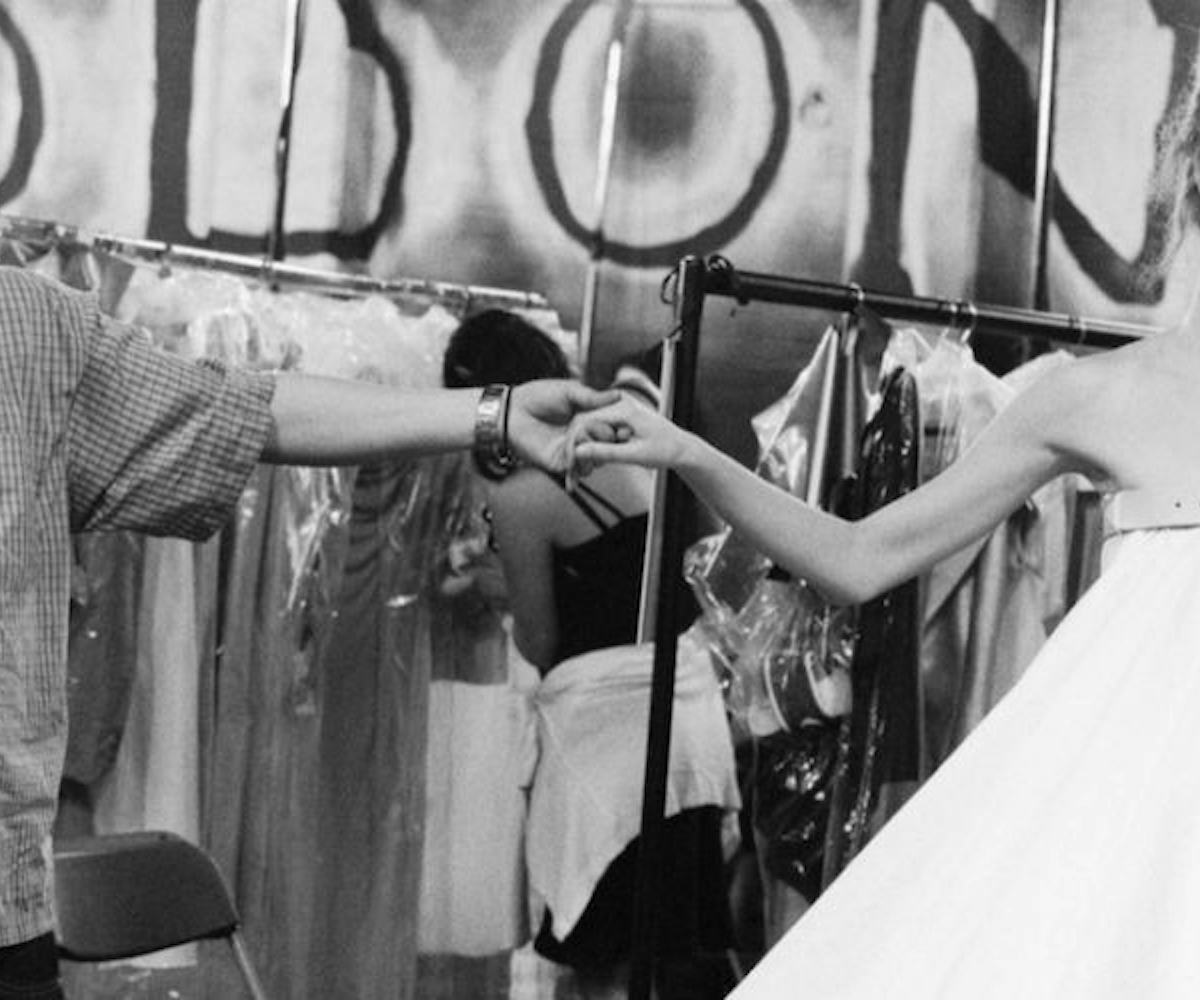 Photographed by Anna Ray.
'McQueen' Filmmakers Explain How To Immortalize A Fashion Genius
We chat with the directors of the upcoming documentary
There's no shortage of interesting people in the fashion industry, and perhaps because of that, there's an abundance of documentaries about them. André Leon Talley's and Vivienne Westwood's charismatic personalities were brought to the big screen earlier this year, but celebrating someone's life while they're still around is a bit easier than doing so after they've died—which is the challenge Ian Bonhôte and Peter Ettedgui came up against with their documentary about late fashion designer Alexander McQueen.
Approaching the project with care and sensitivity was important, and one way the pair did so was by not trying to tell McQueen's story for him. Instead, through archival footage and interviews with family, colleagues, and friends, they put the pieces of his life together—from his beginnings as a tailor's apprentice to when he eventually led a top couture house—while also allowing people to get a glimpse into the designer's morbid, fascinating mind.
Ahead, we chat with the directors about the film, the genius of McQueen, and why now felt like an appropriate time to release this project.
Why did you choose McQueen as the subject of the documentary?  Ian Bonhôte: I think we both felt that his character, as well as his story and the sheer volume of work he had created, was an amazing opportunity to make a movie. Actually, not only just a film but a film that would be experienced by an audience within the movie theaters. I think McQueen was so fascinating because he's not the conventional person you would expect to succeed in the world of fashion. I think there are only a few amazing people out there who have achieved so much in such little time, as well as came from nothing.
Peter Ettedgui: Also, I think it's not enough just to have an interest in a person who fascinates you, you have to have a sense of, "Is this a story that is really worth telling?" I think, what you have in McQueen and in the story of McQueen, you have somebody who was essentially a kind of misfit from the world that he came from to the world that he found himself in—East London to couture houses. Physically, that's not a big difference, but emotionally that's two different planets. And the clash of those two worlds immediately generates a kind of dramatic tension and fascination. 
And then, beyond that, his personality... this man, he was a kind of a prodigy. I don't think there are many designers who could literally do every single stage of the process themselves… and one thing we did really try to show in the film, through the archives that we collected, was how he mastered whatever he did, whether it was using an iron or a complicated stitching or working on the mannequin or working with a model. You see him doing everything in the film, and that degree of mastery, and having lots of pleasure in his mastery, that's very rare. So, that was something we absolutely wanted to celebrate. 
It's been eight years since McQueen died. What made you want to work on this documentary now?IB: I think it's not only you deciding; we haven't spent the last eight years planning the moment for it to come out. We were aware that there was some scripted film about him that was being worked on, and we both felt, Oh, that's a bit weird, you know? 
PE: One other thing that's really important to say is, the memory is very fresh still. The loss, Lee's loss, is still very, very fresh and raw with the people we interviewed, but, at the same time, they can talk about the past, and [he] feels very alive today, and that's very important when you're making a documentary like this. You want to make people feel as though the story is happening as they're talking about it. It shouldn't feel like it's somewhere in the deep past.
And the other thing is, I think, we felt very strongly that Lee and his own creativity and the creativity of that moment, being early mid-late '90s and early '00s, that's a period, in London, that we've lost. There was that spirit of rebellion and originality that was manifesting itself, not just in fashion but across culture generally, and we felt quite strongly that, by bringing it back to life, we could maybe inspire a new generation and ourselves.
The film is driven by a lot of archival footage. What was the process of gaining access to all of those past shows and interviews?
IB: When we started the film, we didn't have any archives or any of the access in place, so you have to imagine that for nine, 10, 11 months of working, we had to find every single frame that ended up in the film. We looked through trillions of sources of archives to be able to gather all of that. And some of the archives came in very, very last-minute and we had to, sometimes, even reopen chapters we already had [finished] because we felt that it was expressing something so much better than what we had explained before. So, all of that was very challenging, and it was always a work in progress, but everything evolved organically. It's not that we had all the elements, like, [how] before you cook, you might have all of the ingredients there and then you start cooking. In our case, it was very much like we were receiving the fruit and vegetables and the meat and whatever while we were making it and it kept evolving into a five-course meal by the end of it, but it never set out to be.
PE: We had the recipe, and we were supposed to deliver the meal in a couple of hours time, but we had to do all the shopping at the same time. [laughs] The other thing that's interesting is that nowadays [with fashion shows], as soon as stuff happens, it's on Instagram, and this wasn't the case when McQueen was at the height of his power. There are a few companies in different spots of the world who made fashion films, that were passionate about fashion and made fashion programming, some in France, Fashion Television in Toronto, and a number of others who would go to all the shows and they would film them, and we had to learn about them and we had to track down where the archives were, and most of the time, they were entirely uncatalogued and undigitized. So, if you could imagine, it was actually really, really hard to find footage, let alone the right footage to give the audience the feeling of being there. 
McQueen's shows were very cinematic; you really have to see them for yourself.
PE: And that was the reason for making the film, because he was a storyteller. If you look at his shows, you can see him, you can see his life. And they tend to be personal, but, at the same time, they were spectacular, they were cinematic, they were like pieces of performance are for these very small groups of quite exclusive guests—you know, 400 maximum people saw these things. It's one thing looking at it on YouTube, but if you see it up on a cinema screen, you get a real sense of what it was, what emotions and what life experience drove those shows. Funny enough, we never saw this as a fashion film, we saw it as a film about a remarkable person who happened upon the medium of fashion.
IB: Another thing, the two great shows of "Savage Beauty" at the Metropolitan Museum of Art in New York City and the Victoria and Albert Museum in London, you would see the clothes but you wouldn't see the movement. By putting it up on a screen and showing a real fashion show, you saw the movement and you saw how really the clothes were moving in situations, and we get a sense of the impact and what people felt at that moment. So, that's another element that we needed to show, and we anchored the narrative structure around the shows. 
You included interviews with McQueen's family members; what were those conversations like? How did you approach them for the project? 
PE: It was very hard. You have to imagine that the family had seen so many sensationalist things written about Lee and they're very, rightly, worried about people coming in and kind of exploiting their story. And so initially it was a flat no from Janet [McQueen's sister]; she just really didn't want to engage. And we just kind of said fine and we understand, please don't worry. We basically just kept our distance, but kept in touch a little bit as well and then, eventually, we were introduced to Gary [McQueen's nephew] by somebody else we had interviewed for the film. Gary came to a meeting with us, discussing interviews, and brought Janet along, and it was the first time we'd actually had the opportunity to really sit down with her; this was several months later after that no, and it was a super-emotional meeting. We weren't asking at that point for an interview, but she wanted to make sure that Gary's interview was treated properly. And, eventually, she said to us, "Would you like me to contribute a little interview for the film?" We didn't quite know what we were doing, but I think it was exactly the right approach because finally she came to us and she felt comfortable with us and also really understood what it was we were trying to do.
IB: I think you have to always realize that, when you make a documentary, everyone will share their emotion and what happened. They'll share themselves, and they need a lot of courage to [do that], actually. They put their faces out there, and we were always clear that it was gonna be a theatrical release, it will be on the big screen, it will be on TV. So, they needed to make sure that our approach was the right approach, and that it was worth remembering and going back to those memories. 
McQueen will be out in select theaters July 20.