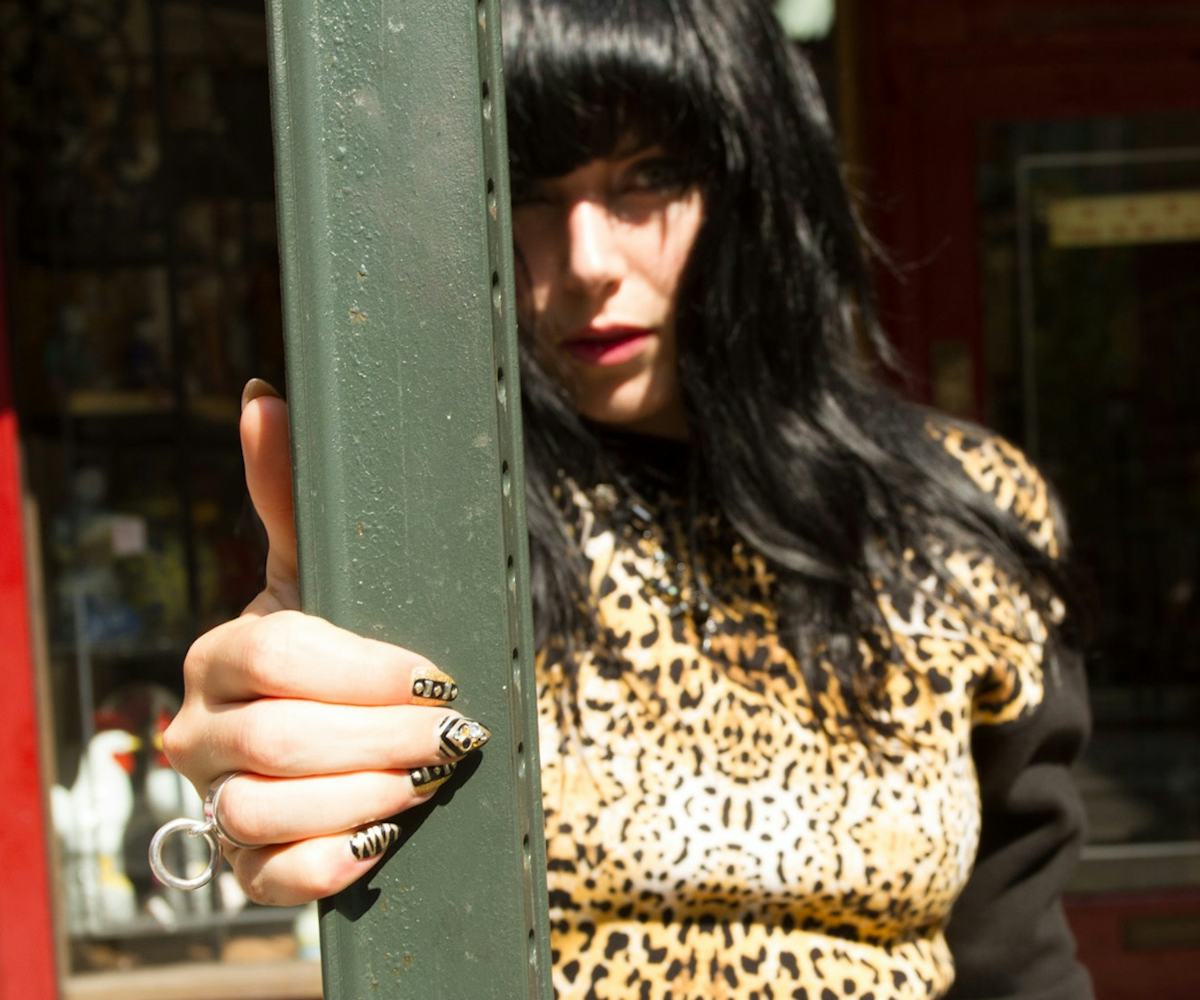 the sleigh bells manicure
alexis krauss tells us how to nail her nylon look.
Sure, we love Alexis Krauss for her amazing voice, crushing sound,
and
the fact that she too wears Keds and ripped denim shorts practically every week. But the icing on the already-sweet Sleigh Bells cake is the fact that the frontwoman always has really, really awesome nail art.
According to Krauss, she's been into nail art for years...and it's all thanks to MIA. "MIA was the one who introduced me to nail art," she explained. "She brought me to WAH Nails in London and I've been addicted ever since. I just love the collaborative process of working with a nail artist, and now I believe that a great look isn't complete without badass nails."
Case in point: Krauss' graphic manicure from her NYLON October issue photoshoot. Inspired by the artwork for the band's new album 
Bitter Rivals, 
the look is the brainchild of Krauss' longtime nail artist and friend Ria Lopez.
"Ria and I designed the nails for the NYLON October issue together and were inspired by graphic patterns, mixed metallics and the
Bitter Rivals
cover artwork. We wanted to create nails that were fierce yet feminine. Ria has been experimenting with different studs and jewels and designed a set that were incredibly ornate without being garish." And the best part is, it's simple enough so you can copy it yourself. We got the lowdown from Lopez on how everyone can nab Krauss' seriously hot hands.
"I've known Alexis for years, even back before she was into crazy nail art," Lopez says. "But she's now become more open to doing different things, and she gets her nails done constantly!" When she's not on tour, this means switching up her manicure three times a week (!), so Lopez has an entire book devoted to future Alexis Krauss designs.
And as for that NYLON manicure, Lopez says it was a long time coming. "We've been doing color schemes with golds, blacks, and whites for a while now, and for NYLON we wanted to keep the same color palette but shake it up and make it edgier," she said. "We thought it would be cool to throw in the metallic gold to really makes things pop." To copy it yourself, first paint nails metallic gold. Then use a nail art pen for the zig zags and stripes "you have more control than with a brush," Lopez said) and top it all off with tiny jewels. 
High five!