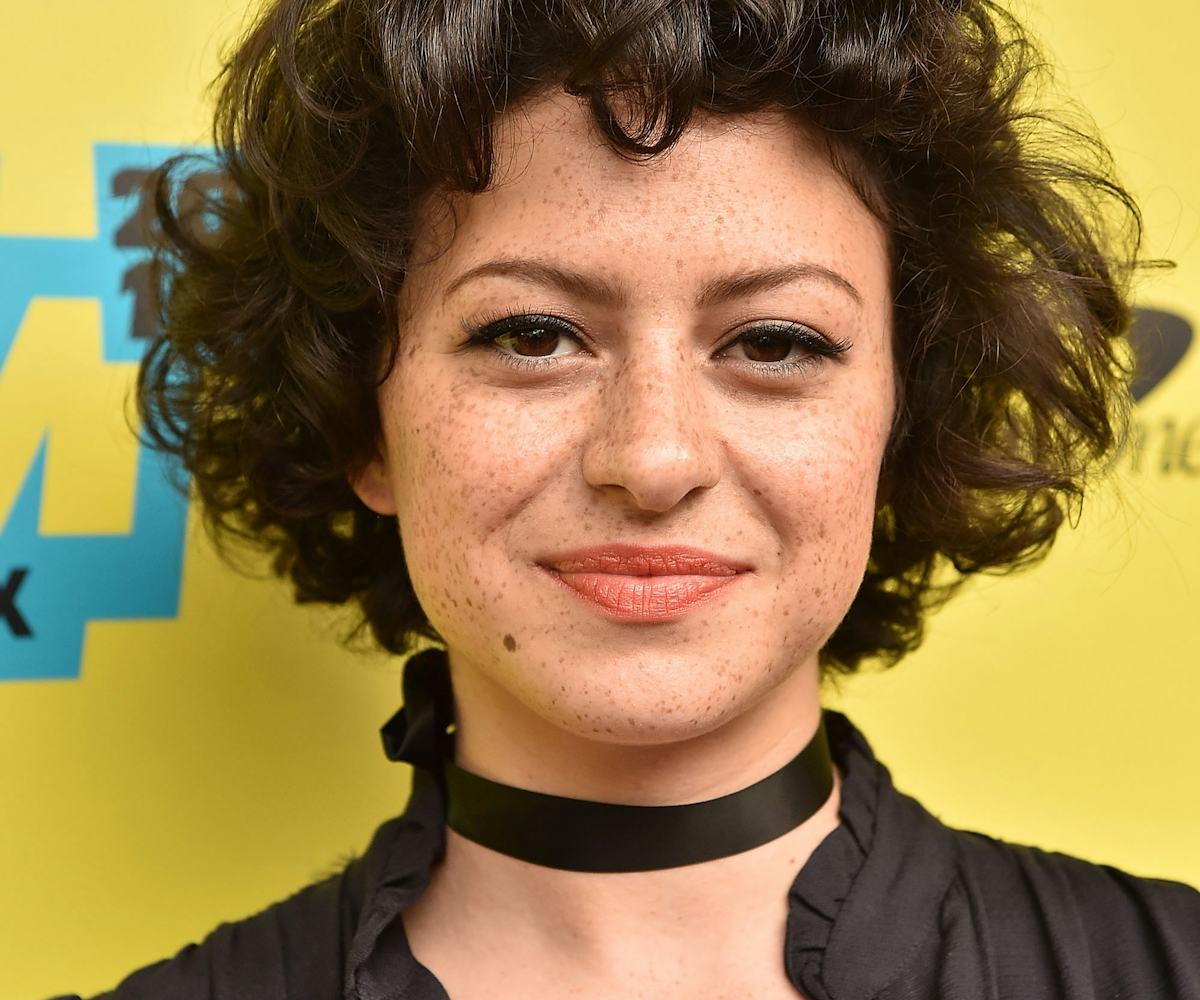 Photo by Mike Windle / Getty Images
Alia Shawkat On The Strange, Delirious Fun Of Being Pee-wee Herman's Girlfriend
"It was very, very surreal, like a weird drug trip"
Alia Shawkat, self-proclaimed Pee-wee Herman fanatic, recently found herself locking lips with the idol himself. The dream-like scenario was the result of the 26-year-old actress getting cast as the love interest in Netflix's anticipated revival, Pee-wee's Big Holiday. Shawkat, who grew up watching Pee-wee's Playhouse, describes acting in the surreal, psychedelic world created by Paul Reubens, as a "weird drug trip" and "a dream come true." In other words, it was fucking awesome. We caught up with Shawkat—who was getting set to shoot the first season of hew new TBS comedy Search Party—to discuss what it feels like to enter the world she grew up watching, and why she can't rely on acting only to fulfill her creative desires. 
What was your first memory of Pee-wee Herman?
I watched Pee-wee's Playhouse a lot. I was introduced to the world and really loved it. Pee-wee's Big Adventure was really the strongest memory. That movie was one of my favorites. It was a mix of cartoon and reality, and it was psychedelic and strange. It made me feel a lot of interesting things. I grew up near where those dinosaurs are in Palm Springs [in California], so I used to go visit that. 
How badly did you want the part before you got cast? 
I really wanted it. To be in a Pee-wee movie is a dream come true. It went well. I hit it off with Paul. But you still never know. I remember I was driving home from work one day, and my agent called, and I was like, "This is the call. I either got it or I didn't." When she told me, I was like "Yes! Things do work out!" 
What's it like to play a saucy character like Bella in such an innocent world? 
It was fun. I've never played a cartoony, bigger-than-life character before. We had butt pads and boob pads on. Our characters are very womanly and independent and badass. It was fun to fill those shoes because it's not what comes naturally to me. So it felt fun to play this character, especially the interactions I have with Pee-wee, being this breathy, hopeless romantic.
After doing heavier films, is there a freedom in playing the comedic love interest? 
I don't play the romantic interest a lot in general, let alone play Pee-wee's love interest. It was so different for me. You're on set, and suddenly we're dressed up like cartoon vamps and we're sitting in this tiny car with Pee-wee. It was very, very surreal, like a weird drug trip. There's such innocence in the world. You realize the tone of the film you're part of. It was very nerve-racking at first because I'm very used to doing naturalistic, subtle things. I hope it's not too big. I hope it's big enough! With Paul and John [Lee] and the other girls, we were able to create this fun environment that played so well in the movie. It just goes to show that things don't have to be so cynical or edgy for edgy's sake. 
Do you think that's why people are so excited to revisit Pee-wee's world? Because we're so tired of cynicism? 
I think to a degree. I don't think we're always as aware of it as we think. Being cynical is important too, to have an opinion on things. But I think the comedy world can get a little built-in self-hatred. Pee-wee doesn't have a drop of that. That's why it's something that all ages and all generations can relate to—it doesn't grow stale. The purity is powerful. At the end of it, everyone's laughing, but it's joyful laughing.
In addition to acting, you've done music and art. Do you feel like you need all these outlets to fully express yourself?
I think we're all trying to do things to make life worth living. I think it's important to have different outlets, especially as an actor. I've been doing it since I was pretty young. I've had waves of understanding it and feeling a part of it, and also feeling very outside of it and not really doing the stuff I want. The last five years have been very good, where I've only been working with people I admire, and the projects are really good. But I think that only comes from traveling on my own and making art. All my eggs aren't in one basket. I feel lucky to do art for a living. It's very hard, but I have good parents who supported me. As an actor, you can be waiting around a lot to get that one email. At a young age, I could see that I don't want to do that. So I've been writing. Painting's a big part of my life. It balances it out. 
That feels wise, that you claimed your independence early. 
As an actor, you get perceived a certain way. You're selling your own name and face to a degree. I like to keep that at bay as much as possible. Through doing other art you have more of an awareness, instead of getting caught in this bubble of, "I'm only valued as much as people say I am." You're really not, but you can get tricked into it. Then all of a sudden you're not working and you question everything. 
Are there any bucket list characters or projects you'd like to take on? 
Working with Pee-wee is a pretty big one. I'd love to work with Paul Thomas Anderson or the Coen brothers. They create a very unique world that's a little darker but still cartoony in a very specific character way. They're the best filmmakers we have right now, so it would be an honor to work with them. 
What's making you happiest right now?
Honestly, when I'm with my friends and family, and everyone's getting along and we're all laughing at a similar thing and eating food. That's me at my happiest. When everyone I love is together, and we're enjoying life and getting lost in a good laugh.