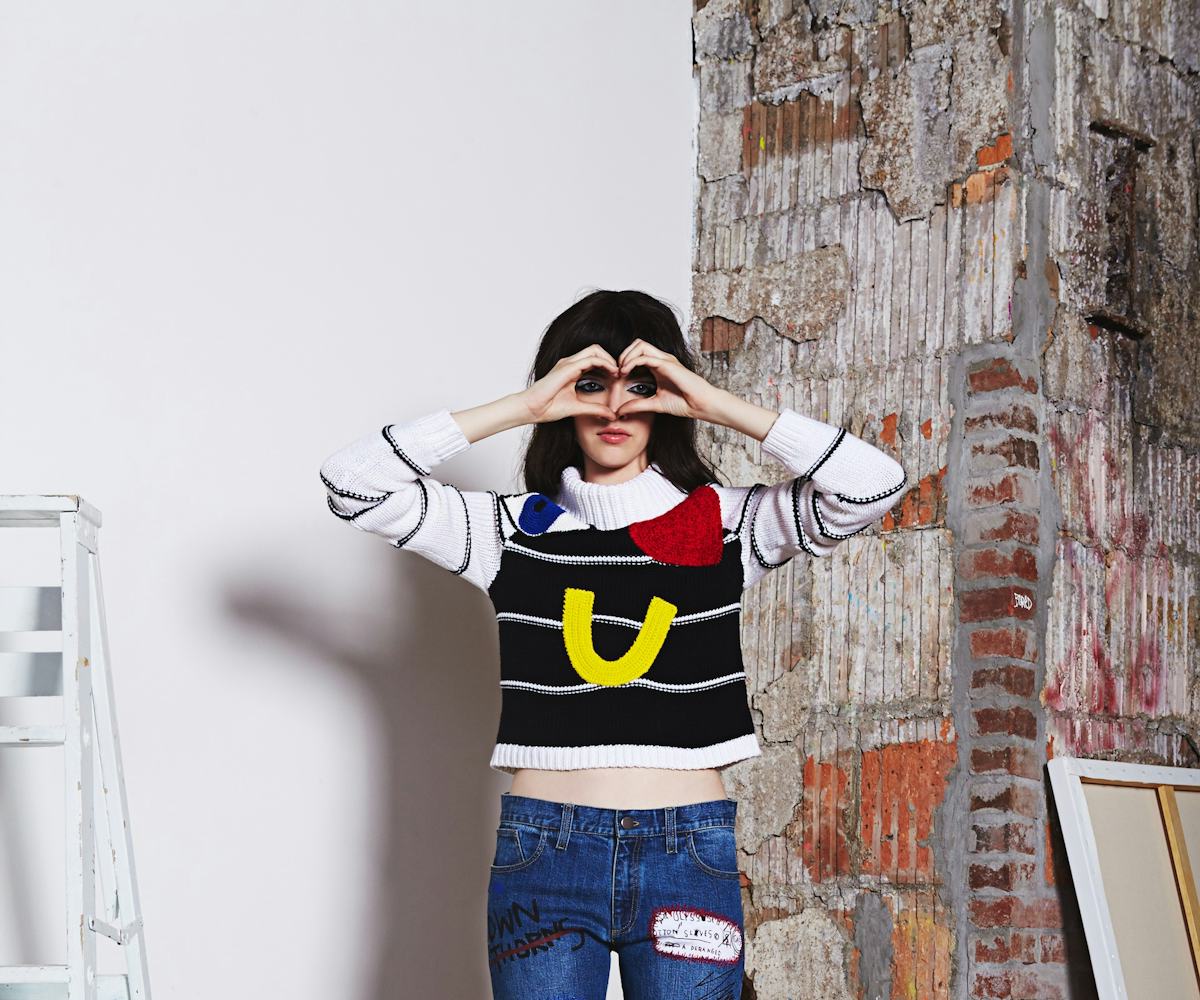 Image via Alice + Olivia
Alice + Olivia x Basquiat Is Our Dream Come True
We talked to Stacey Bendet about the collaboration
The following feature appears in the November 2016 issue of NYLON.
If you had to point to one person who embodied New York in the '80s, you could do worse than choose Jean-Michel Basquiat. Whether he was running around tagging the streets with SAMO©, making a cameo in Blondie's "Rapture" music video, or collaborating with Andy Warhol, he did it all with an authentic, magnetic energy very much his own. While his life was tragically cut short at the age of 27, his vivacity has lived on in his work, in photographs and videos of him, and, now, in a new collection by Alice + Olivia.
The range, made in partnership with the CFDA, pays homage to the artist by drawing elements from pieces like Beat Bop, Replicas, Ascent, In Italian, A Panel of Experts, and Notary, and was aided by the Basquiat Estate and his friends Julian Schnabel and Tamra Davis.
The result is easily one of the season's coolest collections, with printed dresses, painted skirts, intricate beading, graphic bags, and a doodled leather jacket. Here, we chat with designer Stacey Bendet about the offerings and the magical man that was Basquiat. 
How did you interpret the paintings into new forms of art?I wanted the clothing to feel like artwork coming to life. It is not interesting to me to just slap a logo or print on a T-shirt. I wanted each piece to feel like the paintings were becoming three-dimensional.
What's your favorite story about Basquiat? It's hard to pick one. I love how he constantly wanted to box with Julian Schnabel, and I loved learning about his relationship with Andy Warhol.
Basquiat once said, "I don't think about art when I'm working. I try to think about life." What do you think about when you're designing?I think it's so relevant and so true. When I'm designing, I'm thinking about a woman, about her world and her life. It is about form and function and beauty, but it is really about life. Unless I am collaborating with an artist—then I do think about art!
Alice + Olivia x Basquiat, $150-$1,295, Available at all Alice + Olivia by Stacey Bendet boutiques and aliceandolivia.com