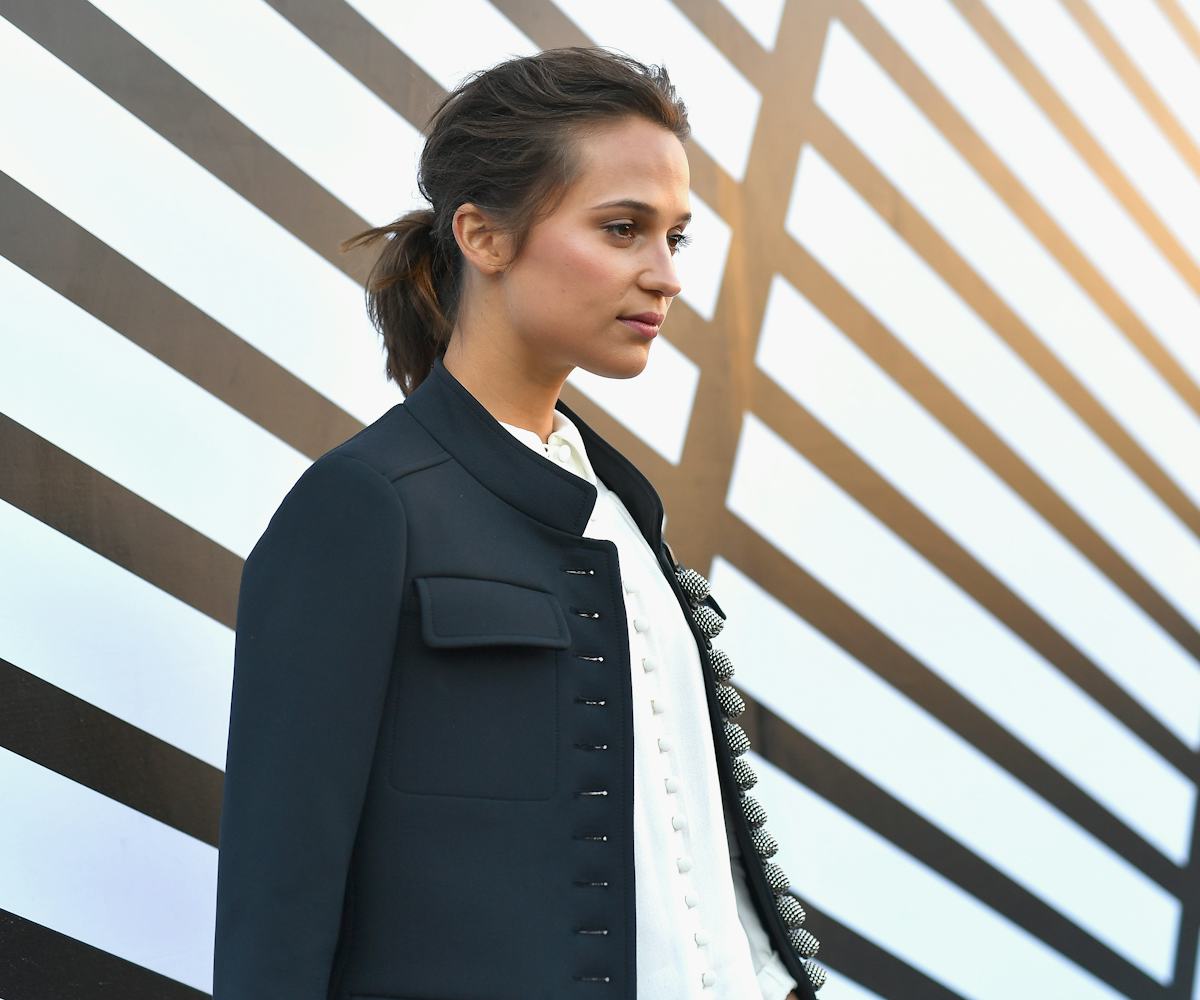 Photo by Pascal Le Segretain / Getty Images
Here's The First Look At Alicia Vikander As Lara Croft
"Suddenly, the stakes couldn't be higher for Lara"
Many of us mostly remember the character of Lara Croft as a series of pointy polygons, but the action icon has been reinvented and reenvisioned a handful of times since her days as a PlayStation heroine in the "Tomb Raider" franchise. The popular video games were eventually adapted into a series of films starring Angelina Jolie, but a new actress is taking up the iconic role in an upcoming reboot. Now, we're finally getting a first glance at Oscar-winning actress Alicia Vikander, who is portraying the character with a darker and grittier new look.
"When I was asked to take on this role I got really excited—Lara Croft is a truly iconic character," Vikander, who won an Academy Award for portraying Gerda Wegener in 2015's The Danish Girl, wrote to Vanity Fair. "I think people can identify with her for lots of different reasons, but for me I very much see her as a model for many young women. She's trying to carve out her place in the world and connect her future with her past. She also has a fantastic mix of traits—tough, smart, vulnerable, plus she's kick ass! She is also uniquely different to other characters I have taken on previously. It's a lot of fun trying to get into Lara's head and the challenge of getting to grips with such a physical role is an element of this project that I find an absolute thrill."
"Alicia Vikander brings tremendous depth and vulnerability to this character, which is every bit as important as Lara Croft's fierce strength, determination, and physicality," added fellow Oscar winner Graham King, who is producing the new movie. "Our film takes Lara from her early origins, to the physical and emotional challenges through which she ultimately becomes the Tomb Raider. It's a complex character, requiring a range of elements and Alicia brings all of that together brilliantly in her portrayal."
Aesthetically and tonally, the new film seems to resemble the more recent, serious video game iterations of the character. Here's how the official plot description of the reboot reads: "Suddenly, the stakes couldn't be higher for Lara, who—against the odds and armed with only her sharp mind, blind faith and inherently stubborn spirit—must learn to push herself beyond her limits as she journeys into the unknown. If she survives this perilous adventure, it could be the making of her, earning her the name tomb raider."
Check out the first images from the movie and some reactions from Twitter, below:
Tomb Raider, directed by Roar Uthaug, is set to debut in theaters on March 16, 2018.