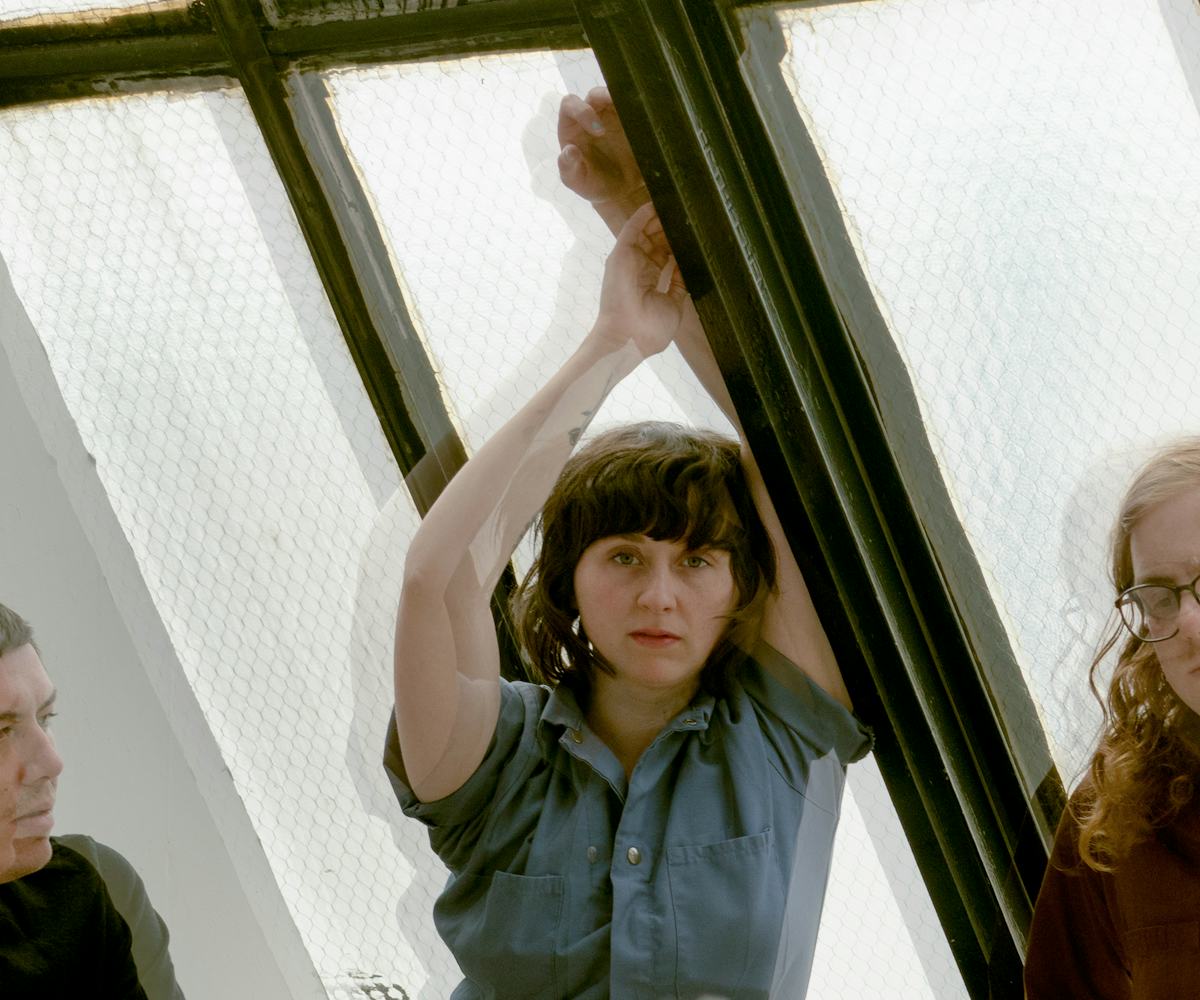 Photo by Alexander Rotondo
Allison Crutchfield On Being "A Little Bit Tipsy" And Getting The Band Back Together
Five years later and Swearin' is better than ever
Swearin' decided to give it another go under the conditions that every great decision should be made in—a little drunk, surrounded by good people and good vibes. "It was actually backstage at the Waxahatchee record release show for Out in the Storm," Swearin' vocalist-guitarist Allison Crutchfield tells us. "We just had a moment in the dressing room, and we were all a little bit tipsy," and what was once an impossible idea turned into a discussion on what it would take for this all to work well again. "We let go of some of these hard lines and opinions on the way the band is supposed to function in the past."
Swearin' didn't exactly leave things on a positive note when they broke up in 2015. They were in the midst of recording their third (still unreleased) album, and there was a ton of "interpersonal" stuff going down. Crutchfield and fellow Swearin' member, vocalist-guitarist Kyle Gilbride, had ended their relationship of five years, which doesn't exactly make for the perfect collaborative environment anymore.
Time and space apart proved to be enough to give the band another go. "It was definitely a really bizarre note to go out on," Crutchfield says of the "very brutal and really weird show" and a deserted festival in Brooklyn that gave the fatal blow to the band three years ago. For drummer Jeff Bolt, doing a proper set of shows as a band again was key. As for Gilbride, it was the urge to make another record with the band, since the album they were working on at the time of the breakup never came to fruition. 
"I think we all got a little older, and our relationships have shifted, and we were communicating better," Crutchfield adds. "We had respect for each it other, it was just kind of a more elevated and mature version of the band in the past."
"It felt like I needed a fresh start," Crutchfield says of the unheard tracks of the ditched album—they just weren't her anymore. "For the most part, we completely scratched them, and we started fresh." Gilbride's track "Dogpile" is the only one to have survived through the years and made it onto the new record, but it "changed a lot" from its original iteration. 
The new tracks that make up Fall into the Sun create what Crutchfield calls "the adult Swearin' album." Back when the band started, she was only 22. "When I listen back to [the first Swearin' songs], I'm proud of them, but they definitely feel a little juvenile." A lot of growing up happened since then, and, as Crutchfield approaches her 30th birthday, she feels as though she's "done a lot of reflection on [her] life, and life as a member of that particular community and scene," and it shows on the record. "I feel like a lot of this record is about that," she says, "about being on the outside looking in as a person with the perspective of a 29-year-old. As opposed to being 24 when I was writing Surfin' Strangeand being right in the middle of everything."
Fall into the Sun sees the band flip the way they approached creating, with Gilbride and Crutchfield bringing in separate, completed songs, but openly collaborating on the production. "In the past, I think I was a little more self-conscious and timid about helping with that level of everything," Crutchfield says about stepping up as a producer. "With this one, I definitely wanted a little more control. I think that kind of just comes from being older and from gaining experience and having that level of technical knowledge, just to throw myself in there a little bit more." 
Between two of Crutchfield's standout tracks on the album, we see the full range of how love (or the lack thereof) can translate into lyrical strength. "Oil and Water" is her deep dive into sugary sweet, uncomplicated affection. "That song is one of, if not the only love song that I've written that's bat-shit sweet," she adds, "where there's not a tinge of resentment or anger. I feel really good, and I'm in love with this person." The person being Crutchfield's current partner, who lives in L.A. "I'm a Capricorn, I'm a person who, like, really thrives on routine," she says, referring to the monotony of touring that is so far away from her new relationship. "I feel like this song is me talking about a time in my life when all I want is this new thing. I want this new life, I want this new person, I want this new city." 
"Anyway" is for those who are not so lucky-in-love; it's a brutal breakup track. "It's the only breakup song on this record, which I feel like was kind of a feat for me." She adds, "I almost, in some ways, feel like I wrote that as, like, a message to the person that it was about. So we'll see if he gets the message. I doubt he'll ever hear it." 
With Crutchfield's incredible 2017 solo album, Tourist in This Town, under her belt, she's developed a knack for knowing which tracks are better for the band, and which should be saved for herself. "It's something I'm kind of comfortable with, that divide in my brain—really personal, cathartic songs are typically reserved for solo music whereas songs that are a bit broader, a little more political or socially critical… those are usually reserved for Swearin'."
After testing the waters, "trying to be cautious," and making sure everything felt really good with the reunion, Swearin' is officially back today with their third full-length album, Fall into the Sun. Stream it, below, and catch the band on tour this fall.