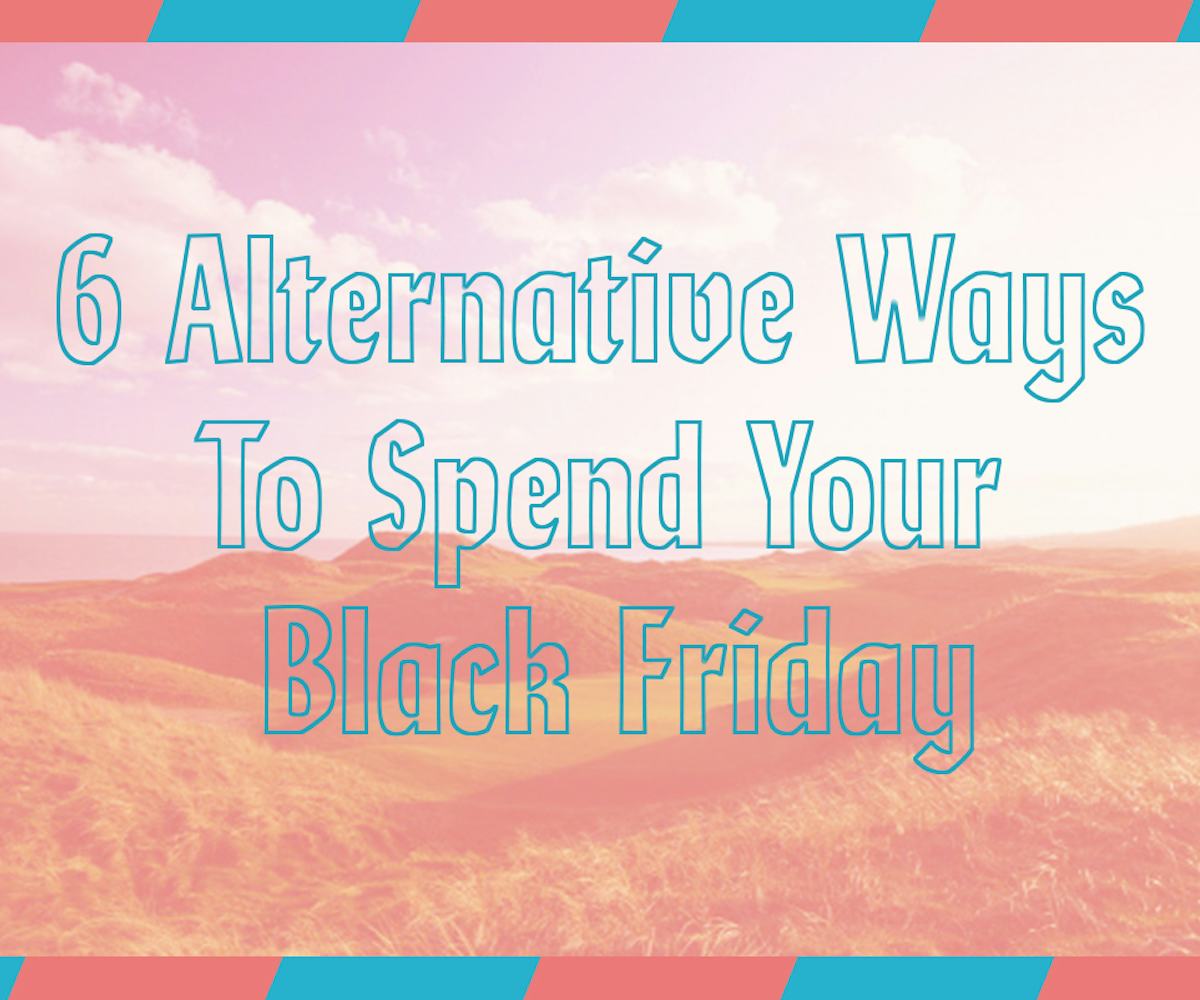 6 Alternative Ways To Spend Your Black Friday
Do something meaningful instead of camping out in that parking lot
Black Friday is one of those shopping "holidays" that just really, really bugs me. While I can somewhat understand the appeal—we all want to snag a new TV for next to nothing—is it really worth pitching a tent in a parking lot for an entire night? No. Not for me, at least. Come on guys, it's November. It's cold.
Let's also not forget how dangerous Black Friday proved to be in the past. Not to sound preachy, but it's led to stampedes, scuffles, and other mishaps, earning itself its very own death count website. What kind of shopping holiday is that? Who wants to die because they really wanted to get something for an extra 20 percent off?
Even if you decide to not camp out, and you don't find yourself putting your life at risk of being trampled on by an angry mob of coupon-cutters, you're still bound to deal with an annoying amount of crowds and long, long lines. Look at it this way: On Friday, you're probably going to wake up still too tired and full of turkey to want to do anything with your day, and if it's just going to be to standing in an extremely long line with hoards of other people, why bother?
Just in case I haven't said enough to convince you, let's take a look at this video from Black Friday a few years back.
Does this look appealing to you? It sure doesn't to me. 
Below, find six solid alternative ways to spend your Black Friday that involve being nowhere near the bargain-mad masses. Your wallets, your well-being, and the well-being of others will thank you. 
Click through the gallery below to read our suggestions.
Clean out your closet
Instead of maxing out your credit card on shit you don't need, why not take the day to sort through what you already have? Not only will you feel more organized, but you'll also be able to get rid of the clothes and accessories that no longer serve any purpose for you. Take what you don't need to your local Salvation Army to donate to help those that are in need.
Found some old designer pieces in the back of your closet that you don't see yourself ever wearing again? Try reselling them. If you don't feel like making the trip to the closest consignment shop, there are a number of websites and apps that allow you to resell your stuff to a market of people with similar taste, like Depop or Vestaire Collective.
Organizing your closet can prove to be pretty therapeutic, and based on a first-hand experience, you'll feel as if your whole life is much more together afterward. Plus, you'll probably end up rediscovering that really great turtleneck that's been hiding at the bottom of your drawer since 2013.
Pamper yourself
A lot of us are off work on Friday, and even if you're not, you can still take an hour before or after your shift to do something nice for yourself.
Instead of risking a sprained ankle or a trampled body, why not take a little "you" time,\ and indulge in some probably much-needed TLC? Everyone should be putting more focus on self-care, especially during trying times like this past month, whether it means drawing a bath for yourself from time to time or delving into something deeper.
Feeling a little bit creative? Try one of these wonderful DIY fall spa recipes made from items you probably already have in your kitchen. Want to get really deep? Try meditating.
Host a Thanksgiving leftover party
Believe me, this is a lot less stressful than actually having people over on Thanksgiving. You and your best friends can hang around in sweatpants and enjoy day two of turkey, mashed potatoes, and pie.
The best part? Everything will require a much quicker cooking time. All you need is a microwave.
Volunteer your time
While you may have enjoyed a big, delicious home-cooked meal yesterday, that doesn't mean the rest of the country did. Instead of spending the day buying yourself materialistic things, why not dedicate your time to helping others who are less fortunate? A quick Google search will help you find local soup kitchens to volunteer for, because while plenty of people do good work on Thanksgiving itself, lots of people forget that the work continues in the days that follow.
Another option? Volunteer for one of the many causes that are put in danger in our new Trump-elect world. Whether it's for Planned Parenthood or an LGBTQ-rights group, there are a number of movements that you can volunteer for to help make a difference. Take the time to think about which means the most to you, and get started.
Skip the mall and head into nature
If you're feeling antsy, get out of the house and head into some sort of nature (instead of heading to your local mall). Look up what national parks are close to where you live and go check them out, or go to the beach and appreciate its beauty without all of the summertime crowds. Whether it's close enough for a peaceful walk by yourself or involves a trip with a group of the friends, taking the time to appreciate all the beauty this planet has to give to us will be uplifting.
Get active
The best cure to that post-Thanksgiving feast of complete gluttony? Exercise, duh.
While you definitely shouldn't shame yourself fo polishing off two-thirds of that cheese plate all by yourself (I sure won't be shaming myself), the day after can leave us feeling a little, well, meh.
Get active—whether it's going for a run around your neighborhood or taking a dance class. Shaking off that Turkey Day-haze and sweating out all of that hard cider will make you feel a lot better.
Support smaller businesses
If you're just that addicted to shopping and you just can't fight the urge to take advantage of Black Friday deals (okay, okay, I'll admit—this can be tough), try supporting the small, local businesses in your area rather than spend your hard-earned cash on giant corporations. 
Spend your money where it counts. Support mom and pop shops. Buy a dress for your next event at that new boutique opened by a local designer. Whether they have special deals happening on Friday or not, you'll probably feel good about where your money is going.