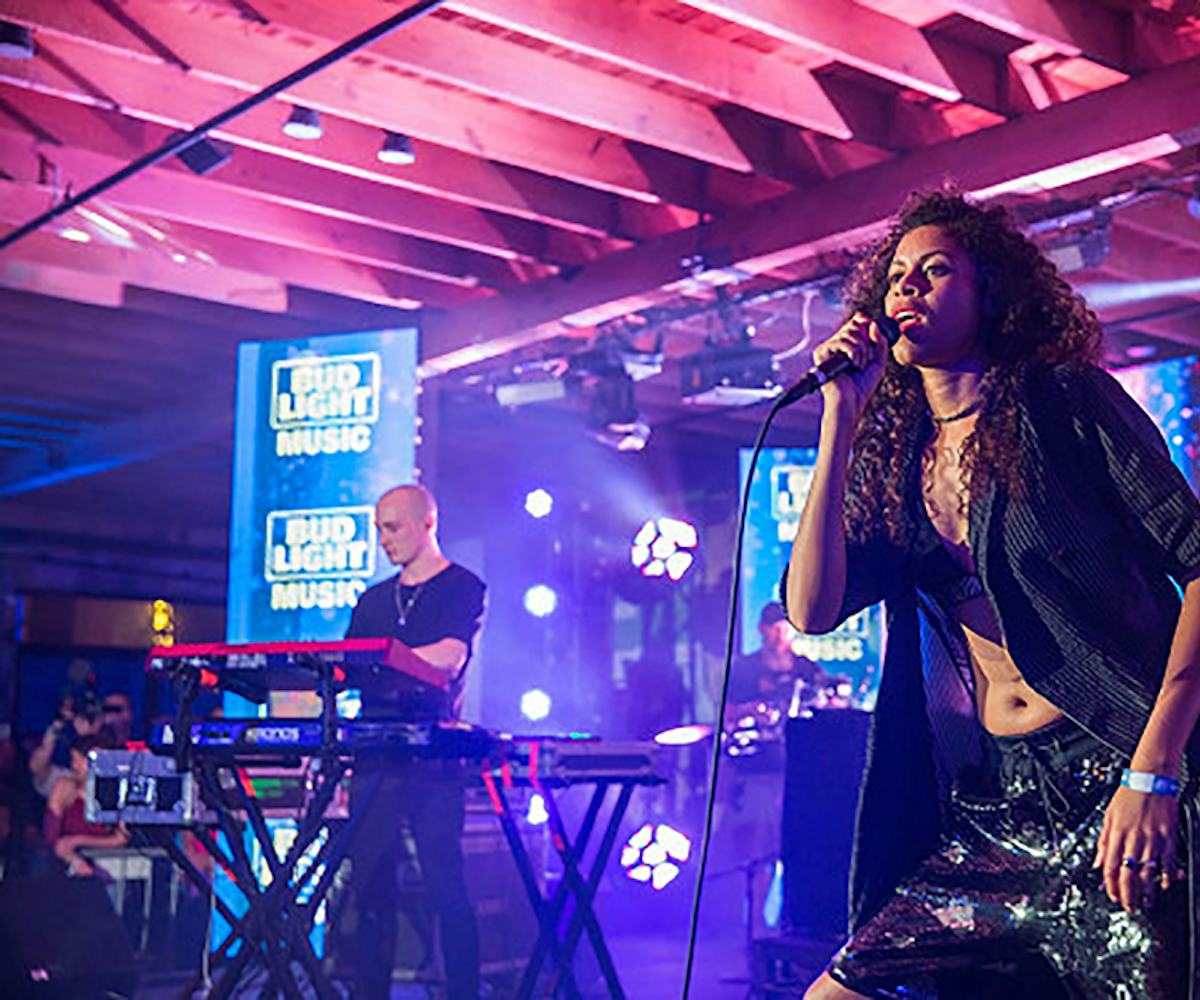 Photo via Getty Images for Bud Light.
Here's The Inspiration Behind AlunaGeorge's Upcoming Album
aluna francis explains "i remember" and more
For anyone whose job description involves covering jam-packed festivals like SXSW, nothing can induce the feeling of sheer panic like an interview getting pushed up at the last minute. Especially if the interview has to happen in five minutes. And you're stuck in traffic. And the only way to make it in time is to run through downtown Austin's "Dirty" Sixth Street. But when the light at the end of the tunnel is the opportunity to chop it up with AlunaGeorge's Aluna Francis, running through the six(th) without woes isn't a bad tradeoff at all.
After traveling straight to SX from touring with her counterpart George Reid, Francis's schedule is, to say the least, pretty damn busy. When we meet, she's prepping for one of five performances and six appearances total—in just under an hour, she'll hit the stage at the incredibly lit Bud Light Factory for the Interscope Showcase—but is remarkably chill as she lounges on the couch in her trailer, fiddling with the finicky television remote. Her excitement is palpable once we get to talking about I Remember, AlunaGeorge's sophomore effort, due later this spring. If the lead single "I'm In Control" is any indication, the record promises the danceable beats and dreamy vocals that we've come to love from the duo, along with the added bonus of feature verses from their arsenal of musical buddies. But Francis reveals that the inspiration for the empowering album came from a moment of weakness—when she experienced a situation akin to a sexual assault, and found herself much less assertive than usual. I Remember, then, is a reminder of the respect that we all deserve.
Here, Francis discusses her SXSW experience, along with what else we can expect on AlunaGeorge's upcoming album.
How many shows are you doing for SX this year?
I think about five.
And you also DJ'd a SoulCycle class for Spotify.
That's my sixth thing.
What was it like DJing in that environment?
It was crazy. The SoulCycle instructor had the most energy I've ever seen, with the most sweat I've ever seen come out of a person in one go. And she did it all with a smile! She actually managed to get these people at 9:30 in the morning at SX to complete the whole thing. She kind of had me going at the beginning because she was like—I started playing what I thought I we were gonna play and she was like, "Okay, Aluna! Start the music! Start the beat!" and I was like, "Oh, shit. I don't know what she wants me to do! I can't just switch into a totally different tempo. I'm just gonna play another song with the same tempo, and see if she likes it."
It was all good, I'm assuming?
It was fine, yeah. They were a bit confused by the fact that I was actually DJing because they were kinda like, "Yeah, you can do whatever you want! You can run around the room," because somebody else had been DJing and they didn't actually mix so they were free to like run around the place, I was like "Oh, I'm gonna have to actually mix the songs so I'm just gonna stay here."
[Laughs] You had to let them know, "I'm for real." I saw Snapchats of it and it looked really fun. I could not get up that early so props to everyone that could—and to you, too!
Oh, I had grump face. Afterwards, I just wanted to go straight to bed!
So what are you most looking forward to about performing at SX this year?
It's just really exciting to come to do something for the first time. I love the first-time-festival vibe, and discovering what it's all about. This one is obviously all about discovering new people, so I got to see lots of people that I really wanted to see. I saw Kelela and Tory Lanez, and Vince Staples. I missed Anderson .Paak, which is really annoying..
Aw, that sucks. He's so good! I know you were just on tour, have you started performing new songs?
Oh, there's some new stuff. We've discovered which are the more-liked songs because we're playing maybe four new tracks in one set, so we're getting to compare those new tracks with each other. It might have an effect on what makes it on the album.
And do you guys have a date for that just yet?
It's gonna be later in the springtime.
What are we going to hear on there that's a different from your previous music?
Well, the first album we didn't allow any collaborations or features, so now we've opened up the game a little bit because we're meeting so many lovely people. We just love collaborations. That's like one of our main things—that's why we have so much fun together, me and George, so we've just done some choice collaborations with a few people.
Right, you have the one with Popcaan, "I'm in Control." Who are some of the other people you've collaborated with on the album?
Zhu we've collab'd with, and Flume. We're working on something with Diplo, but we haven't finished it yet. Hopefully it'll get finished by the time we have to hand in the album.
Who do you dream of collaborating with?
Well, I would love to work with Stromae. And it would be great to work with a girl. That would be really fab. It's just a little bit hard because we're often pitched against each other. It might be like, the two girls would be up for it but management and labels are a bit like, "Hmm...."
That's frustrating because I'm sure your fans would love to see you collab with another girl. So the album is called I Remember—what was the thought process behind the title?
It's the title of one of the songs. But also, it's the idea of a few of those songs being a reminder to me of times when I needed inner strength that I didn't necessarily have [in that moment], that I forgot I had—you can forget, when there are too many factors that intimidate you or confuse you. I just wanted to integrate into my writing process a few helpful things for myself. So "I'm in Control" is like that, and some other ones. But it's also just the idea that me and George always remind each other about what we love about music when we get in the studio.
How do have you guys have grown over time?
We've always put musical development at the forefront of our focus, so George has always been developing his production, I've always been developing my songwriting. For me, it means that I've been able to write songs more from my perspective, which is harder to do because you can't get as round of perspective as easily about yourself because you're not looking in from the outside. So after the first album, I really concentrated on that songwriting skill.
Were there any personal experiences that you went through that allowed you to kind of see your perspective more clearly?
Yes—a sort of horrible wakeup call that I can totally lose myself in a situation and forget that I can assert myself, and just get caught by fear. It's hard for me in that situation to take action and then I'll look at that situation later and be like, "Oh, I could've done this and I could've done that, and that would've protected me and not have me in that situation feeling that way."
Was it a specific situation that you can speak to?
It was a kind of sexual assault situation. Nothing actually went all the way through in the situation, so that's why it was a wakeup call: It's what could've happened and what led me to get myself in that situation and not be able to do anything about it, to a point where I felt unsafe. I had just thought I was immune from that somehow, by the fact that I've got my own career and I'm a strong woman, and blah-blah-blah. I was like, well, how did I lose those elements of myself?
Well, it's important to not blame yourself, or feel like you put yourself in a situation like that.
The blaming myself—no [I don't]. But I think the only real counteraction to it is to boost your confidence, so that's why a lot of these songs are about boosting your confidence.
I'm so sorry you had to go through something like that.
Well, hey, a lot of women go through it.
I know, but it's just a testament to what you said, that no one is immune from it.
We gotta work on it. No one deserves to be disrespected.