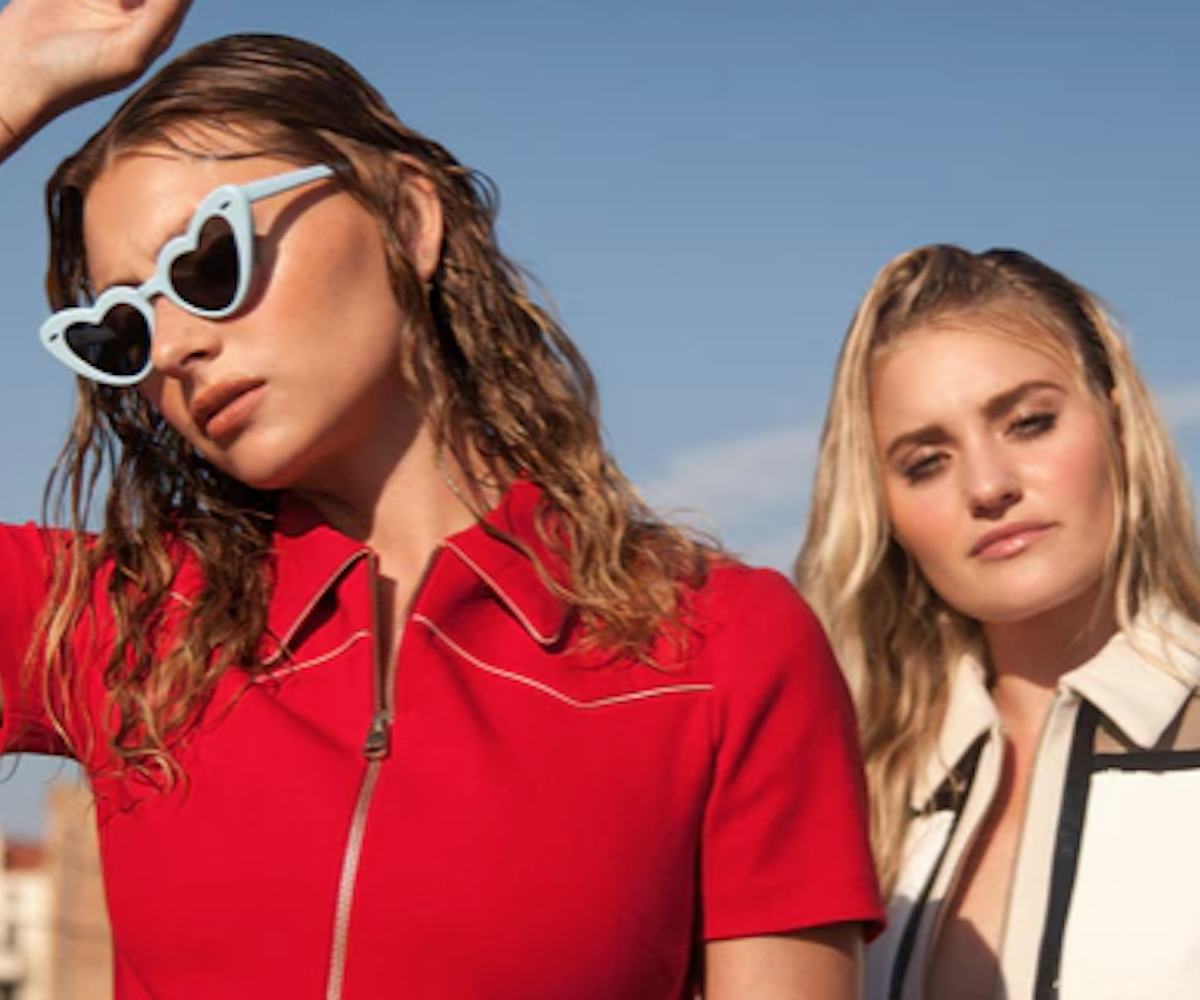 photo by daria kobayashi ritch
Aly + AJ Usher In A New Era With 'Ten Years'
Aly & AJ need no introduction. The duo, after all, established itself as one of the most powerful music groups of the early aughts and, like most Disney darlings of their time, have cultivated a relationship with today's millennials—hey, nostalgia's a powerful thing. But the sisters' continued success isn't just based on warm and fuzzy feelings for the past—their debut album, Into the Rush, went on to become certified gold and their sophomore release, Insomniatic, cemented the duo's influence on the mainstream pop-rock music scene and catapulted them into superstardom. Sure, Disney gave them a platform, but their critical and commercial success, signature polished pop-rock sound, and infectious energy allowed them to step outside the brand's shadow and truly come into their own.
But behind the closed doors of such mass celebrity, Aly and AJ Michalka were suffering from "music depression." 
"We didn't know what we were going to do next and what direction we were going to head in," AJ tells me as she, Aly, and I chat over the phone, before continuing:
And then, once we really found the sounds for this new record and this new EP and kind of this introduction into who we are as artists, all of that lifted up. It's amazing what happens when you're confident as an artist. The writing completely changes, and you're no longer depressed about your sound or what it's going to be or if people are going to like it. You just start writing because you've locked your sound and it just starts working, and I think people hear that.
Aly & AJ's first release in a decade, aptly titled Ten Years, comes in the form of a delicately wrapped, four-track EP laden with '80s-inspired synths, 808 drums, and unforgettable vocals—a complete shift from their perfectly packaged, tween-friendly sound. They've traded their Disney-approved and polished aesthetic in for grainy and gritty visuals shot on 35mm. The electronic influence heard in popular tracks like "Potential Breakup Song" has been folded into the core of their sound, but it's more refined, sleek, and mature. Music consumers and fans alike either want their idols to change a lot or not at all, and the duo's bite-sized release is a perfect example of how to cultivate both. More importantly, though, it taught the twosome that it is possible to remain true to your sound and create a smash hit. 
And despite all of the struggle it took to get to this critical point a decade later, the two make it clear that they have no regrets about their past. "At the time, we were very proud of it," AJ says. "Obviously, there's some lyrical choices and melody lines from past songs that we roll our eyes at, but overall, we stand by our music. It had an effect on the people it reached, and those fans have followed us to this new iteration of music. We hope to win over new listeners who would normally never listen to an Aly & AJ record. That's our greatest expectation we've set for ourselves." 
She adds that the reception has not only restored their confidence in the music industry but in them as artists. "I feel like we've just been accepted back into the fold of music," says AJ of their sound. "Just seeing what's happened on Spotify and people's responses and being on a stream kind-of on our own without this big machine behind us—it's really encouraging, and people's words have been super-overwhelming in a great way, just reading everything on Twitter and what we get from our publisher. I know we're on the right track, we're making the right music that's really resonating with people."
"It feels great to be back, and I think it feels nice to feel validated," Aly adds. "I think we always believed in this music when we started making it a year and a half ago, and so it feels nice that people are in agreement that yes, this is good music and it's worthy of being out there in the world." 
Allow Aly & AJ to reintroduce themselves with Ten Years and our interview with them, below.
I want to talk about the video for "Take Me"—the visual was equal parts eerie and aesthetically pleasing and made me feel like I was watching a scene in a strange movie. Were there any films that inspired the visual?
Aly: Eighties horror films across the board definitely played a lot into the concept. Funny enough, it was a concept that I'd kind of come up with, just really loosely, and then was kind of ironed out with the director of the video, Alex Ross Perry, who we were really excited about having direct this just because we were fans of his work as a filmmaker. And we were just really proud that we could make this video on 60mm—that was a big moment for us—because all of our past videos have been digital, and the fact that we were actually able to shoot on film for this was very much a shift from old Aly + AJ visuals. I think we'll stay and continue on that pattern; we think all of our videos now from here on will be done on film. 
What musicians inspire you for this EP?  
AJ: A lot of the inspiration was kind-of old '80s pop. There were some current artists that for sure inspired the sound, too, but I would say people like Peter Gabriel and Phil Collins influenced us. I think there's definitely a Genesis-type inspiration that Aly and I were going for. Current artists like St. Lucia, Chvrches, Tame Impala, have definitely been influences for this new sound as well.
Aly: Duran Duran and Robert Palmer, too. Our sound is kind of in those worlds more than current music. Not that we don't listen to current music just to enjoy—we completely do. But when it comes to getting inspired, we kind of like to go back to that music. I think it's also—I don't know—I think it's somehow better. If you start to pull from a current artist, it feels like you're kind of copying in a way, whereas some of this older music has been something that so many artists have drawn inspiration from, that it feels like you're making something old kind of new again.
Your latest single, "I Know," was an ode to friendship after seeing loved ones come together for an acquaintance after he lost his battle with cancer. What other themes did you explore lyrically in the EP?
Aly: I think AJ and I didn't want to make an EP that was just relationship-based, and so having a song about friendship was really important to us. We also wanted to have a song on there about fears of your partner cheating on you as well. That was important, as well, because I think so many people have dealt with that terrible, paralyzing fear of, "Wait, am I not the only one?" And then, we also felt that it was important to a have a song on there about a relationship that you're just not able to make work anymore, no matter how hard you've tried. [The song] was obviously about a long-distance relationship, but I think it can be about not just a long-distance relationship, but the distance that you start to feel in a relationship when things just aren't going right. So they definitely touch on relationship themes, but they're all kind of different, whether it's negative or positive. 
The EP to me is such a short but sweet taste into your new sound—I see it as the appetizer to the full course meal; what will the full course meal looks like? Are you two planning to release more singles? Music videos? A tour? 
Aly: We plan on doing a music video for "I Know," and then touring is obviously a huge goal for us, that's kind of the ultimate. But I think this whole record will touch on, hopefully, even more topics than what we've just talked about on the EP. Obviously, I'd love to have a couple songs that I think are talking about the political climate that we're living in, about it being something that gets people upset or angry. But I think that that's our job as artists, to be able to speak up for people that don't have a voice. And if we can use that platform positively, then that's something good.
AJ: We're excited for the full course meal.