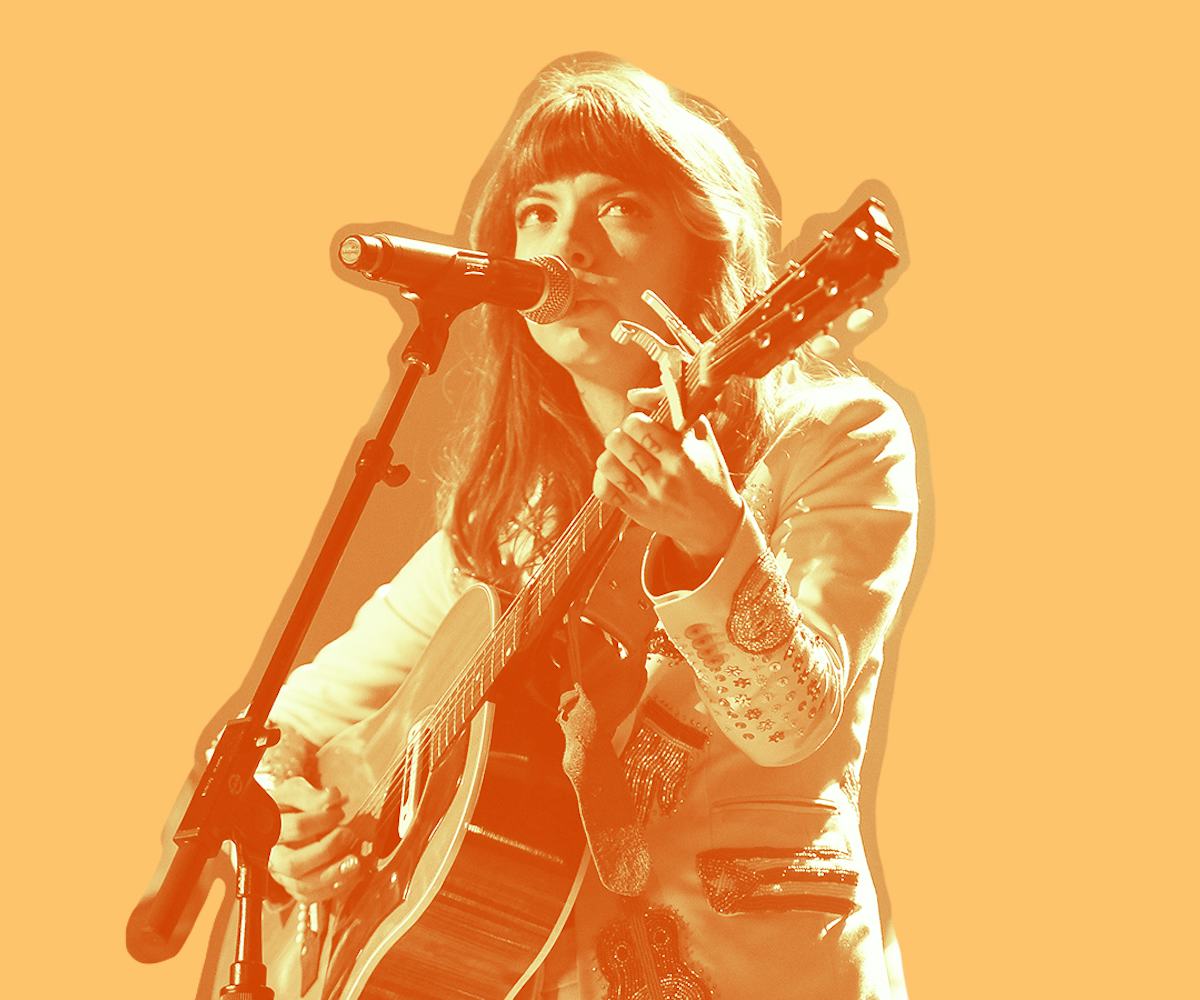 Alynda Segarra On Navigating Being Puerto Rican, Queer, And Bronx-Bred
Hurray for the Riff Raff's latest album is 'The Navigator'
Hurray for the Riff Raff's latest record, The Navigator, is as political as it is personal. Lead singer Alynda Segarra explains that the concept album is based on her experience growing up in New York's Bronx and finding herself in the downtown punk scene. More succinctly, Hurray for the Riff Raff's latest body of work is about identity. Through each of the 12 original tracks, Segarra chronicles her own journey, examining the gentrification of the Bronx, the need for people to use history to help the world find justice, and discovering her own voice.
With singles like "Rican Beach" and "Living In The City," Segarra examines the appropriation of Puerto Rican culture and living in a place where the marginalized are ignored. She finds introspection in "Hungry Ghost" and "Nothing's Gonna Change That Girl," which reveal Segarra on an adventure to find herself. Mixing Americana folk with bluesy rock 'n' roll, Segarra paints a vivid portrait of her life.
We caught up with Segarra to discuss demanding rights, her heritage, and pride for America.
How is The Navigator a concept album? What did you want to convey through it?
I really want to tell the story of growing up [in New York City], the city that is the navigator of every city; I really was interested in creating a character and using it to write a little bit outside of myself and my experience. It ended up being about a lot. The album is about Puerto Rican history, gentrification. [It's about] trying to escape where you're from—your roots—and then realizing you can't and being led back to them. There is a story that goes along with the album; it's definitely a musical journey.
What's the statement you were trying to make with it?
I wanted to say something about trying to escape who you are and where you come from: I loved the idea of "the navigator" because that means changing. What it means to me now is, who's driving the train? Do we know who's driving us? Do we know where we're going? Do we have a plan? Who's leading us? For me, that's been my inner guide or my intuition, but it also had to do with navigating identities and feeling like you live in the intersections of a lot of identities, like being Puerto Rican, being a woman, being queer, and also being from the Bronx.
How did the Bronx frame the record?
I really feel like I was protected from the pretentiousness of New York City. It's very family- and neighborhood-oriented, and that was really good for me. I didn't know how good I had it in a way. I was trying to run away from it, and I ended up hanging out in the Lower East Side, which is so far just to go hang out with other punk kids and find this culture I was a part of. I was trying to find the weirdos and outsiders, but now I find myself longing for [the Bronx]. Now, whenever I go visit my dad, I'm like, "This truly informs who I am." So many of my mannerisms and how I interact with people is from where I grew up in the Bronx. I feel very proud of it now.
What did you learn from the downtown punk scene?
About questioning authority and feeling patriotic. It's a different form of patriotism that people don't consider to be patriotic. I want to question the people leading this country because I really care about this country. I want to make sure people are being cared for, and I want to make sure our money is being spent the right way. It's okay to question and hold our leaders accountable. The roles they play are really important; they're supposed to be representing us. I also learned a lot about feminism. I learned it's okay to be a dreamer, and it's okay to be an idealist, to really believe the world could be a much more peaceful place than it is. We feed it into ourselves as we get older that that's a naive concept, but I learned in the punk scene, it's possible to manifest these kinds of idealist beliefs.
How does this record set apart from your past work?
I definitely wanted to be more of a perfectionist with this one. In the past, I didn't have as much confidence and vision in myself, you know? When I first thought of making a concept album, I was really inspired by Ziggy Stardust. I instantly was like, "Oh, I could never do that. I'm too lazy." And I had all these inner sabotaging thoughts in my head. I was on a quest to prove that voice wrong, and in the past, I'm definitely proud of what I've done, but I never wanted to rock the boat. I don't think I stuck enough to my guns on some things. On this [record], I really did, and I really trusted Paul Butler, the producer, to help me get there. It was a great working relationship and partnership that created this album, so that was a big difference; having someone who's so invested and really believes in your vision.
So tell me about "Rican Beach," why did you lead with this single?
Well, "Rican Beach" in the album is a specific place. It's a location I came up with in my imagination, where all the people are getting pushed out because gentrification—the poor people and people of color are being pushed off into this little island off the coast of the city. Like, "Get out of here. We don't want to deal with you." They get walled off. Obviously, there are some lyrics about the administration that's about to come into power, and I just really wanted to put out this feeling, like I was saying before, of patriotism for people who feel attacked right now, for people who feel marginalized and oppressed and feel like they're being told this isn't their country. I wanted to remind us all that this is our country, too. It's the Latin community's country, too, and immigrants' country, too. This is our home, and we're not going anywhere. We're gonna be here and believe in our hearts that we belong here. I wanted to put out this empowering message for people.
What made you decide to dedicate the "Rican Beach" video to the protesters of Standing Rock?
I dedicated that video to them because I really felt that was a great example of what it means to love this country and the land. If you love this country and you're patriotic, you should really care about the Earth and the drinking water for people. I thought it was such a beautiful and peaceful way to show what it can mean to love this country as opposed to turning that into hatred against other people. I'm trying to channel my energy into positivity and loving acts that can transform, and I can hope will inform our future. I was inspired by the [Standing Rock protesters], and I think they lead a great an example for the rest of us of how peaceful disobedience can be very painful, but very effective.
How do you feel like your music is a statement for our political future?
I've traveled this country so much. I left home when I was 17, and I made it my life to travel this country. I really love it here, and I love what I believe is at the heart of American people, really. I hope to try to remind us what we really stand for and to remind us of the people we celebrate in history. There are a lot of young people challenging the energy of our heroes right now, and they're coming in the form of the oppressor. People who are standing up for the rights of people getting bullied. I would just really love to stand for a loving and peaceful future. I think we need a little bit of sanity right now, and I hope artists will help bring that and build some bridges. I hope that I can just be a role model for younger kids, to be like, "It's really cool to not hate people and believe in women's rights." Sometimes when you're younger, you feel like it's not okay to be positive or believe, so I would love to try to keep hope alive.
What music were you listening to when you made this record?
I was listening to a lot of Rodriguez, they made that documentary, Searching for Sugar Man, about him. He's just an amazing street poet in my opinion. He writes so much about Detroit, which really hits home, especially him talking about that city life. I was listening to a lot from this band called the Ghetto Brothers. They're Puerto Rican kids from the '70s. They were a street gang before they became a band and decided they wanted to dedicate their time to stop the wars between the youth gangs. I'm always listening to the Beatles.
What do you hope will happen for our country in the next four years? What good do you see coming out?
Well, I definitely think we got a wake-up call. We thought we were going on into the future with our values, and it seems like now we're being taught that, in order for all of us to have rights, we've gotta be struggling and always demanding them. So, I really hope we can hold our president accountable to represent all of Americans. I really hope our country can find its sanity again. I hope we can work through the painful task that this country is built on, really come together and not ostracize and bully people. I hope somehow we can learn lessons from this, and I really believe in the youth and the future generations coming. I really believe in my generation. I think we can really see through bullshit and hatred, and we don't think that's American values. That's what I hope.