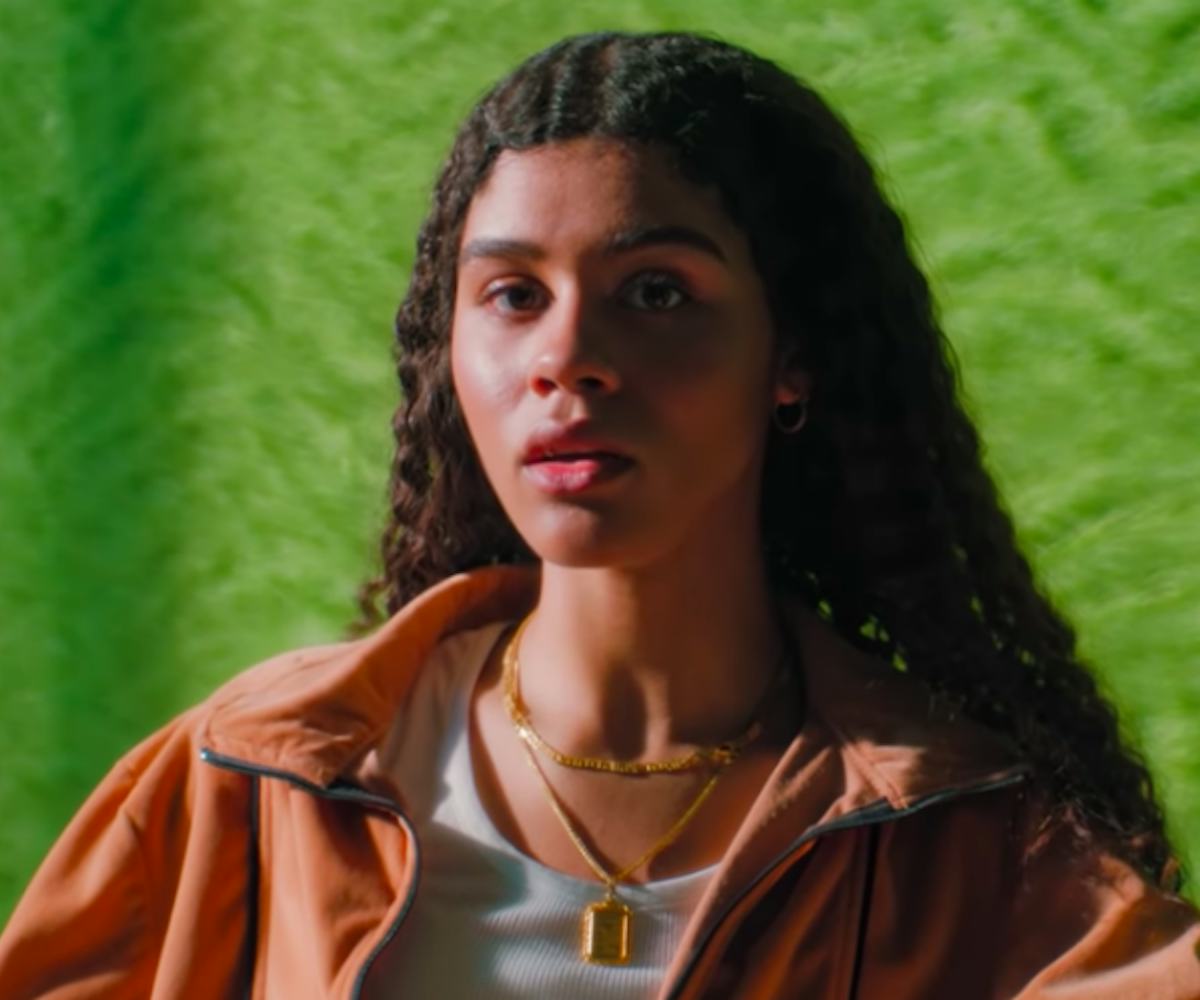 Photo Courtesy of Ama Lou.
Meet Ama Lou, The Singer Following In The Footsteps Of Jorja Smith
While Ama Lou might not be a household name yet, just give her a minute, the young British singer is carving out quite a career for herself, with people-in-the-know calling her the next Jorja Smith. This comparison is no coincidence: The two just recently came off tour together and Lou, like Smith, has received an endorsement from Drake, with the rapper using her lyrics to caption one of his Instagram pictures. He also slid into her DMs to share how much he liked it, which is a pretty solid affirmation.
Lou didn't come onto the music scene quietly, instead coming out strong with "TBC," a Black Lives Matter anthem about police brutality. Her follow-up, "Not Always," explores gender as a restrictive concept. Her latest and first EP, DDD (which stands for dawn, day, and dusk), is a three-track project that tells the story of a fictional runner in a Los Angeles crime ring, and it comes paired with a fun mini-film that she directed and shot with her older sister. Let's just say, Lou has the range.
Ahead, we chat with Ama Lou about her favorite place to write, the importance of visuals, and her love of touring. 
You just wrapped up your first tour with Jorja Smith. How was that experience?
Absolutely amazing, it was my first tour EVER and I'm so glad I experienced it with a friend. She and her team are super amazing. 
Touring seems to be something artists either love or hate, what are your first-time feelings toward it?
I am now addicted to touring!!! So many shows in a row becomes so addictive. I loved it. I grew up traveling a lot, so the long rides were sort of home-y to me. It's so cool waking up in a different city every day, going to places you may have never gone if not for the shows. I can't wait to get back on the road again.
You just turned 20, what are some lessons you've learned in your teenage years?
I did! God, apart from everything I know up to this moment? Not much [laughs]. It's really weird being out of the teenage years now.
How does your classically trained background inform your music?
Classical training gave me a really good foundation of musical knowledge to build upon in a free and contemporary way. I learned a lot about music really naturally by going through the processes of classical training. 
What's your relationship to classical music now? 
I love it still, as I always have. It's a good way to concentrate or calm down. Something about those types of organized frequencies holds something that no other type of music does.  
You got a lot of attention for your song "TBC" because of how politically charged it is. Were you surprised by the reaction?
I had no expectations apart from that I knew it was a great song. I was happy that people took the song so personally and sort of removed me from it, as that was the intention. 
Do you consider yourself an activist?
I believe I have contributions to make and a platform from which I can speak on things I believe in or believe against. My music is my word, it is my contribution however it comes about, and I have hopefully loaned a voice to topics that needed it.
DDD came accompanied with a trio of videos. How much space do visuals take up in your mind compared to songwriting and producing?
I see a lot of things visually. Sometimes, I see sounds and have to translate them into an audio form. Visuals are so much to me. They are definitely balanced with audio in how I work, but I definitely automate to a lot of seeing with every aspect of my life, whether it's music or films or design. 
How important are visuals to your work? 
Extremely. I am obsessed with film, completely obsessed. There is a vision to everything; I conceptualize the film before I have finished the production for songs, usually.  
Where's your favorite place to write? 
Everywhere and anywhere really, I'm not really fussy, but I will gravitate toward quiet where there's no one around so I can zone out. But I have written with loads of people around before and had loads of fun. But, yeah, usually where I can just be in flow and go somewhere else. 
You played some new music during your Brooklyn show. When can we expect new material?
Soon... REALLY soon.