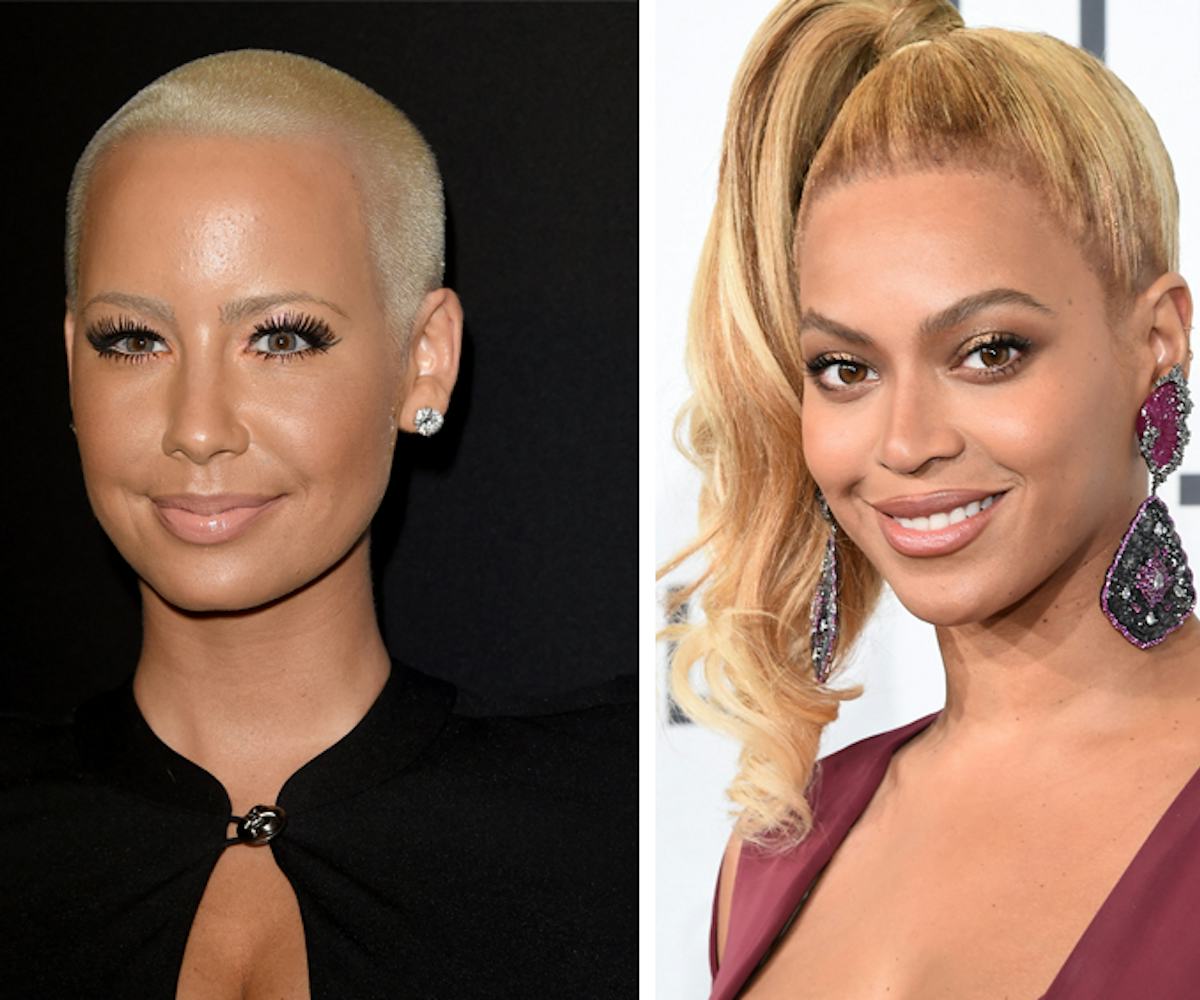 Photos by Jason Merritt and Ilya S. Savenok / Getty Images
Amber Rose Just Clarified Her Beyoncé Comment
"was just speaking on classism…"
After Kim Kardashian came under fire for naked selfie last week, Amber Rose came to her defense. Singling out P!nk's subtweet, Rose addressed the inherent classism with which woman approach other women. But given the nature of the Internet and media at large, her commentary didn't put the issue to rest. In an interview with The Daily Beast, the former stripper elaborated on the public's perception of her and Kardashian. "It's bullshit, and this is the thing: They come at me and Kim so hard because I was a stripper and she had a sex tape," she said. "So if we could sing, it would be okay if we were on stage half-naked." 
To strengthen her statement, she spoke about how the public treats Beyoncé:
"We all love Beyoncé, but she's on stage half-naked and twerking all the time, yet people say, oh, she has talent so she's able to do that. We don't have the talent that Beyoncé has, so we get criticized as former sex workers, but at the end of the day we're just women—we're all women—and we should all embrace each other. No one is greater. We're all the same. So, to criticize us as incapable of being smart businesswomen because Kim has a reality show and I'm a socialite and we don't sing is stupid. We've both been in movies, and we take our acting, business ventures, and everything else very seriously."
Some members of the Beyhive, who thought that Rose was calling out Beyoncé for her image, didn't take too kindly to the statement and took to social media to profess their outrage. In turn, Rose took to Twitter to clarify her points.  
With all this cleared up, it seems like now is the perfect time for Beyoncé to speak about her experience with classism and privilege. Your move, Bey.