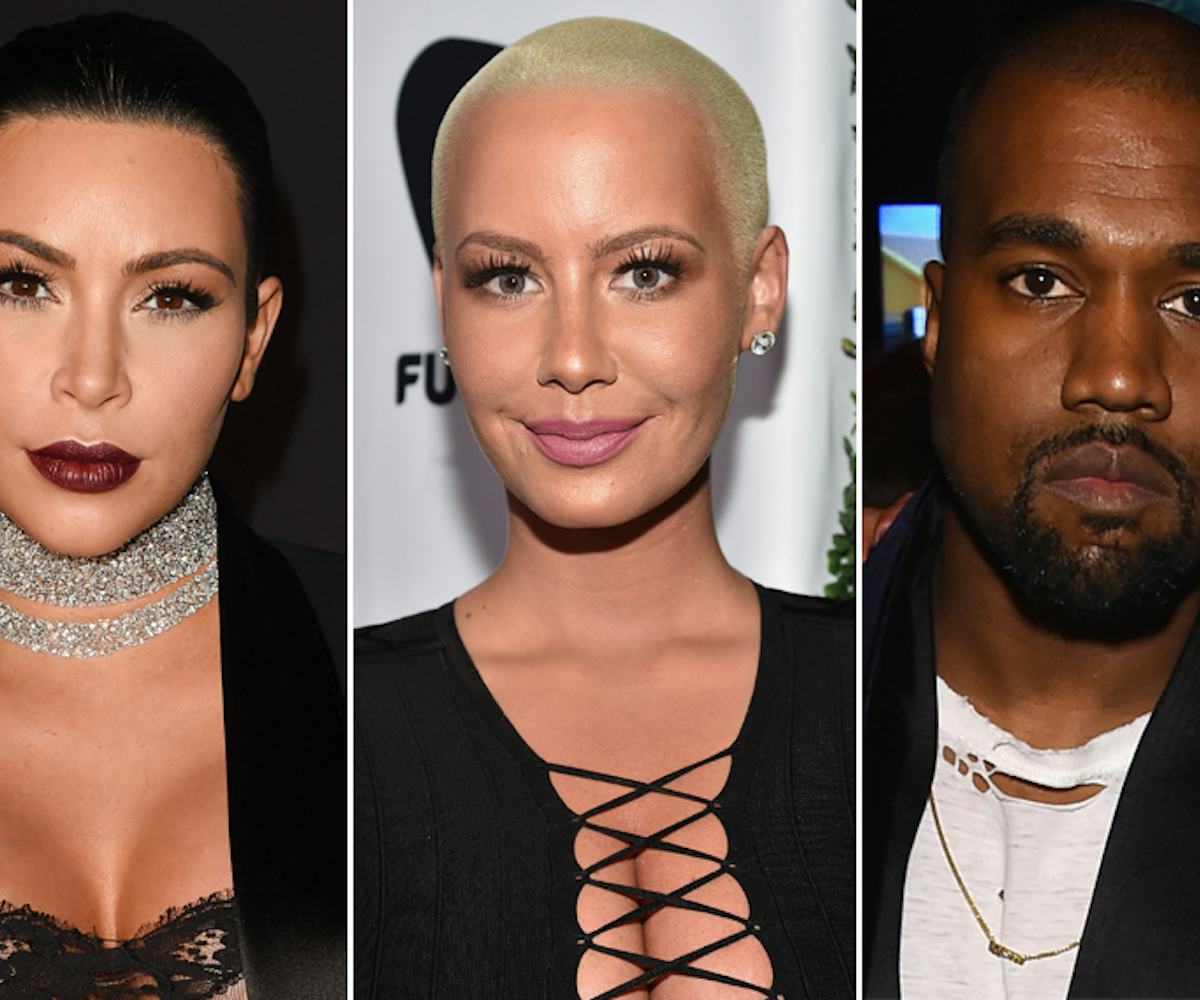 Photos by Jason Merritt, Alberto E. Rodriguez + Larry Busacca/Getty Images
Amber Rose Explains How She Can Defend Kim Kardashian And Still Hate Kanye West
Remember last week when Kim Kardashian West posted a naked selfie, Chloë Grace Moretz said something about it, and everything in the world broke wide open? Of course, you do. One of the most memorable moments from the whole cyclone of dialogues, clap backs, and clap backs to the clap backs involved Amber Rose and recording artist P!nk. 
Simply put, P!nk, who often dances in next to nothing, criticized Kardashian West for Instagramming herself wearing pretty much nothing. In swooped Amber Rose, a proud former stripper, to defend Kardashian West primarily by pointing out the apparent contradiction between P!nk's words and P!nk's actions. It was hot tea and we sipped it hard. 
Still, many wondered how Rose could defend Kardashian West when she continues to have a long-standing, often vulgar beef with her husband, Kanye West. For many of you, it didn't compute. 
Well, at the SXSW conference and festival this weekend, Rose sat down with our friends over at Complex to explain this bit of celebrity cognitive dissonance. "I feel people make a big deal out of it because it's me and Kim [Kardashian West]," Rose told Complex. "But I would have done it for anybody." She continued, "I'm not just a feminist when someone is super famous, I'm a feminist every single day of my life… I felt it was fucked up and I needed to say something regardless of our past and the fact that I dated her husband five years ago, six years ago, which is so irrelevant now. But it really does not matter—you just have to do what's right." 
When pressed further Rose said, "Kim is her own person. They're not one person. Kim is her own being." Rose went on in detail about West's negative comments toward her—and her child with rapper Wiz Khalifa—calling them "unfortunate." "I still don't like him as a person," she said. "I probably never will, but, you know, it's really irrelevant because me and him we have absolutely no relationship and it doesn't even matter. But as far as Kim goes… I think she's a wonderful person, I think she's a great mom, and that has nothing to do with her husband."
Okay, got that all? Good. For full context and more, watch the video of Complex' interview below.
(via Complex)