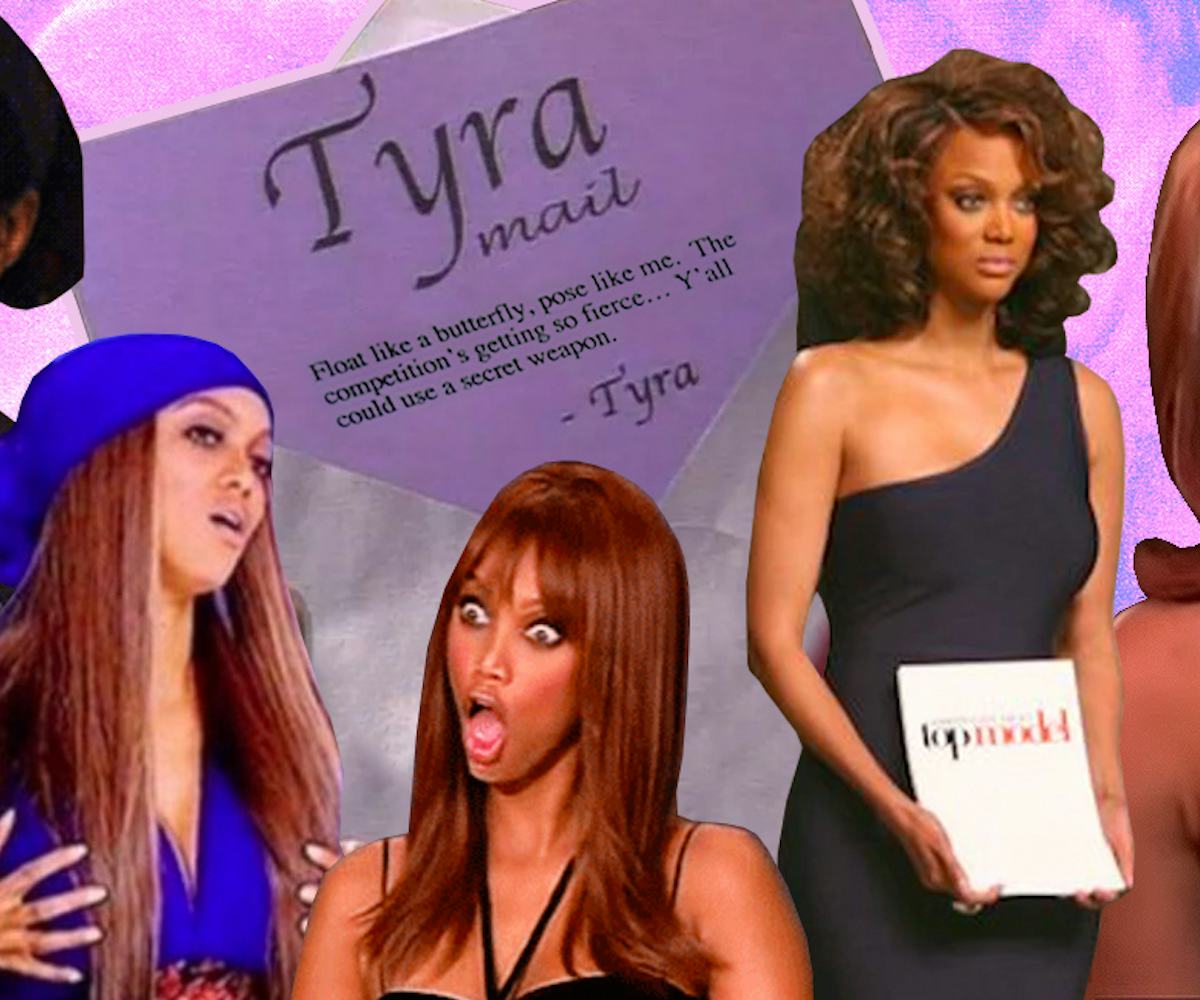 The Most Meme-able Moments From 'America's Next Top Model'
When The CW first premiered America's Next Top Model in 2003, there's no way it could have predicted that the show would become a trailblazer in reality TV. However, 24 cycles later and ANTM continues to be as influential as it was when it first debuted. 
Arguably one of the biggest competition reality show franchises to date, Tyra Banks' baby spawned a million memes and GIFS that have catapulted the show to the forefront of pop cultural consciousness. From continued calls to do something—anything—"but make it fashion" to a verifiable treasure trove of Miss J. reactions, ANTM's impact is peak internet. So in honor of the show turning 15, we undertook the difficult task of selecting a few of the show's most meme-able moments—from faints to falls to freak-outs. Check out our list below to see if your fave reaction GIF made the cut.
Cycle 1: Ebony's Fake Cry
Arguably the best "LOL JK" reaction ever, Ebony Haith's fake-out cry moment is likely one of the best moments in ANTM history. Someone get this girl an acting rep, stat.
Cycle 2: "But Make It Fashion"
Who could ever forget that incredible Cycle 2 moment in which Tyra tells the girls to "hoe, but make it fashion?" In the years since, these words of wisdom from one of the world's biggest supermodels have taken on a whole new life with everything from the Royal Wedding to emotional baggage becoming haute couture.
Cycle 4: Tyra Vs. Tiffany
Unless you've been living under a rock for the past decade, you've seen Tyra's infamous "we were all rooting for you" speech, and no ANTM list would be complete without it. Directed at contestant Tiffany Richardson's "bad attitude," I know this pick is painfully predictable. But let's be honest, if we're talking about meme-able moments, I would probably look even stupider if I didn't include it.
Cycle 6: Jade's "This Is Not America's Next Top Best Friend"
Jade Cole may be the best villain to ever cross the judge's panel, which makes it really hard to pick just one iconic quip. However, if we want to talk about her most meme-able moment, we probably have to pick her famous "This is not America's Next Top Best Friend" line for elevating the whole "I'm not here to make friends" reality TV trope to a whole new level.
Cycle 6: Tyra's Bad Acting
Facts first: Tyra is a decent actor, but I also think I'm slightly biased considering the fact that Life-Size is one of my top five DCOMs of all time. That said, all the magic spells in the world couldn't help this nightmare of an edit from the Cycle 6. Banks, ever the good sport, introduced the season's acting challenge with a fake faint that only succeeded in convincing the internet that she needed a stunt double. The "me after a 2-minute workout" caption couldn't be more apt.
Cycle 14: Alasia's Safe Face
One of the go-to GIFs for when you're rooting someone/something on, Alasia Ballard's reaction to being safe is everything and more.
Miss J.'s Existence
Judge Miss J. Alexander is arguably the patron saint of GIPHY. Then again, what do you expect from the man who has a verifiable arsenal of incredible "shocked and appalled" faces?