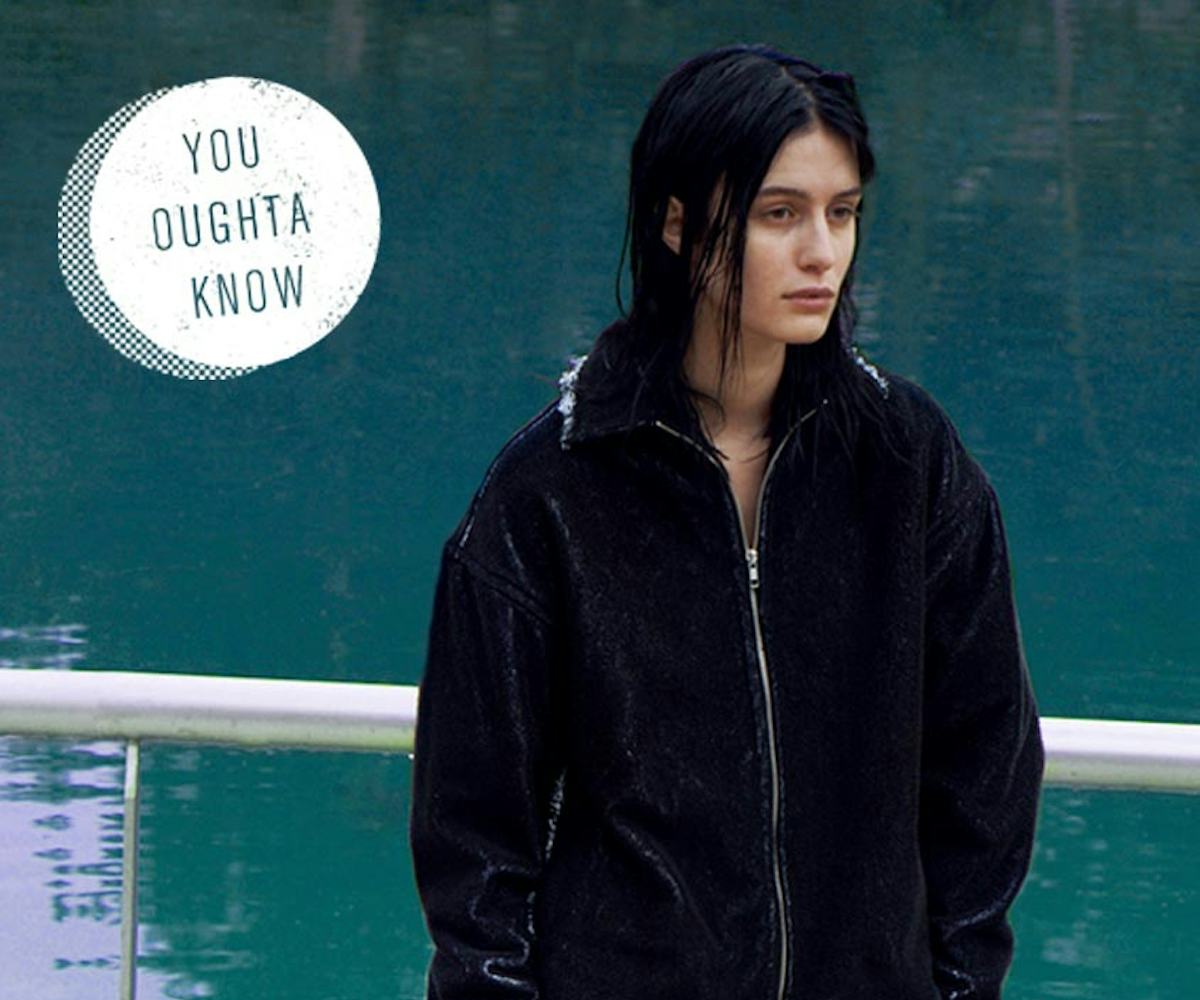 all photos courtesy of haal
you oughta know: haal
surfer dudes plus hacker culture equals this awesome swedish line.
Welcome to our new awesome column, You Oughta Know. No, it's not a '90s Alanis Morissette fan column, though we'd be totally OK with that; it's the place to find out about everything new, cool, and 100-percent NYLON, from bands about to hit the scene to designers who are on the verge of making it big. Consider it the place to meet and greet the new generation of talent. This week we're getting the scoop on Haal, a rad collection out of Stockholm. 
Looking like you just stepped out of a Stockholm street style photo or an Opening Ceremony catalogue is no easy feat, but with clothing from Swedish brand
, you can get it done. 
After working as the first designer at Ann-Sophie Back Atelje, Anders Haal broke off to designs a wildly innovative capsule collection of swirling tie-dye, peace sign motifs, and some serious cool knits. The result is a line of ready to wear that melds surf vibes with hacker-worthy technology--AKA the exact thing you need to feel like the unique, chill badass that you are. 
We chatted with Anders about his collection and his inspirations. Read on to get to know Haal. 
Did you always know you wanted to work in fashion?
Actually no. I started in art doing photography and video. Fashion was the natural choice and somehow it became a sexual liberation for me. I enjoy fashion in the sense it can be brain dead and amazing at the same time.
What was the greatest thing you learned working for Ann-Sofie Back?
Working with Ann-Sofie Back and Ann-Sofie Back Atelje was a big experience. It was the ideal platform for me to explore new concepts and perspectives. She has a very unpredictable quality about her and yet maintains her vision.
What were some of the inspirations for the capsule collection?
It was the idea of a collage. I wanted to work with the concept of freedom, with a lifestyle approach. Using classic surfer dude references, I thought it a good way to work with something active and not so precious. In my first capsule collection, I wanted the products create a story together, but let the wearer fill in the gaps.  For example,  putting together a leather trench coat with a peace sign towel and a pair of aviators. The collection and range will grow each season and will eventually tell new stories.
In addition, I was really frustrated of what was going on in the market, since everything has been extremely streamlined for a long time.
If any person--alive, dead, or imaginary--could be the spokesmodel for Haal, who would you want it to be?
When I design I tend to consider women that I think would like to wear HAAL and people I think should wear it, like Jodie Foster.
If you could collaborate with anyone, who would it be?
I have new collaborations coming up and I wish I could tell you more about it. It is going to be a continuation on the previous theme. I simply want to continue working with people I like and that feel relevant for HAAL. My ideas about the project are developing all the time and my ambition is to grow and develop broader product groups.  
How do you see a woman wearing your designs?
Comfortable, carefree, unlimited. I guess I design for people who understand they are free to be who ever they please. Its not my job to fit them into my categories.
What music do you listen to while you work?
I usually listen to radio mode on Grooveshark or Soundcloud. Or new music from my boyfriend.
Need the scoop on more cool things? Check out our interview with 
Denim and 
!