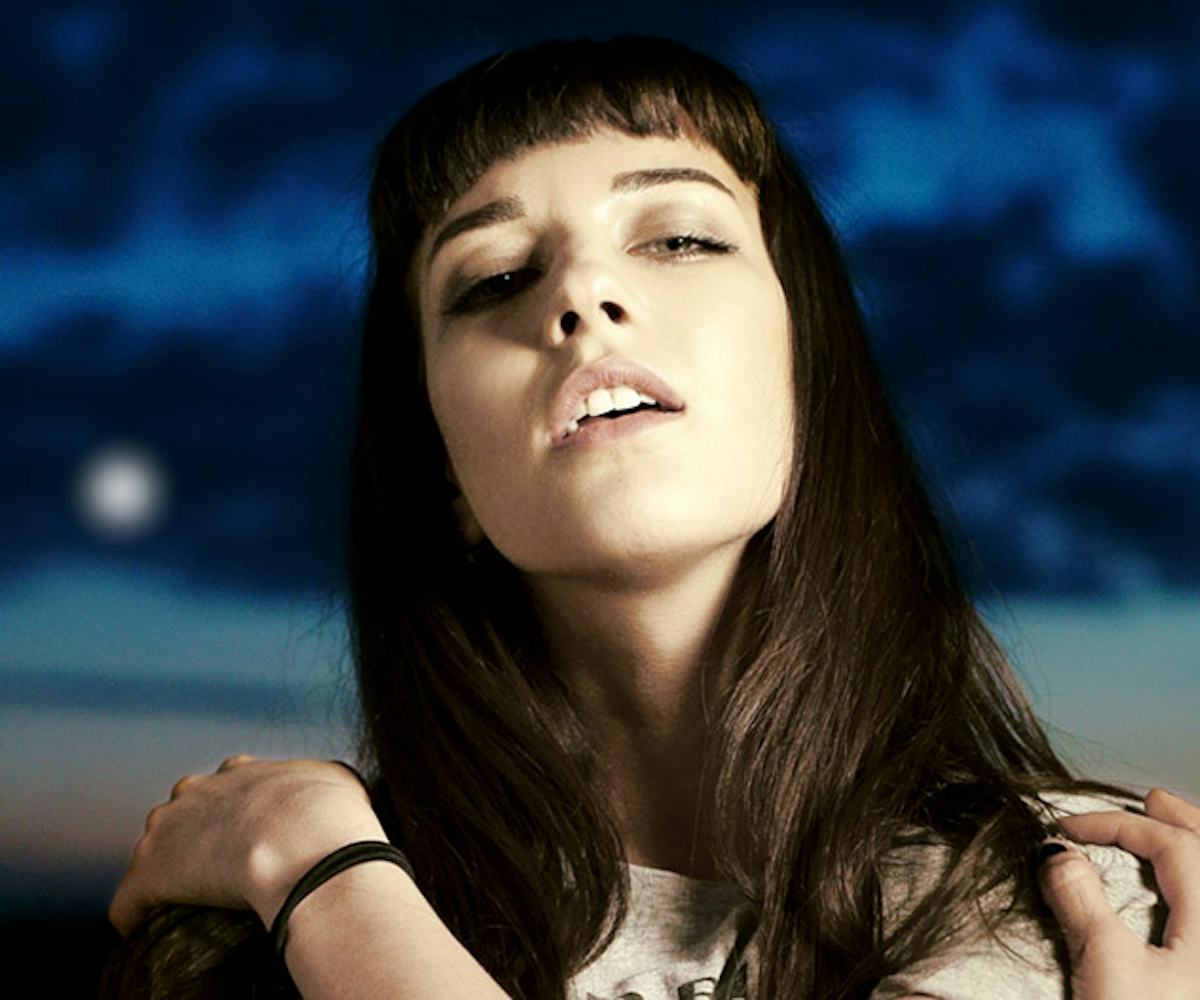 Photo by Mike Spencer
The Future Of Dance Music Is Bright, Thanks To Anna Straker
Keep it cool, whatever it means to you
Anna Straker is a one-woman show. She writes, sings, and produces her music and does so with flying colors. With a past riddled in dance music and the London underground, Straker's just now breaking free from her backing vocal days and into her own. Her forthcoming Serious EP (due November 15) tips its hat to '90s house and Euro house. Singles like "How We Are" and "Late Night Swimming," both of which will be featured on the EP, flirt with the vulnerable side of dance music while maintaining an air of playfulness.
"Serious," Straker's latest single, is, perhaps, her most whimsical. It's a gigantic track, one that's both cheeky and sincere and packed with beats designed to turn yourself out and strike a pose to. (Just wait until you watch the video, below.) Straker's boldness is going to get her far. You'll be happy to say you knew her from the beginning because her career is about to go from zero-to-300 real quick. Seriously.
After working with Years & Years and other artists, why are you ready to step out on your own?
Having experience doing backing vocals was super beneficial (and fun!), but I've always had the intention of being a solo artist. Over the last few years, I've really focused on developing myself to become the artist I am today. I definitely needed that time to experiment with different ideas so I could create things that were ultimately "me".
What about London inspires you?
I love the constant connectivity of London. It's like a giant computer chip, all the lights and noises and energy buzzing around 24 hours a day. I'm the kind of person that thrives on being in the middle of it all.
Considering your music is dancefloor-ready, and the current state of nightlife is questionable (i.e. Fabric's fate), what is the value of going out and dancing?
We need to keep clubbing alive! It's so important to support London nightlife so we can retain it. Dancing means you can enjoy music in a whole new dimension. You can feel it, rather than just listen to it. Fabric is the cornerstone of clubbing in London, and preventing the closure of these amazing venues directly promotes new artists and good music.
How has performing on your own inspired you creatively?
When I play my songs on stage, I hear them in a completely new way. That gives me ideas for songwriting and producing. For example, I will perform a cool idea or synth part on stage, and then translate it back on a record when I'm in the studio.
What is one song that, no matter where you are, you'll dance to?
Luther Vandross' "Never Too Much." [It's] mine and my boyfriend's song.
What is one song that, no matter how tired you are, you'll rally for a night out to?
Todd Terje's "Inspector Norse." [It] reminds me of Field Day Festival 2015.
Who influences you?
I had a lot of R&B influences growing up, like Lauryn Hill and D'Angelo. Now, I have a much broader spectrum of music I enjoy and take influence from, everyone from Radiohead to Richie Hawtin to Blood Orange to James Blake.
Was there a moment in your life that solidified music was your passion and career?
When I was six or seven, I begged my parents to get a piano, and my little fingers were glued to it. I wanted to be Alicia Keys.
Can you give us a little insight into the idea behind the music video?
I wanted the video for "Serious" to be simple yet striking. I was referencing lots of '90s and noughties music videos for camera angles and performance-based videos, like "This is Love" by PJ Harvey, for cool inspiration. I also had a clear idea of how I wanted to look. I did my hair and makeup myself, and love the fact that we supported a London-based brand, APHID, for the clothing.
What do you have cooking for the rest of 2016 and the next year?
More music, more gigs, and more Anna Straker. Serious is coming out this November, and I can't wait to share it.