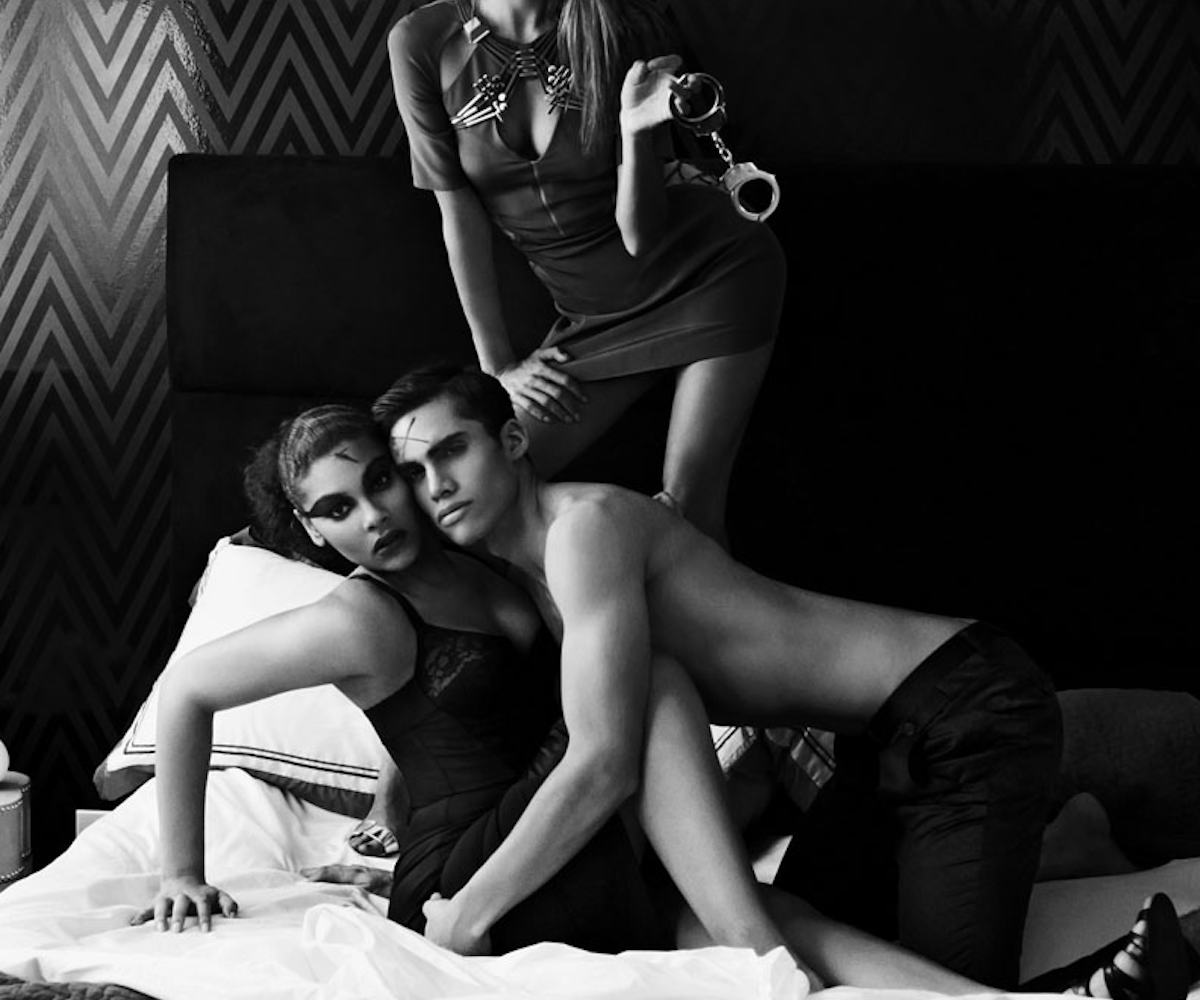 Sarah Silver/Pottle Productions Inc ©2013 Pottle Productions Inc.
antm axed: chlea
team girls loses another member.
Things got a little steamy on last Friday's episode of America's Next Top Model, but what else would you expect from a season that pits chiseled guys against gorgeous girl? Things started off with an almost NSFW demonstration from Tyra Banks and Rob Evans on how to make a photo look sexy, and then quickly escalated into a S&M-themed photoshoot with Alessandra Ambrosio. Bow-chicka-ow-ow.
As if that wasn't enough to keep our eyes glued to the screen, it was also the makeover episode. This meant a couple of tears from Cory over his Q-ball shave, a genius montage of manscaping that was hysterically painful, and some serious Beyoncé pre-pixie waves for Chlea. Unfortunately, the bombshell hair wasn't enough to keep Chlea in the competition, although she will be participating in every shoot for the chance to return to the show.
We spoke with the Delaware native this morning about her not-so-sexy time with Marvin and having beef with Kelly Cutrone. 
What was your favorite part of being on ANTM?
The makeovers were my favorite part. I felt like Beyoncé [after my makeover]! I just needed to walk around with a fan everywhere I went. I was like, "I hope they don't cut my hair off. Just make me look like Beyoncé," and they did, so I was happy.
Who do you think got the best makeover? And the worst?
Besides me!? I like Kanani's. I don't really think anybody got a bad haircut.
You had a bit of beef with Kelly Cutrone during the show. Do you think that affected your performance at all?
It didn't affect my performance because I really didn't care what Kelly had to say.
If you were given the opportunity to do it all over, would you do anything differently?
I can't say that I would do anything differently because I just feel like it was my time to leave. I'm still "in the competition" because [all the eliminated contestants are] fighting to get back [on the show].
Tell me about working with Marvin on the S&M shoot. He's pretty intense!
Oh my goodness. Before we started I could tell that he was nervous. I think he gets nervous around girls .
So he talks a lot of game but doesn't have any in real life?
Man, hell no. He doesn't have any game. He's so corny. The only thing he has going for him are his great looks. Once you open up that mouth, all that corny stuff comes out. Some girls like that, so it works for them! [laughs]
What were you most surprised about being on ANTM?
I was most surprised that we had to walk down that building [for the Guess challenge]. I wasn't nervous; I was excited. I knew I wasn't going to do a really good job, but I just wanted to do it because it was going to be fun. I felt like I was on Fear Factor. It was awesome.
What's the number one lesson you learned from being on the show?
Mind over matter is the number one thing that I learned because if you think you're going to have a bad picture, you're going to see that all in your face.
Tune in next week to see some the ANTM contestants strut down a spinning runway and get judged by our very own Editor-in-Chief Marvin Scott Jarrett!