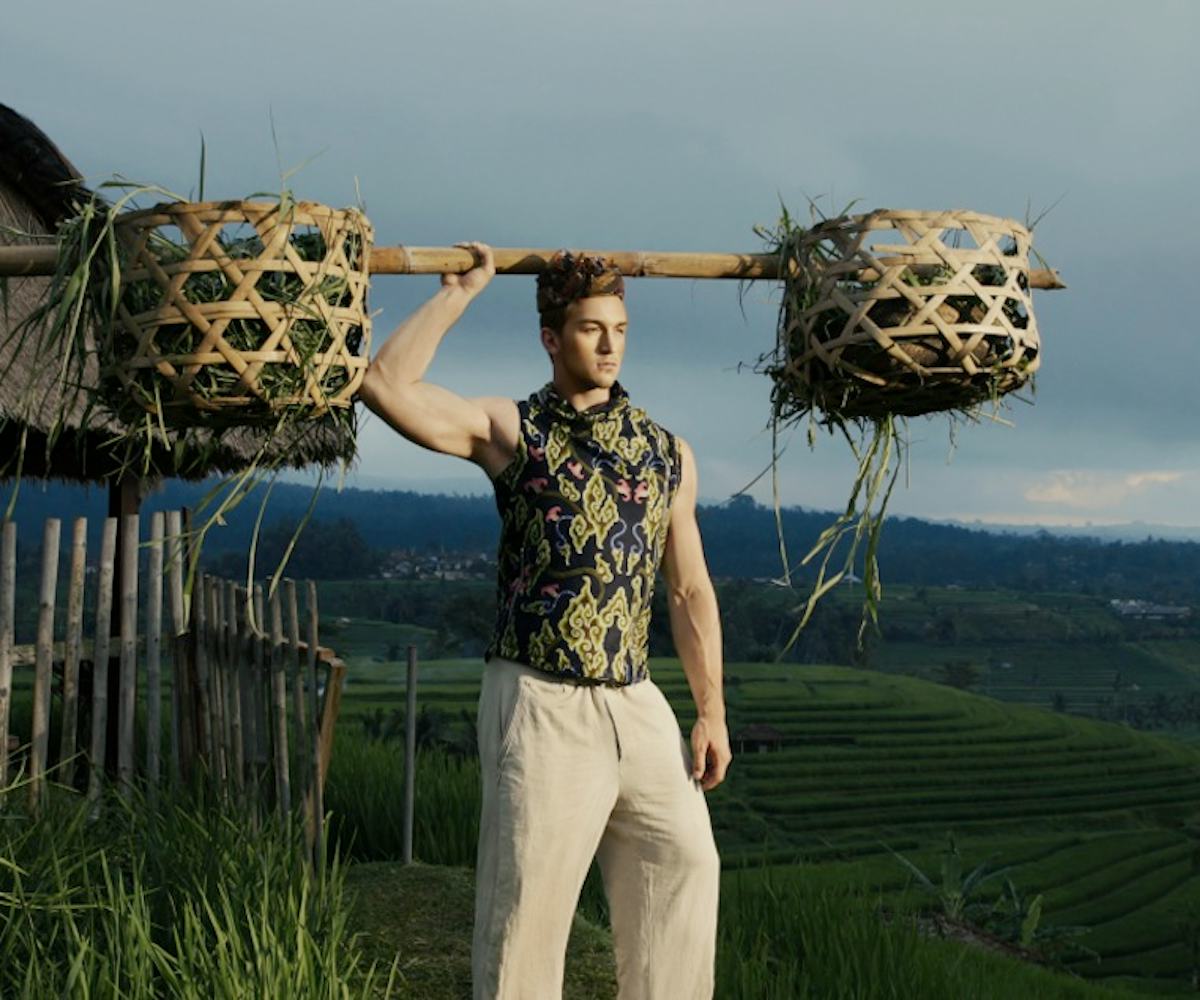 Photo by Jez Smith/Pottle Productions Inc ©2013 Pottle Productions Inc. All Rights Reserved
antm axed: jeremy
a fan favorite bids adieu to the competition.
ANTM is down to the top five contestants, and while we're stoked to see Marvin, Renee, Jourdan, Cory, and Chris continuing on in the competition, we're pretty sad that two of our favorites, Jeremy and Nina, went home this week.
We spoke to Jeremy today to find out about posing with that baby leopard and what it's like to have the best body ever. Read on for our second edition of ANTM Axed with Jeremy. 
What was it like getting to visit Bali?
Bali was jsut awesome. It's the most beautiful place with the nicest people. Being out there I got to do the coolest things, like an underwater runway challange, I got to ride an elephant, I got to stay at one of the nicest resorts in the world. I think it was the coolest thing I've ever done.
Were you scared to shoot with the baby leopard?
I wasn't scared at all. Renee was freaking out and jumping around. When it came to be my turn, it just really wanted to be played with. It didn't bite anyone--well, I think it might have bit someone later--but it never bit me, an I just loved it. 
What do you think made the fans connect with you so much and vote to bring you back?
I don't know! I ask myself that all the time, "Why did the fans like me so much? What made them want to bring me back?" Maybe it's the whole Jourdan and me thing they had going or maybe I'm just a nice guy [laughs]. All I can say is that I'm really grateful that they like me and they brought me back on the show.
Did you have a different mentality when you came back to the show?
I definitely tried to come back with a different mindset. Coming back I had a lot of time to practice and try to work on my angling. Coming back, i definitely was a bit stronger than before.
The judges mentioned a lot that your body was almost too perfect...
That doesn't make sense to me. 
Was it difficult to hear that sort of criticism?
It just doesn't make sense to me at all. Literally, one week the judges will be like, "Wow, your body looks so great here," and then the next week they'll be like, "You look like an oversized hobo." Well, what is it? They did the same thing to Don. Every week Rob would say to Don, "Hey, man, you need to put on some muscle." I mean, we can't change our bodies in an instant. You can't even change dramatically in a week. It was a little confusing and upsetting. I'm working on it. I'm currently slimming down a little bit, not trying to be so bulky. 
Do you think there is a double standard because guys' bodies were getting criticized a lot, but the girls never got such harsh bodily criticisms?
Yeah, maybe. Them saying that stuff didn't really phase me. I think it's just stuff you can say to guys. I didn't let it phase me, I was just taking it as constructive criticism. 
Which judge do you feel like gave you the best advice?
Tyra. Definitely Tyra. Rob didn't really give too much advice, I feel like most of the time it was just criticism. Same with Kelly. And Bryanboy is not even a real judge, so it'd definitely have to be Tyra. 
Is there something Tyra told you that's stuck with you?
In the last episode Tyra told me I have a really high fashion face, and if I slim down the arms and the legs I could definitely pursue modeling. That's been stuck in my head. I'm really going to take that to heart, and apply that advice to my life.
So you're going to continue modeling?
Yes! I'm definitely going to try to get with an agency and I'm going to try to move to Los Angeles.