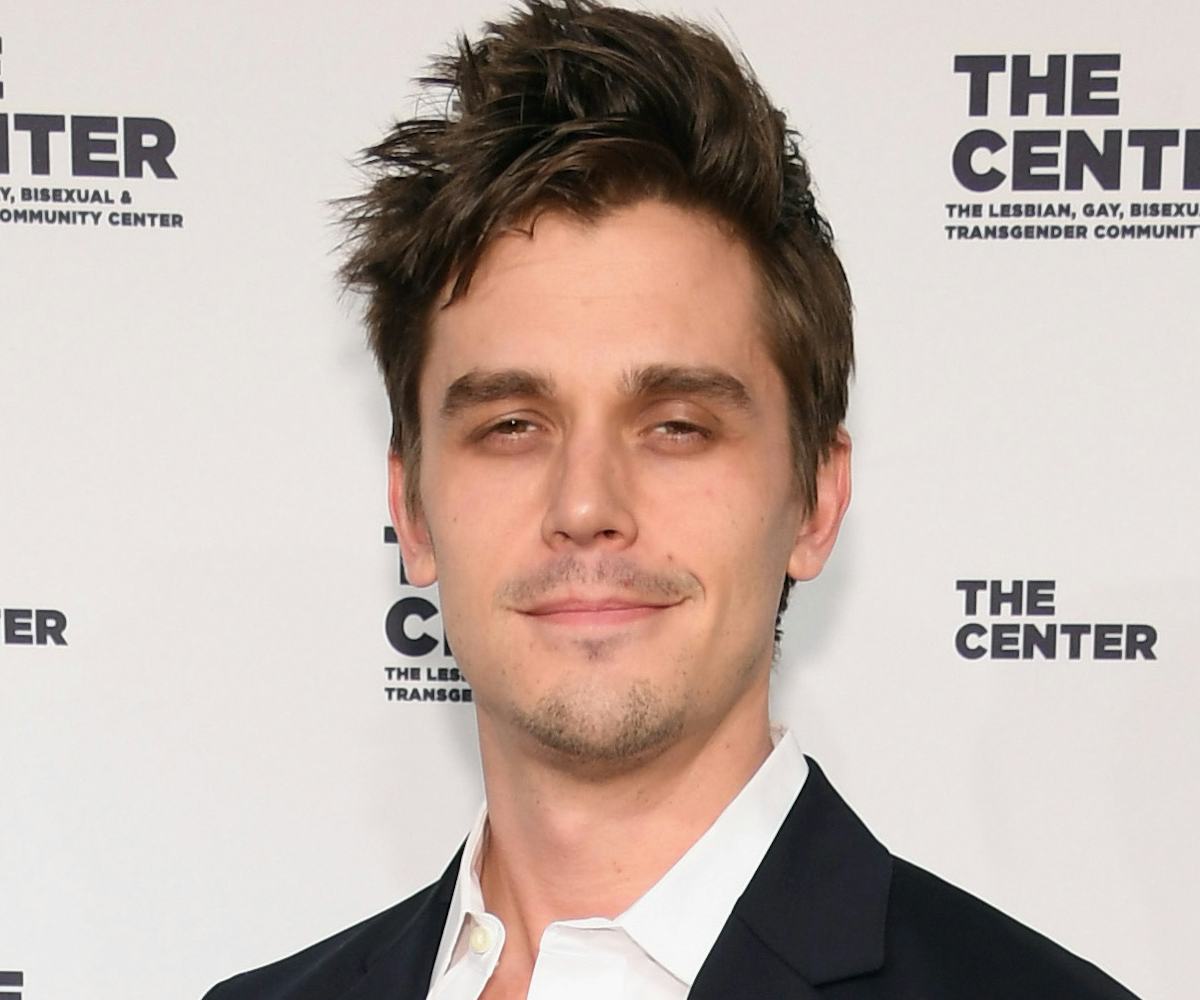 Photo By Dimitrios Kambouris/Getty Images.
There Are Definitely Peas At Antoni Porowski's New Restaurant
We talk to the 'Queer Eye' star about his new NYC eatery
It takes nearly three weeks for Antoni Porowski to get back to me, but that's not surprising. Given that he's been busy flying to appearances and writing his cookbook in between filming the highly anticipated third season of Queer Eye, it's actually kind of a miracle that he had a second to answer my questions at all. Then again, anything in the service of his new restaurant: an extremely Instagram-friendly revamp of the West Village's Village Den—complete with quirky murals and plenty of plants, of course.
A fast casual, all-day cafe that focuses on providing a healthy and "accidentally gluten-free" menu, Porowski is responsible for most of the cuisine. And though the Queer Eye star probably isn't going to be behind the counter, his business partners, Lisle Richards and Eric Marx—who run the spot's day-to-day operations—are more than happy to provide recommendations. And there's plenty to recommend! Paying homage to the Den's history as a neighborhood greasy spoon, Porowski and Co. are offering an assortment of colorful bowls and TV dinner-inspired dishes, including turkey meatloaf, macadamia-crusted fish sticks, and a set of cauliflower rice-filled cabbage rolls inspired by the Queer Eye star's Polish roots. 
So obviously, as big fans of Queer Eye (and food, duh), we knew we had to keep pestering Porowski for the inside scoop on the Den. Read our Q&A, below, to learn about everything from how Porowski came up with the concept to how his well-documented love of certain produce influenced the menu. And, yes, there is also avocado.
Why start a restaurant? I'm sure your schedule is so jam-packed right now.
Why not? Life is short, and I love trying new things. Working on my cookbook had me leaning into my more decadent sensibility, so I also wanted to show people that I do make health-conscious decisions during the week.
What was the concept for the restaurant? How did you settle on healthy comfort food? Why not capitalize on your love of peas?
While peas are my numero uno, I'm not much for themed restaurants. That said, they have a lovely home, mashed with mint alongside a lovely poached salmon filet on the Den's menu. The concept is basically an inviting space; we tried to make a reflection of the West Village today. It's a stop-and-take-a-moment spot while at the same time offering speedy service for New Yorkers and visitors alike on the go.
Can you walk me through the menu ideation process? Did any Queer Eye experiences inspire these dishes?
Absolutely. Most people do not want to be overwhelmed with information they cannot process in a short amount of time. Nostalgia was key in our TV Dinner section where we recreated staple dishes we're all familiar with, healthified for today's smart consumer.
Opening a restaurant is no small feat, how do you plan on making time for the restaurant in between all of the events and Queer Eye stuff?
Cue my biz partners! Lisle and Eric run the day-to-day operations. My involvement was menu development, maintenance with ever-changing market-driven fare, as well as the social posts. While I don't engage on social media very much, I love getting feedback from visitors to The Den after they've had their first try. Criticism is more important than praise since I never want to stop improving our business. It's a baby today, but I hope it turns into a sage, elderly person one day.
How'd you get started with the ketosis diet? What do you like about it? What made you want to incorporate that into the Village Den?
I consume a pretty high healthy fat diet by nature, so I guess you can say I listened to my body. While there are many keto dishes and smoothies, we offer a myriad of dishes accommodating all healthy lifestyles.
Lately, there's been an upswing in terms of the popularity of fast casual healthy restaurants. Why do you think this is the direction we're going in?
People are more knowledgeable about food today than ever before. We know we're living longer and making life decisions to ensure that happens, so it's no surprise these concepts are thriving.
A critique that's floating around concerning these places, though, is that the price point is still somewhat exclusionary. Like, healthy food should be accessible, which I also think is a point you try to make in Queer Eye.  Was this something you tried to keep in mind while concepting the restaurant?
Let's be real. We opened up a restaurant in the heart of New York's West Village. Rent is nobody's friend out there. We priced our menu competitively for where we decided to begin. On Queer Eye, we help people live their best lives using their existing means, taking into account what is available to them in doing so successfully. At the Village Den, we do that for visitors and New Yorkers, too, I feel.