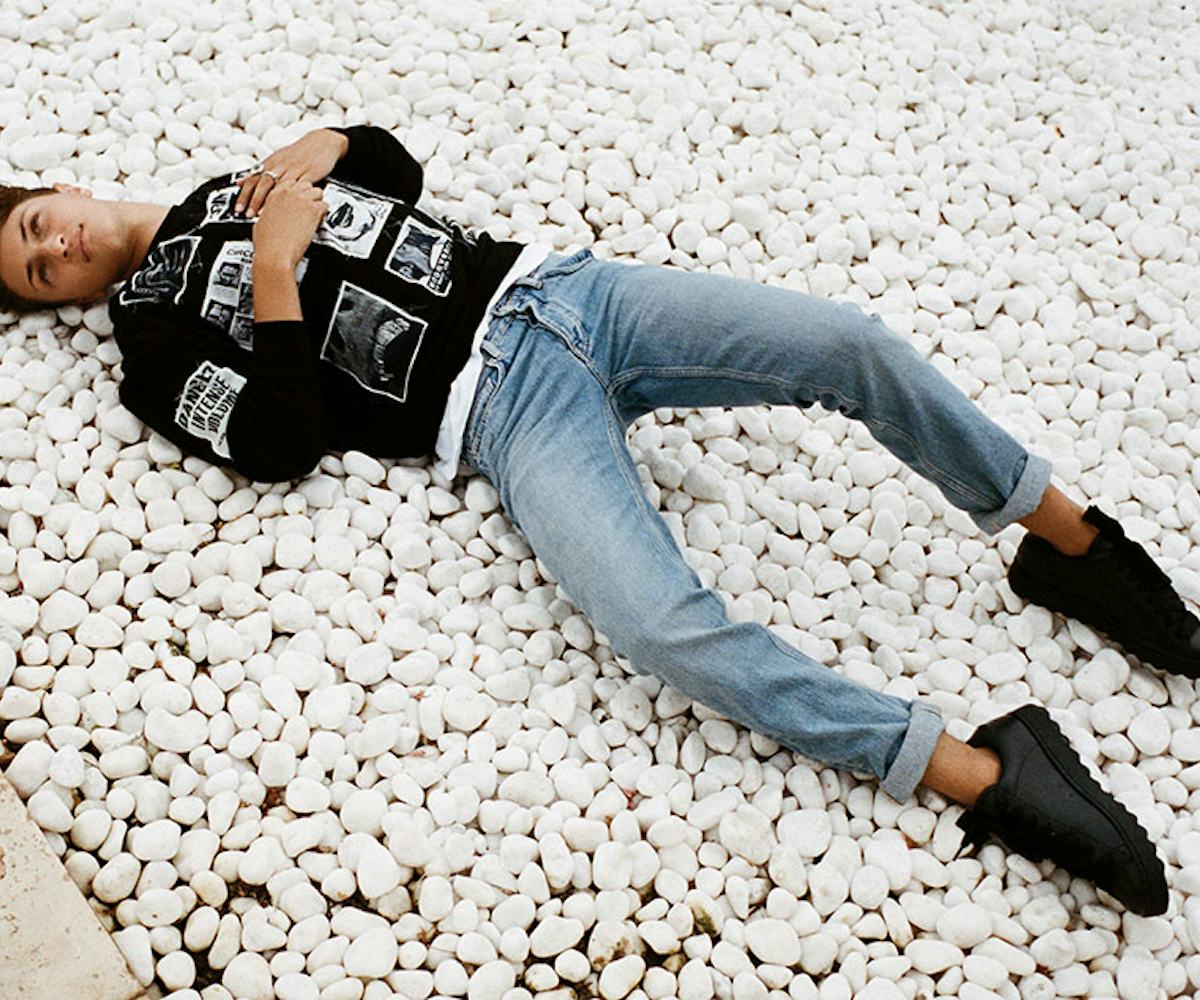 Photographed by Felisha Tolentino
anwar hadid is just another down-to-earth 16-year-old
They say that nice guys finish last. If this is true, then Anwar Hadid is lucky he is good-looking, rich, and from a well-connected family. Because he also couldn't be sweeter.
At the Malibu home of his mom and stepdad, I ask if I can use the bathroom, and Hadid is up and out of his chair before I've even finished the question. 
"I'll show you!" he says. He leads me down the hall and around a few corners, then opens a door and sticks his head in. "Is this a bathroom?" he asks. There's a toilet, so—confirmed. He leaves me to it.
Hadid could be forgiven for forgetting exactly which rooms are which, for this home is not so much a house as it is a huge freaking mansion. Later, he gives me a tour: There is the lemon grove, the pool, the view of the ocean, the second-floor balcony, and depending on which way the breeze is blowing, the air smells like lavender, or maybe rosemary. 
He says that the house used to be really awesome in its heyday. I tell him I think it looks pretty good now. He points out, somewhat sheepishly, that all the fountains used to be turned on. 
Even without any waterworks, Hadid's life is still pretty charmed, especially for someone who just turned 16 this past summer. His mom is Yolanda Foster, former star of The Real Housewives of Beverly Hills, and his supermodel older sisters, Gigi and Bella, are two of the most talked-about women on the planet right now. His stepdad is music producer David Foster (those are his Grammys dotting the piano in the living room) and his dad is wealthy Los Angeles real estate developer Mohamed Hadid. 
The day we meet, Anwar's wearing a distressed black T-shirt, black jeans, and black Saint Laurent slip-ons. During our impromptu house tour, he grabs a basketball and shoots a few hoops, then dutifully puts the ball back where he found it. 
Click through to read the entire story.
When the time comes to be photographed for his NYLON spread, Hadid is handed a pair of Vans, which he's barely able to shoehorn onto his feet, but gamely insists are not too small. "It's chill," he says, hobbling around the driveway. A furry Saint Laurent coat is added, which he playfully shows off ("I admire people who can laugh at themselves," he later explains). The coat is starting to make him sweat under the California sun, but still he doesn't complain, even though it seems that, unlike the rest of his family, he doesn't necessarily love being in front of a camera. 
Surely, however, he'll learn, as he has plenty of teachers. David Foster pops out of the house to give him tips on posing. Yolanda pads barefoot around the yard, beaming at her baby and taking pics of each look. Family friend Kendall Jenner soon drops by to pick up Bella for lunch—both are flawless IRL.
"My family is my foundation," says Hadid. "My sisters are awesome; they probably taught me everything I ever need to know about girls. My mom is very liberal, but also old-fashioned when it comes to manners. She taught me to always be kind and treat others with respect." 
Famous family and friends aside, he is your average teenage guy. He likes old-school hip-hop, the Lakers, playing soccer, and gets excited about "anything from girls, cars, and climbing mountains to really good food." His five-year plan is to go to college and decide on a profession. After that, he's not so sure. "Ten years," he says, "is too hard to imagine."