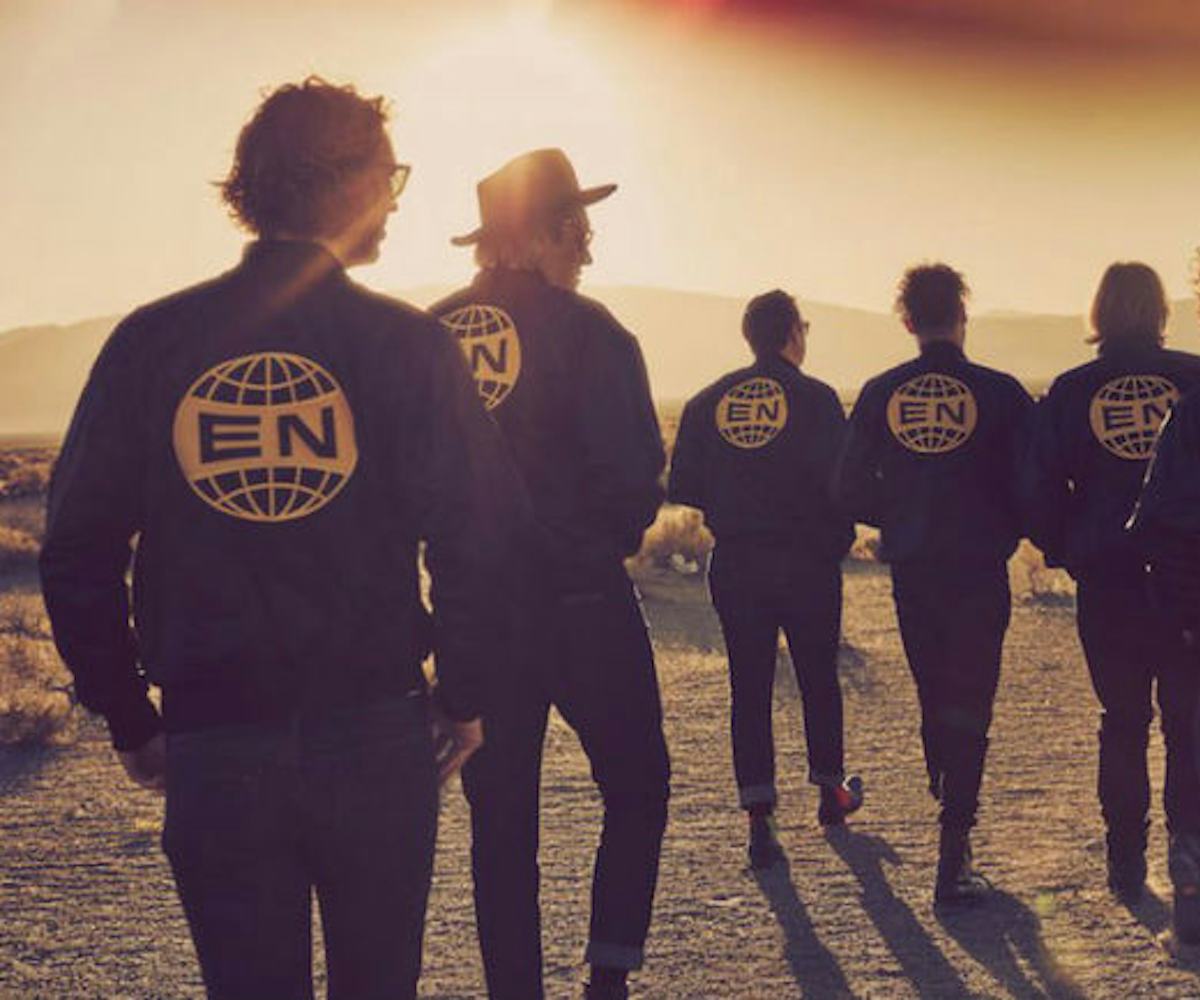 Arcade Fire And The Issue With Condescending Mediocrity
Is misguided marketing behind the lukewarm reception for 'Everything Now'?
Last week, Arcade Fire released Everything Now, their fifth studio album and arguably their most controversial. Because while some critics praised the band's foray into disco, others criticized their inability to eclipse their bizarre publicity strategy by putting out a decent record. That officially cemented Everything Now as mediocre, something fine and acceptable and inoffensive but lacking the depth of The Suburbs or the power of Neon Bible. That's par for the course for almost every pop act, but the thing is, you have to earn "average."
This year has given us more than a few albums that are passable at best. Katy Perry's Witness was hardly the political platform she'd assured us it would be, while Ed Sheeran's Divide adhered to the same songwriting formula he's presented us with since his 2011 debut. (We get it, dude, you're a nice guy who likes girls.) Even Harry Styles' self-titled full-length was criticized for its inconsistency and ample room for growth, while DJ Khaled's Grateful came under fire for not being warm enough. 
Records that are "just okay" aren't a tragedy. Not every album can be DAMN. or Melodrama, and provided an artist is still prioritizing fans and including them in their process, even records that aren't critically praised can find a place amongst listeners. Perry and Sheeran may not have delivered their masterpieces, but while on the publicity circuit, their narratives felt inclusive and accessible: Perry offered a three-day live-feed of her house (in which she engaged with the media, fellow celebrities, and her puppy), while Sheeran shared stories of his drunken exploits with James Blunt. DJ Khaled has built an empire on inclusivity, while Styles has used even his Dunkirk PR tour to remind the media that his fans are "the best people in the world." 
Meanwhile, Arcade Fire took the opposite approach. On top of putting in place a dress code for a concert in Brooklyn, New York, (which wasn't the first time they demanded a specific aesthetic from people paying to see them), they launched a fake website with a fake review days before the album dropped. And in fact, they based their whole publicity cycle on the concept of fake news altogether, a somewhat irresponsible tactic considering how loaded the term is and what damage it's currently doing. Even this week, the band claimed you could pick up their album via a $109 Fidget Spinner, making Arcade Fire the "how do you do, fellow kids" screencap of the music industry. 
The thing is, if there was something sincere about the group's approach to capitalizing on buzzwords and internet culture and youth-centric trends, you could understand. But instead, there's an arrogance to it; there's the feeling that instead of treating fans as an important component to their success, Arcade Fire believes they exist in spite of them. There's a line in Almost Famous that goes, "You act above us, you always have." And nothing drives this point home more like trivializing the industry—and those who keep it afloat—in an attempt to seem more important than it is. (Because they're so good, they don't need reviews, you know?)
Which is rich, considering that the real reviews for Everything Now haven't been great. And while reviews are subjective and usually passed over by die-hard fans anyway (see: me and Styles), it's hard to defend a record when the band releasing it couldn't seem to care less about who's listening or investing their time in it. I may not have loved Witness, but I still appreciate Perry's accessibility during her promotion of it. I may not be a Sheeran fan, but his respect for his own fandom has earned mine. So had Arcade Fire released a mediocre disco record while paying due diligence to the people who've made them as big as they are now, it would've been fine. Everything Now still wouldn't have been a shining star on their discography, but it wouldn't have seemed like the product of a campaign hinging heavily on "fuck you." 
Obviously, not every album can be perfect. And not every publicity cycle can be all-access and all-encompassing and all-inclusive. Mediocrity is typically par for the course for a long, storied career. That is, if the artists involved choose to acknowledge that without fans, those careers wouldn't be so storied. Otherwise, it's just a forgettable record made by a band who couldn't care less if we forgot about them.