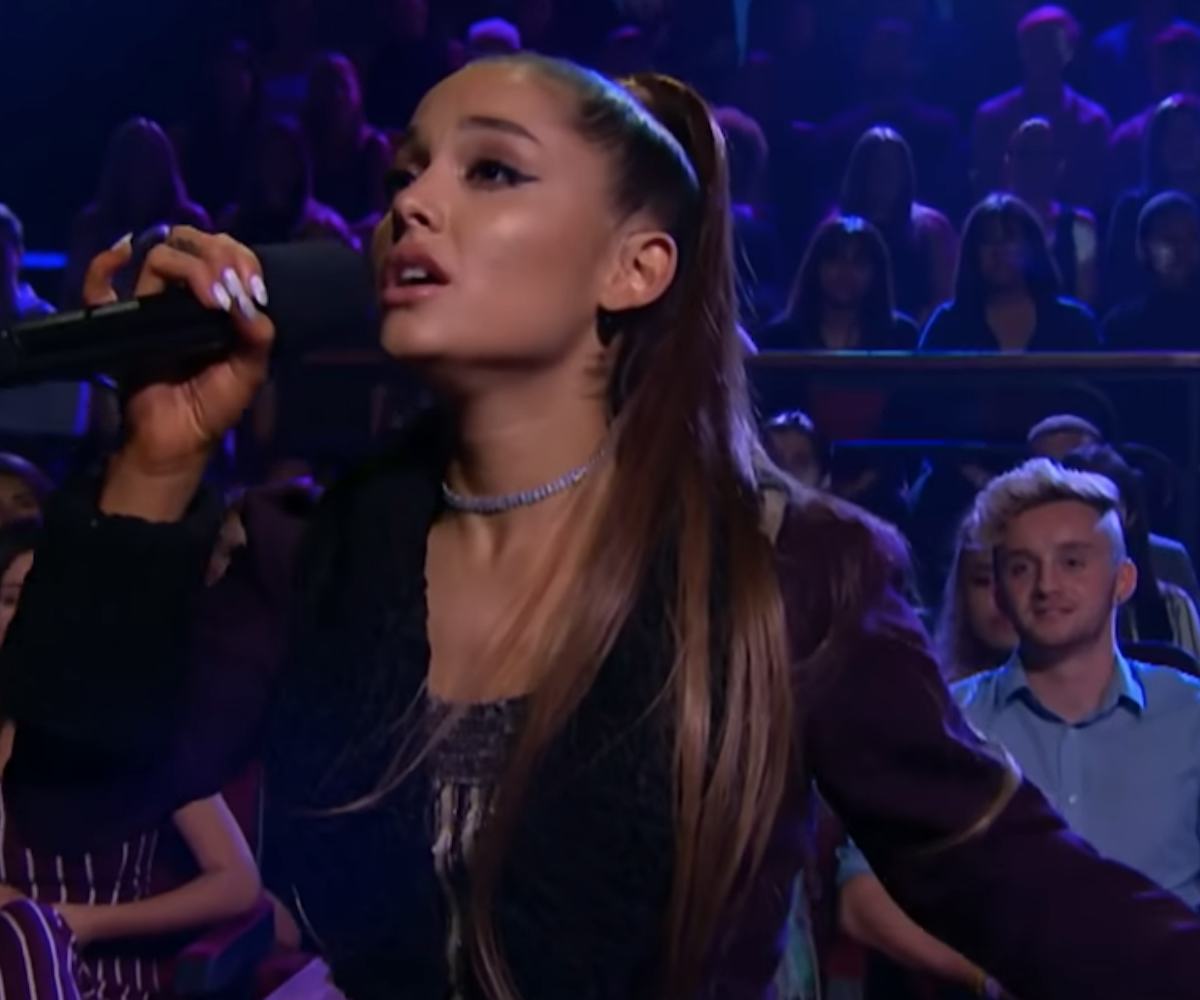 Photo Via YouTube.
Ariana Grande Reimagines The 'Titanic' Soundtrack With Lady Gaga And *NSYNC Hits
And channels Celine Dion in "My Heart Will Go On" rendition
Ariana Grande has cemented herself as one of the best singing impersonators of our time. From Evanescence to Mariah Carey, she's got a solid ear and voice for imitating a wide range of artists. Last night, she took on another living icon: Celine Dion.
Now, we already knew she had the Canadian star down—including her accent and hand gestures—after she embodied her during a round of musical impressions on The Tonight Show in 2015, but this time around, she gave us a real show by singing the legendary "My Heart Will Go On."
Well, she sang a lot more than that. Grande and The Late Late Show host, James Corden, performed a modern remake of the Titanic soundtrack via 13 songs in nine sets. The pair—with Grande playing Rose and Corden playing Jack—started out with Styx's "Come Sail Away" and moved onto Hall & Oates' "Rich Girl." For the scene where Rose is shown holding her arms out at the bow of the ship, they launch into Foo Fighters' "Learn To Fly," and for the below deck dinner dance scene, they chose Lady Gaga's "Just Dance."
Fast-forward a bit and, while Jorden sketches Grande as she lays on a couch, he sings Ed Sheeran's "Shape Of You." The hot and heavy car scene is soundtracked by Nelly's "Ride Wit Me," and for the climax of the film (the ship sinking), the duo sings Pitbull's "Timber" featuring Kesha and *NSYNC's "Bye Bye Bye." Then, for the grand finale—and our personal favorite part—they belt out "My Heart Will Go On." Close your eyes, and you'd think Dion herself had replaced Grande.
Watch the full performance below.