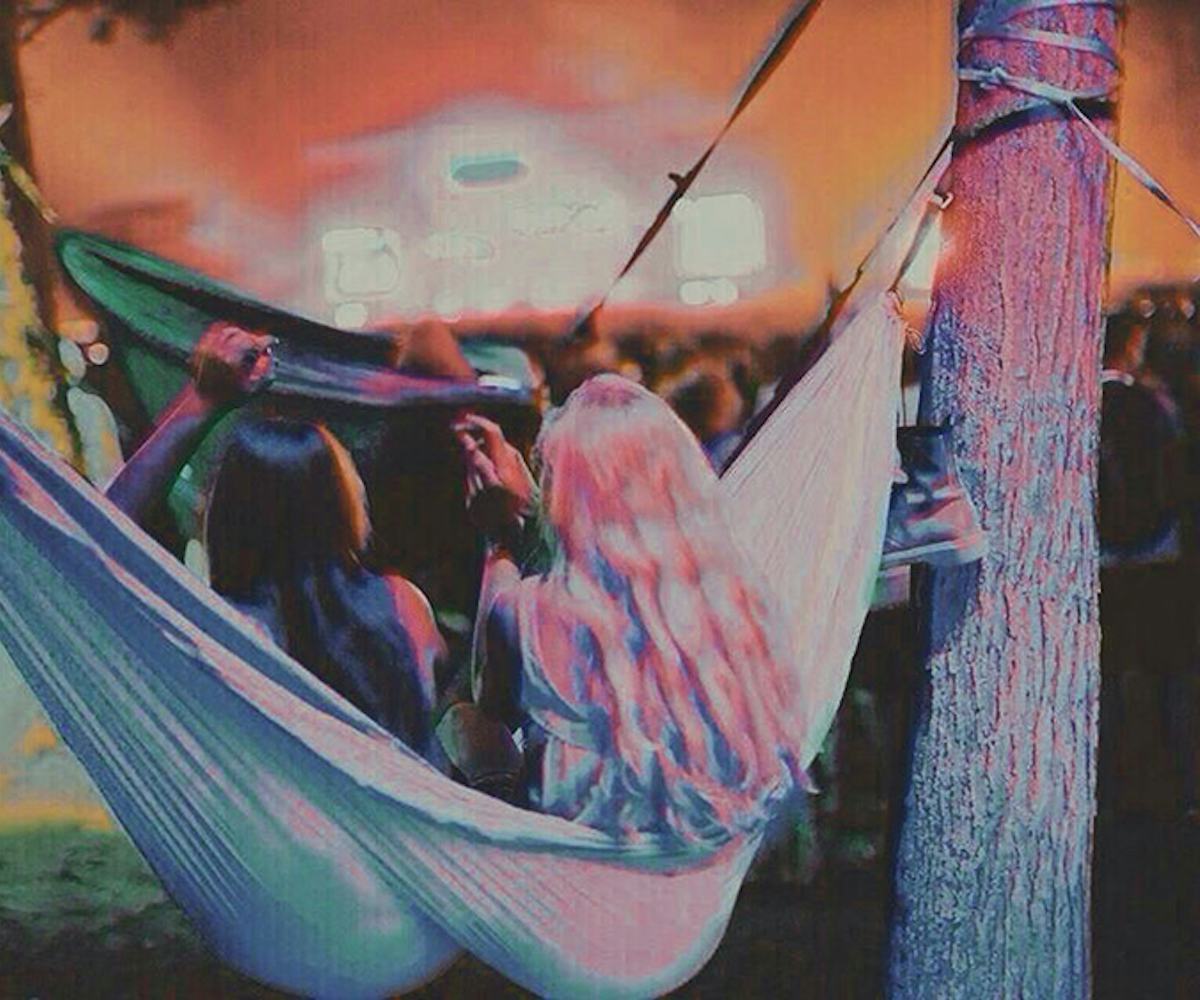 photo by sarah bahbah
artist-in-residence: sarah bahbah
the photographer who captures magical moments at music festivals.
There are live concerts by your favorite bands, and then there are live experiences with them. If you are a live music lover like me, you know there are moments that exist during shows that you wish you could bottle up and take home forever. Usually trying to snap your own Instagram just doesn't cut it, or going up to a couple who are making out and taking their photo might seem just a little too terrifying. So, instead, the photo lives on your iPhone forever, until it's too old for a #latergram.
However, Australian photographer Sarah Bahbah is one of those artists who finds these moments, is fearless in capturing them exactly as they are, and then recreates them exactly as she saw them with handmade, one-of-a-kind filters that bring the viewer straight into the scene that they might not have even experienced in real life.
I had the chance to chat with Sarah about traveling on tour with bands, what she looks for in a photo, and how living in the now has changed her life.
How did you first get into photography?
My interest first started in high school, but it really grew at my first year in uni, where I was into fashion photography but it wasn't really my thing. So I emailed this promoter at a festival a week before and told her I really wanted to capture music and asked her to give me a chance. And she let me. I just had a regular photo pass, but I started to sneak backstage. I was obsessed with Angus & Julia Stone at the time and I was getting photos of them on the side stage. Angus just came up to me and started spinning me around on stage. I was like "I love festivals." "I'm going to do them forever now." And I haven't stopped since. It was that experience of being able to engage with the artist and capture them in their moment.
I first discovered your photos through the album you created of Rufus at Southbound, and I was blown away. That filter is so cool. How did you decide on that?
So, basically, I've been doing that kind of style in my photos since I started and it was before Instagram had even started. At first it was organic, so I was creating it with cellophane and burning it so there would be a bit of edge to the photos. But then I decided to jump on Photoshop and create these custom filters per photos or albums. So I've actually been developing them for like four or five years now. I don't have anything saved, it's all different every time.
I love your band photos, but what do you look for in other subjects, specifically in your latest project The Wild Ones?
Well, every time I was traveling with bands and then covering festivals, I was coming up with hundreds and hundreds of photos, but I would go back and find that they just looked like everything else; people would pose, or things were staged. People thought I was capturing the festival, but I really wasn't capturing it the way I really saw it, raw organic moments. I was getting really frustrated and decided to step back and photograph the subtle wild ones. I also recently read a book called The Power of Now. It's pretty life changing to be honest. It's just like, "Be present. Stop thinking and just be." I decided I wanted to bring that into my photos as well. I will go around festivals and dedicate certain lighting hours to trying to find people who are going against the norm. But I do pre-plan shots in my head and think, "If I can capture a moment like this, I will be so stoked." I've got a list full.
Can you tell me what one of them is?
Well, I'm hoping there are tents everywhere at Firefly--the festival that I'm going to with The Griswolds this weekend. It's nighttime, the stars are out. So, all of the tents are really subtle, but there's one in the center that's kind of lit up, and then there's just a couple making out and I've got the silhouette through the tent, with the others in the background, and then, they're under the stars.
When people find you taking photos of them how do they react?
Most of the time they're passed out or really high on drugs. There was this one guy, it was one of the first shots I took for The Wild Ones. He was really good looking, I was just like "Hey, um you look really good smoking that cigarette, can I take a photo of you?" He had really big blue eyes. I just said, "Okay look at me and smoke." And then I took his photo and ran away.
What advice would you give to emerging photographers?
I heard this quote once, but I'm not sure where it's from. It says "Observe everything around you as if you've never seen it before," and it's so true. I also had this crazy dream and woke up thinking this statement over and over: "It's not about if they could pour kerosene over a vehicle and light it up. It's about the ones who rebelled against the norm and are wild at heart."
Want to know if Sarah ever gets that tent-under-the-stars shot? Us, too. That's why we're following The Wild Ones project here and stalking her adventures on Instagram.
The Wild Ones - 7
The Wild Ones - 10
The Wild Ones - 14
The Wild Ones - 4
The Wild Ones - 5
The Wild Ones - Bonnaroo
The Wild Ones - 8
The Wild Ones - 9
The Wild Ones - 3