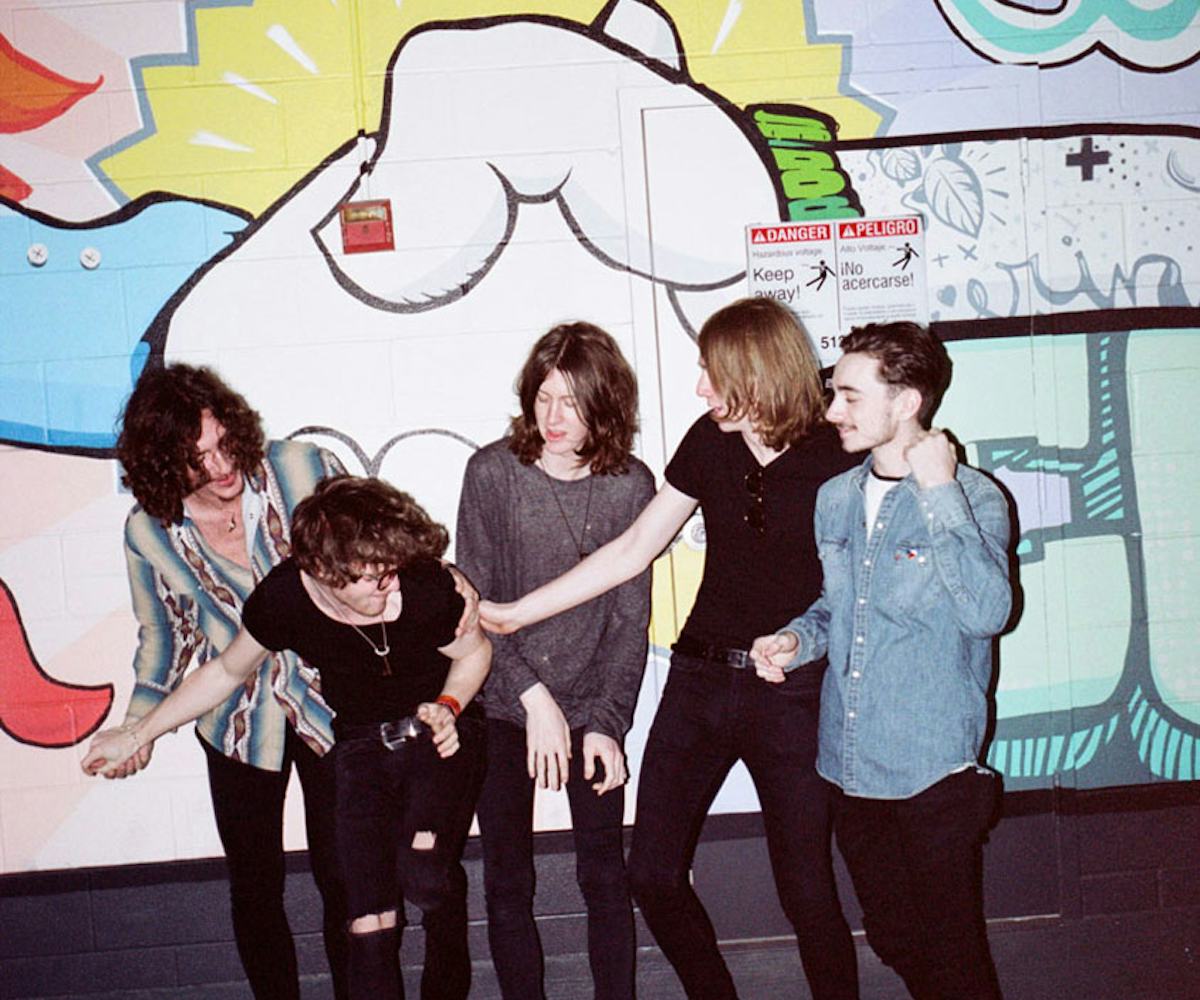 photo by bella howard
artist to watch: blossoms
melodic new wave meets psych
In our June/July Music Issue, we'll be bringing you profiles on some of the biggest names in the industry—plus a roundtable discussion on feminism in music and 10 acts that we've got our eyes on, including rad English quintet, Blossoms.
"All five of us were born in the same hospital, from the years 1991 to 1997," says Blossoms vocalist Tom Ogden in an Austin hotel lobby, a few nights after the band slayed its debut U.S. performance as part of BBC's SXSW showcase. "I met Joe [Donovan, drums] on a school trip to Alton Towers, which is a theme park," he continues. "We went because we were the only kids in our year to have 100 percent attendance. That slowly deteriorated as I hit puberty, but we won't go into that." Through the musical grapevine, the two met Myles Kellock (keys) and Charlie Salt (bass). Rounding out the quintet is Josh Dewhurst on guitar. "I went out with Josh's sister," volunteers Donovan. Ogden adds: "But we won't go into that either [laughs]."
HOME BASE: Stockport, England.  "It's got a hat museum, the biggest brick structure in Europe, and Strawberry Studios, which is famous for recording [The Smiths'] 'This Charming Man,'" says Donovan. "It's a nice little place right outside Manchester. It's lost its buzz, though…apart from us—I'm only joking!"
SOUNDS LIKE: Melodic new wave meets psych (think: a Depeche Mode regram with a Doors filter—if such a wonderful thing existed).
THE BUZZ: The band has opened for James, The Charlatans, and Peace, and is selling out increasingly larger U.K. venues on its own.
NOW PLAY THIS: "Cut Me and I'll Bleed," then "You Pulled a Gun on Me."
ALWAYS BE CLOSING: "When I get home after a tour, even if I've got five days, I don't unpack," says Ogden. "I just leave my suitcase at the door and grab clothes from there so I'm ready to go again. Look at a band like The Arctic Monkeys—they started about 10 years ago, and I bet if you interviewed them they'd say they haven't stopped since 10 years ago."