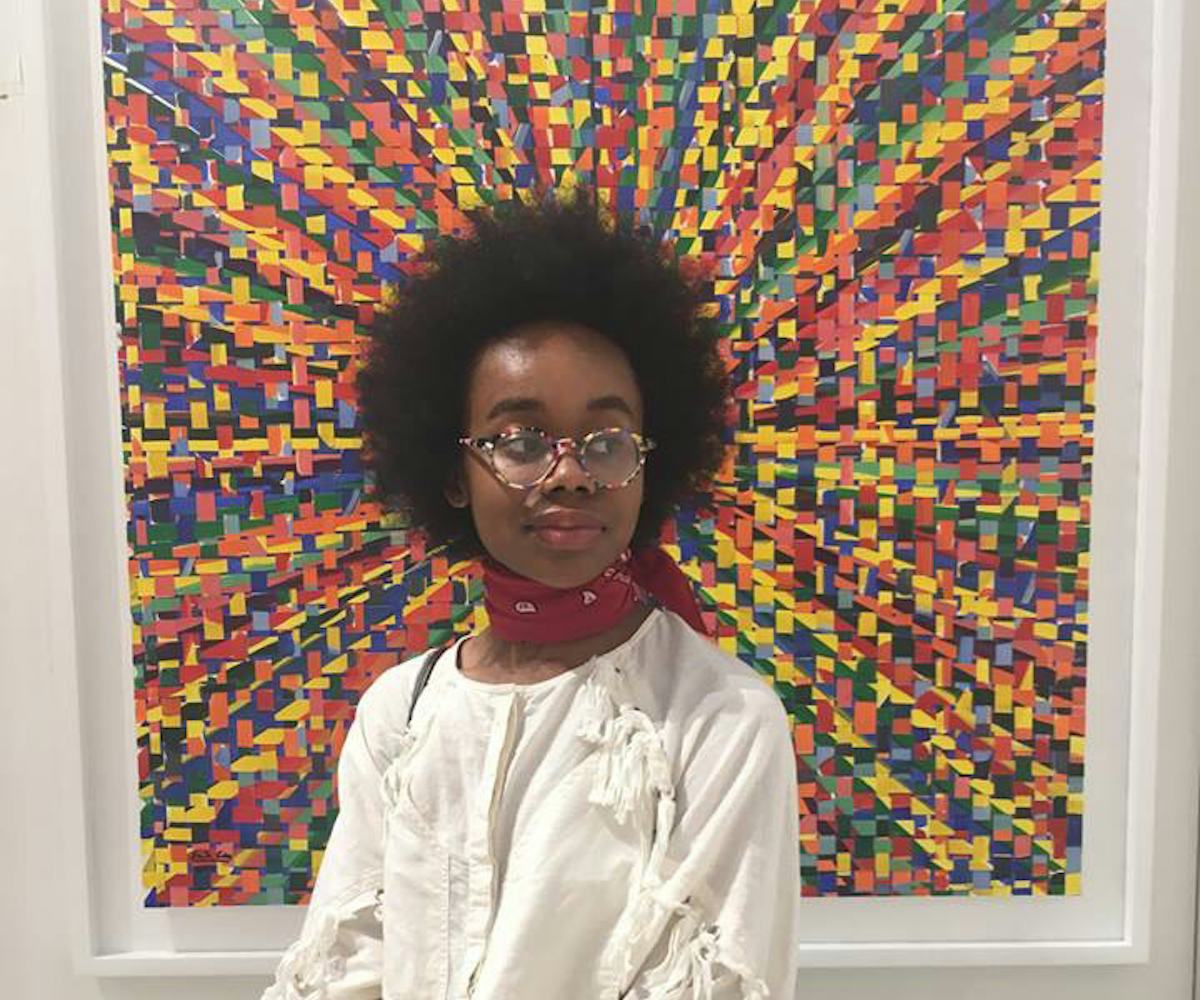 Asata Maise Wants To Make The Clothing Of Your Dreams
Catching up with the budding designer
In celebration of Black History Month, NYLON is running a spotlight series called UNAPOLOGETIC. Every day, we'll celebrate different aspects of black culture through profiles, interviews, roundtables, reviews, videos, and op-eds. #Blacklivesmatter and we hold that truth to be self-evident.
Asata Maise is a powerhouse on the rise. At just 23 years old, the Wilmington, Delaware, native has already worked for a major fashion house, traveled the world, and started her own bespoke clothing company Asata Maisé. What started as an innocent attempt to navigate away from a problematic teacher has grown into a full-fledged career of creating signature looks for a host of clients that include members of the band Boytoy and Lockhart Embroidery's Marie Lockhart. 
While every piece that Maise creates is one of a kind, there is a common thread in that each article is a clear nod to bygone eras. She finds a way to bring the past to the present, using vintage fabrics and drawing inspiration from classic films, and infuse modernity into each of her hand-drawn and hand-crafted designs. On occasion, Maise creates custom pieces from pre-existing vintage garments, by painting or embellishing over them in some way. Influenced by the bespoke tailoring of London's Saville Row, she has opted to bypass mass production, choosing instead to stick to tradition and take each client's measurements and involve herself in every part of the process, from drawing designs and selecting patterns to hand-sewing buttons and hems. 
When asked what inspires her most, she says, "I'm still learning, traveling, and growing spiritually, so many things from my own personal growth and experience. Meeting people, especially women… women inspire me so much. Their stories and our struggles, and black people and our culture and what we've had to go through and that we've still managed to do it with style and dignity."
A series of life events, including her recent acceptance into London College of Fashion, have encouraged her to accept that she has a gift and a skill set that had before gone unnoticed, and she is now choosing to design and create full time. You can find Maise's custom-made garments on Instagram. If you'd like contact her and to have your own piece made, she can be reached at asatamaise@gmail.com. Below, get to know the designer and see some of the looks she designed.
How did you begin as a designer?
It was essentially an accident. I began learning how to construct garments in high school through my school's elective program. I needed to get out of cooking because I didn't get along with the teacher, and the only available elective was textiles and clothing. Turns out I was actually good at it and really enjoyed it because I was able to work with my hands and be the perfectionist I really am. After my first year of taking the class, I started to participate in local fashion shows.
When did you launch Asata Maisé?
When I was still in high school, I did my first local fashion show. It was was a total disaster; I was so inexperienced, and nothing fit the models, except for one dress that fit a model perfectly. It was so well constructed that after the show people approached me asking me to make them something. I began making things for friends and people that I knew in the city, but with me traveling, I would stop for a while and start back up. While traveling I was influenced by places I went, and going to museums, especially in London, but it was in 2016 that I began to take this seriously. I met Marie Lockhart and began making a lot of custom garments for her, then began dressing the band Boytoy for part of their recent tour. After a lot of soul-searching and other personal things going on, I decided, "You know what? This is what I'm going to do. I'm tired of working for other people."
What motivated your choice to become an entrepreneur?
Having creative freedom over my appearance. I'm already a black woman who's not "typical looking," as far as my style and presentation, and just got tired of being told things like "Your braids are not professional, your afro is not professional". I think I could handle everything else, except for trying to fit into something that's so far from who I am. I also want to be able to create full-time. It takes a lot of energy out of me when I have to work for someone else and then still try to get what I really love done. That's probably what's pushing me most to become an entrepreneur, in addition to seeing my mom work so hard to try to balance her creative passions, which are directing and writing as a poet, while also working for the government and other jobs that brought in the primary income. I want to live the life that I want, one in which I'm in total control of what I do.
What is the message that you try to send with your work?
It continues to shift as I change and grow and find who I am. At first, I just wanted to be able to make something nice because I couldn't afford to go out and buy a brand-new dress for prom, and now what I create reflects who I am, in addition to what's going on with the environment. I like to use fabrics that I've found from collectors and try to be as eco-conscious as possible. I focus on reusing things to reduce my carbon footprint while making a change in the fashion industry, which is one of the most wasteful industries in the world. Also, as a woman, being confident and wearing something and feeling good about myself and trying to do the same thing for other women who might not be able to buy something "like that" or don't have the body type or the type of style that is promoted in media right now. If you're not a Kim Kardashian or shaped like Beyonce, you aren't encouraged to feel good or look good. That's kind of where I'm going with my work at the moment.
Would you mind talking a little more about the fashion industry and the waste it creates?
People now, especially with mass production, buy garments that aren't made to last forever unlike our grandparents, whose clothing lasted forever, is still lasting. Things that are made now don't even survive a few years, and they're thrown away, end up in our landfills, and it happens so often and so much more than it used to. One thing I really focus on is the quality of what I produce and what I construct because it's important that each piece will last. I really love textiles, and a crucial part of making a garment is the fabric that is chosen. Everything needs to be considered, from where fabrics are purchased to the dyes that are used because those by-products go into our water. One must also consider labor law violations, people not receiving fair pay, child labor. My focus is always to stay far away from mass production and keep to tradition with what I do.
How did you decide to create bespoke and one-of-a-kind, handcrafted pieces?
Growing up, I was the only girl, so when I would buy something, it was mine. When I got older, friends and I would shop at the same places, and I'd feel less special after seeing someone with the same thing I had. I always liked shopping and finding unique items, and I figured it must be how most women felt when they had a one of a kind piece. It feels good, it makes you stand out. Style is very important, especially for black people, and especially coming from a very small city. You'll go out and people will see you and recognize you and remember what you've worn. When you have something unique, you feel great. Your style is a way to make a statement about who you are.
How do your experiences inform the pieces that you make?
My greatest influences come from traveling. When I was 18, I moved to Los Angeles. Moving from a small city in a smaller state, where everyone knows everyone and can be very narrow-minded, to L.A., where I met so many types of people who were so open and so uniquely them, was huge for me. People were happy, they were on the beach, and secondhand and vintage was so big out there. Once I moved there, I started going to the flea markets and thrift stores, and I was exposed to a completely different culture of reusing that took me in a new direction. So much of my personal style is influenced by the past, but it really started to come out in what I was creating, too, and I started to work even harder to reduce the waste element of creating by using what was available and trying to be more resourceful. I would say L.A. probably had the greatest impact on me so far.
What role does community play in your life?
A huge role. So many people are so proud of me, just for being where I'm from and doing all the things that I've done. It's making me tear up right now. Where grew up, there's a lot of violence, a lot of drug problems, and a lot of poverty. I was able to get up with faith one day and take a risk and go across the country to work for Diane Von Furstenburg, a huge fashion designer, and then did graphic design for a music label, before traveling outside of the country. These are incredible things that a lot of people where I'm from would never even imagine experiencing. Being able to tell people in my community, and especially young people my age, that everything is possible, plays a huge role in my life. I'm all about inspiring people to do more and take risks and do what they love and not hold back. What I really want is to create a little haven somehow, here in Delaware, where people can get together and create and collaborate with each other. Playing a larger role in my community is really important to me.
How do you feel about representation in the fashion and clothing design industry?
I think it has come a long way in the past years, definitely. In the past few years, you see a lot of people of color, you see a lot of variations and body type,s but it's still ruled pretty much by white men, especially the designers. Fashion is still very elitist, and it shouldn't be because everybody wants to look good and wants to feel good. I believe in breaking down those barriers, and I definitely make my clothing for anyone who simply likes what I make. For me, it's just about dressing women; eventually, I'll start menswear too.
What is the most encouraging experience that you've had thus far?
Meeting people who are so excited about what I make, which I still think is crazy because, to me, I'm just doing what I do. I think, Oh, I'm just making some clothes that I think are cool and that other women can look cool in. When I meet people and they're so stoked for my designs, I realize that people actually believe in me.
What is your process of creating imagery like?
I'm still developing my brand's imagery, but I know I want to create a better representation of women. I won't only feature models with one body type or look. I also want to represent my surroundings and the surroundings of the women that I know.
What advice would you give to your younger self?
"Everything is going to be okay. Everything is always going to be what it should be and you are in the exact place you need to be at that exact moment." I was very hard on myself, especially around the age of 20, 21 and always felt like I was a failure because I wasn't a millionaire already. I thought I was doing something wrong because people my age were famous already. Another piece of advice for myself would be, "It's not about fame, it's about joy and fulfillment and fulfilling a purpose that you're still learning. You have no idea what's to come."
What are you excited about?
I'm excited for 2017 because last year I finally began to feel like I'm capable of doing more than what I had been, and began to see a clearer vision of what I want to create. I think that the arts are extremely important at this moment, and I plan on working with a lot of people especially in Wilmington, but in Delaware in general, to bring a lot of things to life. I'm really excited for that. I'm hopeful in spite of the adversity of what's going on right now.