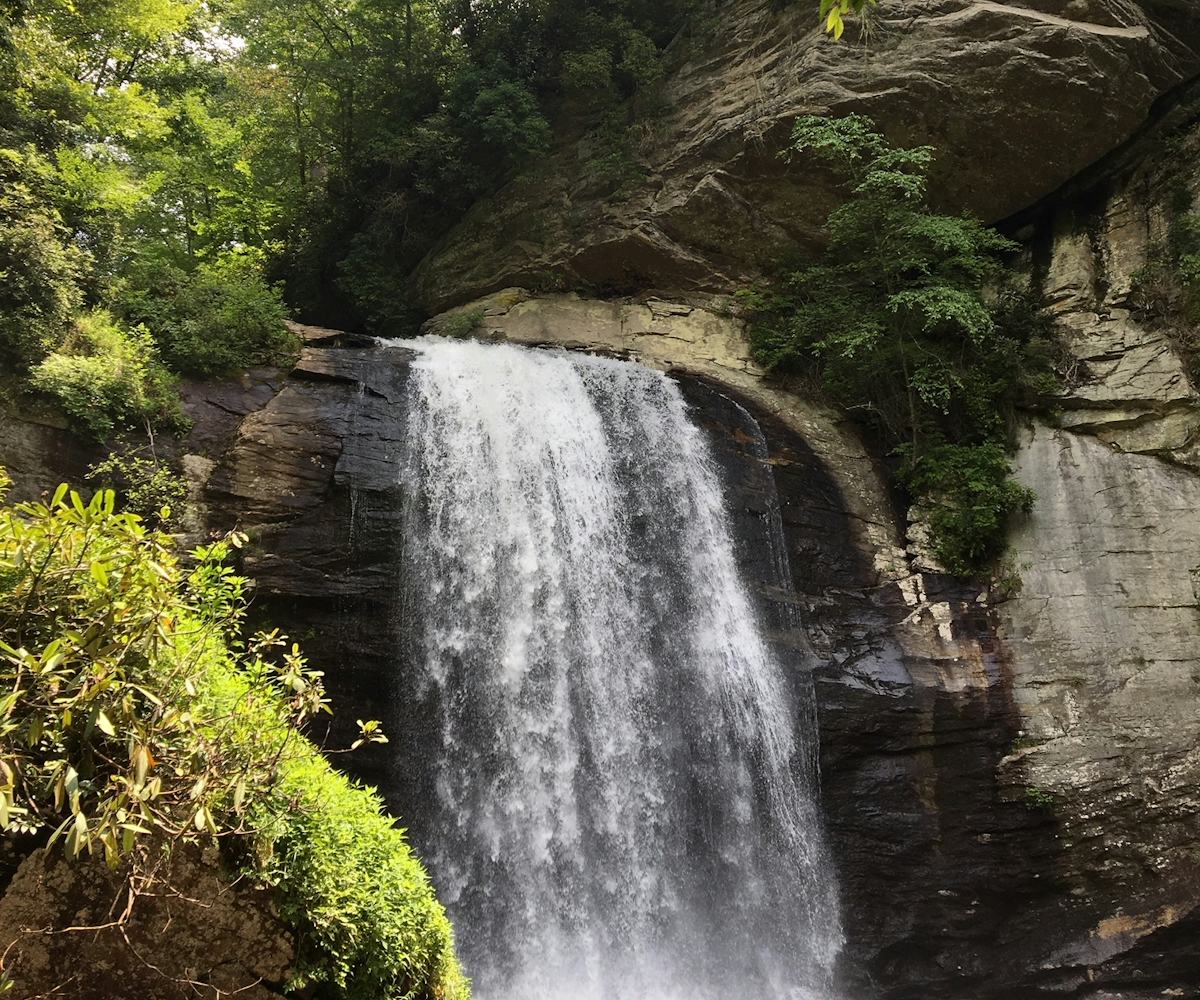 What To Do In Asheville In 72… No, Make That 96 Hours
Where finding a silver lining isn't that hard
Coincidence always feels like fate when you let it, but this particular coincidence felt especially like fate: I was standing just a few feet away from Jenny Lewis, as she stood onstage, singing that she was my silver lining. It felt like fate because I wasn't even supposed to be in North Carolina anymore, but my flight out of Asheville had been canceled that afternoon, and so I would have to wait till the next morning, get myself to South Carolina, and fly home from there. It felt like fate because I had seen Lewis' name up on the marquee of The Orange Peel, the justly celebrated Asheville venue where I'd seen Kurt Vile perform three nights before, and had briefly thought to myself, I wonder if I can extend my stay? But I'd dismissed it, even as I regretted not getting to see Lewis, who I've loved since, well, I first saw her in Troop Beverly Hills, but specifically since I started following her career first in Rilo Kiley and then as a solo artist. I'd just, I thought, have to see her another time. Except now, here I was, back at The Orange Peel, thanks to beneficent thunderstorms in New York City, listening to my own personal silver lining sing the words: "And I'm not going back... Hooray hooray, I'm your silver lining."
Nestled in western North Carolina, in the midst of the Smoky and Blue Ridge mountains, Asheville is a town of just under 90,000 people (none of whom, it seems after a few days of asking around, are actually from Asheville), that has grown to have an outsize reputation recently thanks to the recent rise of a few of its key industries: beer, food, music, and, of course, tourism. The beer is what everyone will tell you about right away; it seems like everyone from Uber drivers to fellow concert-goers to certified Asheville tourism board members have the information memorized and ready to recite: Asheville has more breweries per capita than anywhere else in the country. The reason for the abundance of breweries, I was told, is that Asheville's water—clear and fresh from mountain streams—makes for better beer than other places. (Although, as was noted to me by someone not from Asheville, that is also what is said about Coors, and, well, have you had Coors?) 
But there's little room for cynicism in Asheville—not least because it's the kind of place that encourages people to keep their eyes wide open; there's just so much to see. The mountains are breathtaking; an afternoon hike through Pisgah National Forest had me face-to-face with waterfalls, wild blueberry bushes, towering rhododendrons, and babbling brooks perfect for bathing in. (I saw no bears, but, as my guide told me, they definitely saw me.) What I'm saying is, it's hard to smirk when your mouth is open wide, with wonder. Also: The beer really is great—and so is the tap water. (It's the only place I can think of in the U.S. where the tap water's taste is comparable to that of New York City's.) 
And then, there's also a lot to hear. While Asheville has a fascinating cultural legacy, rich in literature (as the birthplace of Thomas Wolfe, Asheville and its residents were given a thinly veiled portrayal in the novelist's masterpiece, Look Homeward, Angel), architecture and preservation (visit the former Vanderbilt-owned Biltmore Estate and its breathtaking gardens), and historical significance (visit the YMI Cultural Center, which has been an important hub for black residents of the city since 1893), it has more recently become known for its thriving music scene, notable not just for the abundance of venues, but also for the diversity in available genres. It is totally feasible to go from lying on the floor among a group of strangers experiencing the one-of-a-kind sensation of a sound bath, to riding around on a refurbished purple school bus on which a live band is covering classics (including an especially soulful rendition by Asheville's own LYRIC, singing Tracy Chapman's "Give Me One Reason"), to standing on the fringes of a rousing drum circle (well, I stood on its fringes, many others dove right into its roiling center), to hearing one of the best bluegrass bands of today, The Punch Brothers, take the beautiful, open-air stage at nearby Pisgah Brewing, to hitting up one of the city's heavy metal bars, to walking along Eagle Street late at night and hearing the faint croons of a lone busker, as the city prepares to go to sleep.
It's not that surprising that Asheville has become such a magnet for creative people lately—the cost of living is cheaper here than in cities like New York, Los Angeles, Austin, and Nashville, and the lifestyle is laid-back. But the musical history here runs deep, and is honored with music festivals throughout the year and tons of live shows. There's also the opportunity to visit virtual temples of the trade, like the Moog Factory, where you can play around on the synthesizers and even try your hand at a theremin, the hardest instrument to play in the world. There's also Echo Mountain Recording, a true sanctuary (it's housed in a former church), where artists like War on Drugs and Asheville-resident Angel Olsen have recently recorded albums. 
Much in the same way that it's easy to confuse fate with coincidence, feelings of sanctity easily get imposed on what are truly secular pleasures. What I'm trying to say is: I had a semi-holy experience eating, um, doughnuts (no pun intended, I swear) on my last morning in Asheville. It was funny, actually, because I hadn't thought I would have enough time to try these doughnuts, which had been recommended to me by a friendly stranger eating barbecue next to me the night before. But I'd woken up the day of my departure and found out I had a slight flight delay and made my way over to Hole Doughnuts, where I had two freshly made—right before my eyes!—stunners, and sat reading a book, whiling away a sunny Sunday morning, thinking about how sad I was to be leaving, sure I'd still feel the place vibrating in my ears and head for days to come. 
And then I got an alert from United: My flight was canceled. Maybe I should have been more upset than I was. But it was hard not to feel like this was a sign. A sign that I wasn't done with Asheville. So although I knew that I would, eventually, be going back to New York, I also knew that as long as I was in Asheville, there would be things to eat, places to go, music to hear. That I would find my silver lining, and that everything—that I—was gold.