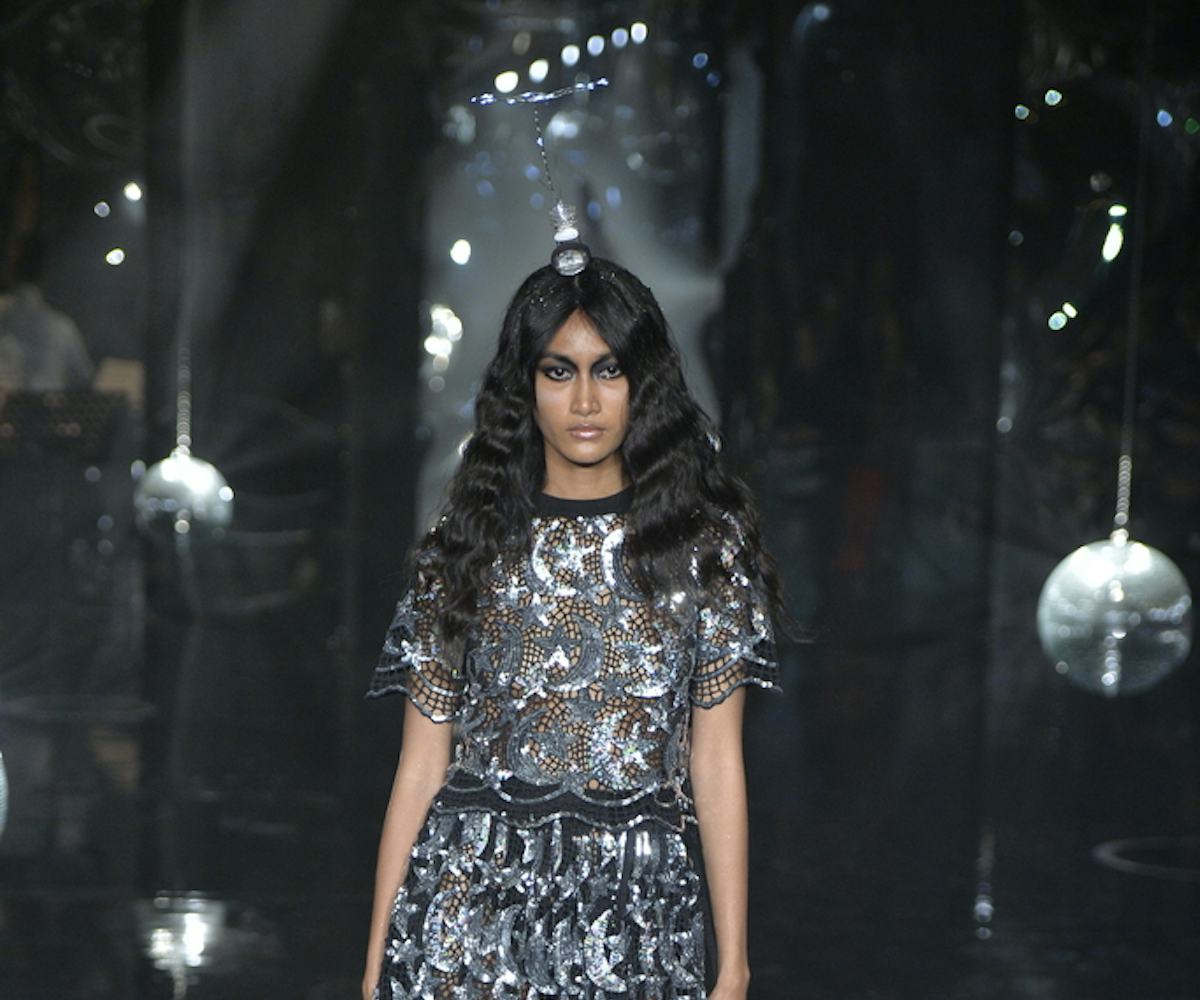 Photo courtesy of Ashish
This Is The Most Bewitching Collection We've Seen All Fashion Month
Ashish speaks to the glam goth in all of us
If you're familiar at all with Indian-born, U.K.-based designer Ashish Gupta of Ashish, then you know his collections are normally filled with a magical array of vibrant colors and never skimp on the glitz. However, his latest, which showed during London's Fashion Week earlier this week, took a dark turn—but, we think, for the better.
Speaking to the sparkly witch in all of us, his Spring 2018 collection was certainly a change from the pastels and florals many others brought to the table for spring this season. His gloomy and moody models made their way down the runway in everything from floor-length, sequin-embellished dresses to sheer, rhinestone-bedazzled jumpsuits. Tops emblazoned with "Witch" and "Good Mourning" were paired with sparkling, holographic maxi skirts and satin caped minis. A patterned lace of crescent moons and stars appeared on multiple pieces. Of course, there was also a hint of athleisure, because it wouldn't be a 2018 collection otherwise.
However, the collection had a much more powerful message to it rather than just conjuring up some dark and witchy vibes and dousing them in sequins. As Vogue mentions, the only show note was a quote from Martin Luther King, Jr.: "Only in the darkness can you see the stars." Reflecting on some trying times in the world around us all, the designer breathes a bit of hope into all of us for what lies ahead. "I thought I would do a celestial, ethereal, and sad collection that is mourning something, but it's also hope, it's new things, it's starting again," he told the publication.
Click through the gallery, below, to check out some of our favorite looks from the collection.