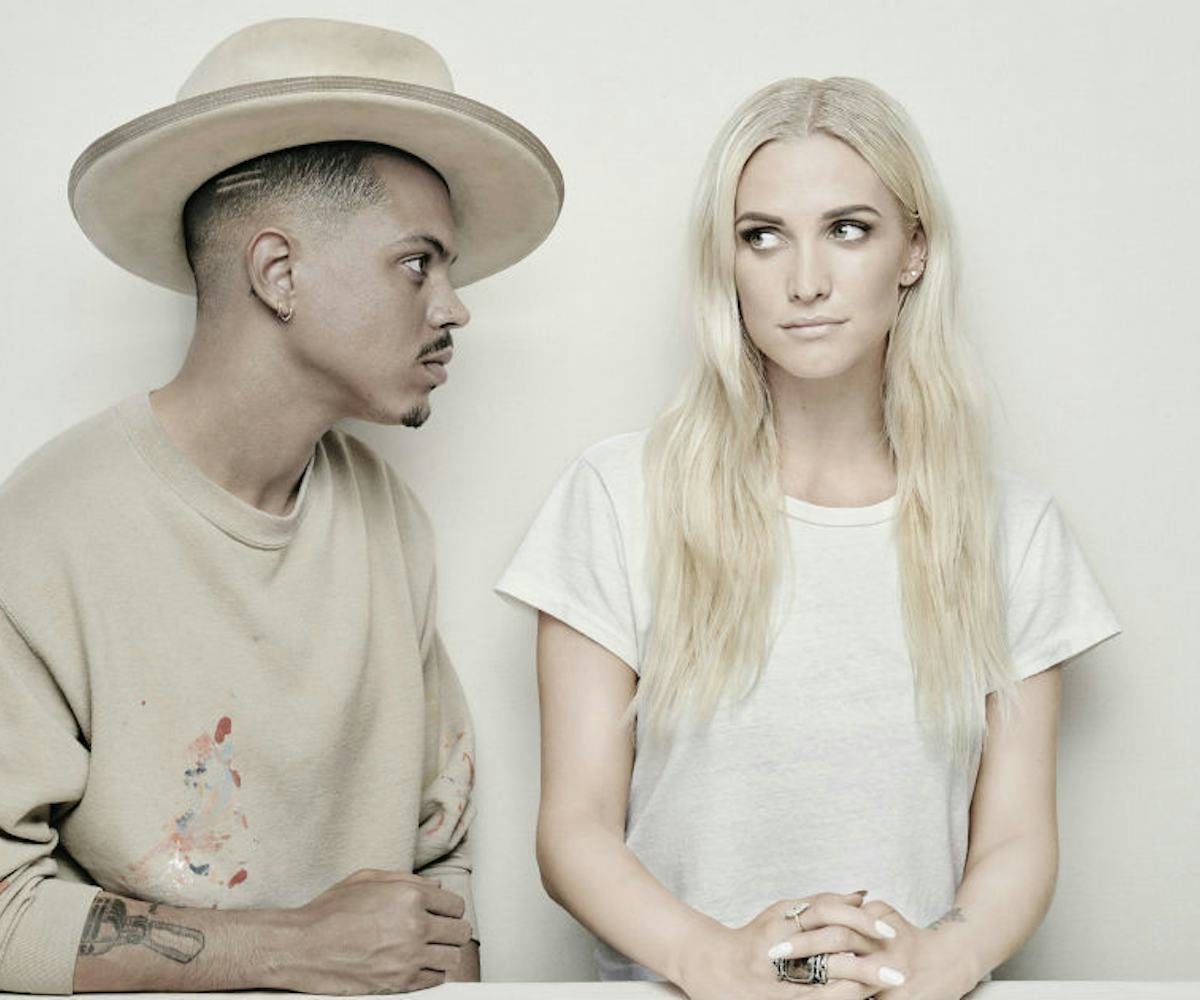 Photographed By Amanda Demme.
Ashlee Simpson And Evan Ross On The Challenges Of Creating Music Together
We chat with the couple about their upcoming EP
The Ashlee Simpson of today isn't the Ashlee Simpson a lot of us remember—at least not stylistically. She's traded her black hair for blonde, she accessorizes with wide-brimmed hats rather than Converse, and she has retired those low-rise pants. Her music is different, too. Which, yes, she's making new music, much to my delight, since I declared earlier this year that it's the perfect time for Simpson to make a comeback. But that comeback isn't exactly a solo endeavor, because Simpson also has a new singing partner: her husband, Evan Ross.
As Simpson and Ross tell me, their sound can be described as "soulful pop rock." The new music might not be recognizable on the first listen for early-aughts Simpson fans, but there are still hints of her signature raspy voice, which is balanced nicely by Ross' own soothing vocals. It proves that different isn't always a bad thing.
The couple has been rolling out their six-track long EP, which comes out in full this Friday, after every episode of their reality television show Ashlee + Evan. Oh yeah, they have a reality show now. They also have a new clothing line named after their daughter, Jagger Snow. I guess if you're going to step back into the limelight after 10 years, you might as well go all out.
Ahead, I chat with Simpson and Ross about the challenges that come with making a joint album, love, and what Simpson learned from her SNL snafu. For OG Simpson fans, worry not, after their EP is released and the pair goes on tour, they each plan on releasing separate solo albums, which Simpson promises will have that rock flair we're used to from her.
It's my understanding that the idea for your reality show, Ashlee + Evan, came about because you wanted to document making your music together. 
Ashlee Simpson: Yeah,I think it was a fun outlet for us to release our songs with each episode. And also to bring these people into our lives and let them know what's been going on.
What was it like going through that process in front of cameras? 
Evan Ross: Truthfully, until it comes out, you don't really feel like it's anything. But it was a nice way for us to show where our inspiration was coming from, and we got to document working with Verdine White [of Earth, Wind, and Fire], which was such an amazing experience. And the fact that we got to get it all on camera was really special. To do something like this that I feel like hasn't been done in a really long time—to do duets together—and things that I grew up loving and listening to, as well as Ashlee did, from like the Sunny and Cher to Marvin [Gaye] and my mother [Diana Ross] and all these people… And it's kind of its own kind of sound, but it was something that was compiled by stuff we liked listening to growing up.
Love is a big theme of the album. Obviously, there are many projects out there on the subject, what do you think differentiates yours from others?
AS: We just wanted to do something that felt organic and right to us. For me, it was definitely a departure from my sound in the past, and this was something that we were creating together. I've always loved soul music, and I don't think we were like, Oh, let's make this different than the typical love song. It was just kind of writing about our experiences at that moment or places we've been or moments in our life that would trigger those songs.
ER: If anything, I think what was different was the fact that there were a lot of live instruments… We did things with analogue and tape, which people don't do much anymore. We wanted to have that authentic feeling, especially with the fact that we had incredible players and people that we worked with.
AS: And I think that if we continued to write that, for us, we always go back to these conversations of love. And that it's not always perfect. So I think for us it's always coming from a place of that and that real place where we go through things. And for me and our love and our love story, I feel like Evan really brought a whole new light to my life, and I think that's something that I definitely wanted to write about.
Outside of The Carters' most recent album, joint projects [between couples] aren't something that's done a lot anymore. I'm imagining it's probably because it's pretty challenging. What are some challenges that you both came across? 
AS: There definitely were certain challenges. Evan always says it's my schedule of what time I like to go to bed [laughs]. I like to go to sleep pretty early. But, no, there were challenges also when we were creating. We were like, "Okay, is it done this way or that way, and to what tune and what melody to go with." What was nice about that is I feel like we both were able to have our own spins and do our own melodies in our own way and our own sound, which was nice. What were your challenges, Evan?
ER: Probably the same thing you said. Trying to stay late in the studio.
Ashlee, there is a scene in one of the episodes of your show where you make it very clear that you don't want to put out a song before it's ready. It seemed like a very real moment, and you go on to talk to your friends about your SNL snafu and how that's related. Would you say that taking your time with your creative process and making sure that you're ready is one of the big takeaways that you had from that moment? 
AS: Definitely, I learned a lot from that and wanting to be prepared and wanting things to be right. But what I also learned from Evan in this process is that music is in a different place, too, and letting go. What I did enjoy about doing this is the releasing of songs every week. And I think that there was a sense of freedom in that for me.
Do you feel more ready now?
AS: I'm feeling good. I feel ready, and we have been playing shows together which has been so fun, and we are looking to do a tour together soon which will be so amazing. And I think what's so fun about this and the album is that we will do one song that's mine and one that's Evan's. And then we'll go on to do our own.
There's one more track that you're going to release from the EP. What can we expect from that song? 
ER: It's probably one of our favorites, I think. It's kind of explaining our love in some way.
AS: And it's simple.
ER: And simple, yeah. I'm probably actually most excited for that.
AS: I really love that song.
You mentioned a tour, what can we expect next from you two? 
ER: We are actually right now in rehearsals and getting ready for that part of it, putting together what that's going to look like. We want to do something that feels intimate and fun and sexy and those things, so that's where we are at right now. We're in the process of looking at dates that would work and figuring out how we are going to also bring the children with us as much as possible and do all that kind of stuff.