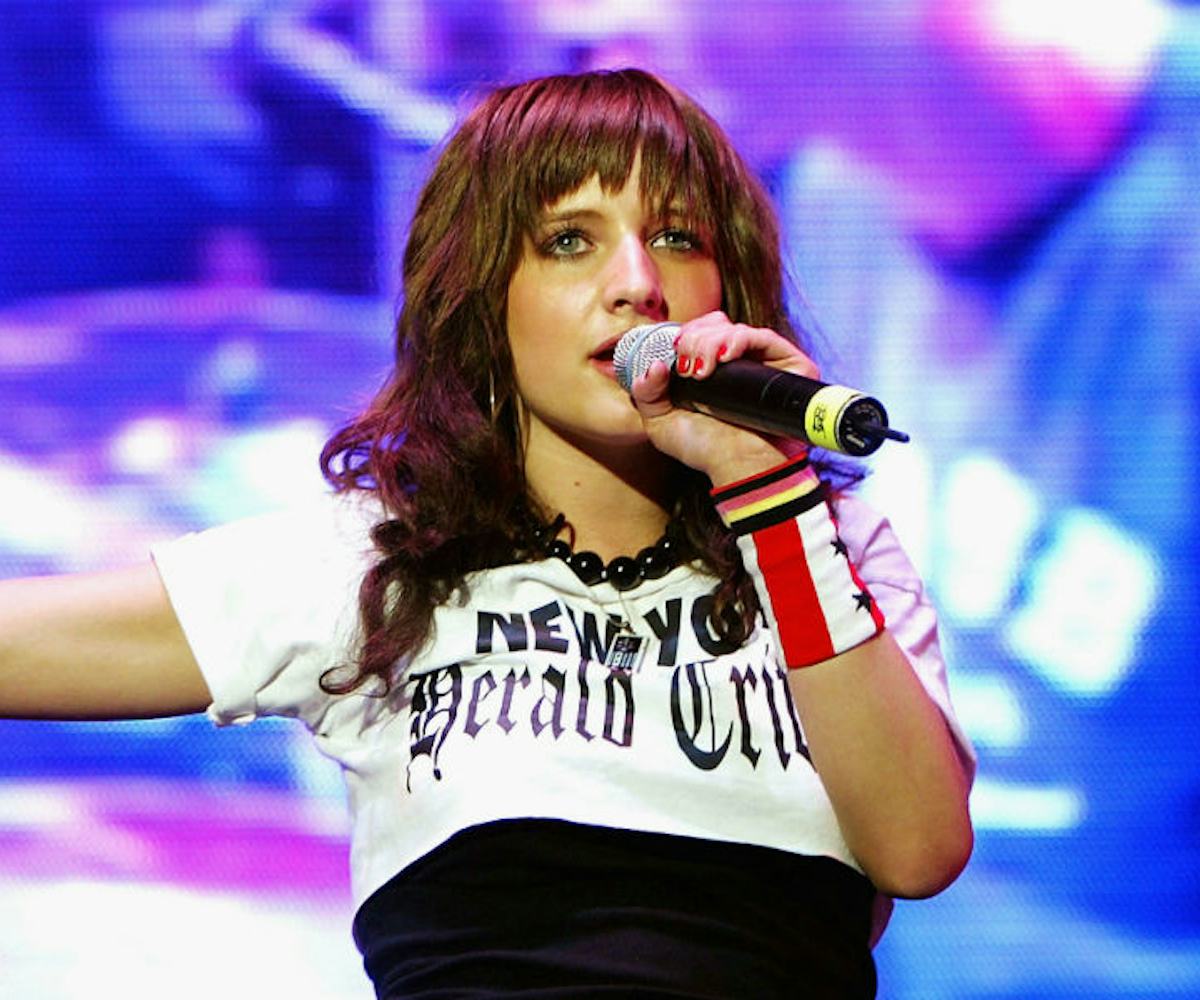 Photo by Scott Gries/Getty Images.
It's The Perfect Time For An Ashlee Simpson Comeback
It's been 10 years since her last album
Last month, Popcast, the music podcast for The New York Times, posed the question: "Was Ashley Simpson Underappreciated?" I tweeted this in haste:
I stand by that! It's not even up for debate. Or maybe it is, because that's what host Jon Caramanica and his guests, pop music editors Caryn Ganz and Joe Coscarelli, did: They explored the singer's music and defunct reality television show through two hour-long episodes of the podcast. Because though her career was short, there's still a lot to digest about the youngest Simpson sister. One major aspect being: Did we cast her off too quickly or too harshly?
Ashlee was molded into the antithesis of every blonde, bubblegum pop, early '00s pop star—including her sister Jessica Simpson. She dyed her hair black, infused rock into her pop, and adopted a rebellious persona. Instead of singing about falling for a boy's toxic kisses, she sang about living in the shadows of someone else's dream. She fell in line with Fall Out Boy, Good Charlotte, Simple Plan, and Avril Lavigne, who were all on the rise at the time. And the angst worked in her favor. In 2004, she helped usher in sad girl pop, and emo teens everywhere ate it up.
Her debut album, Autobiography, went triple platinum and became the highest selling debut from a female recording artist the year of its release. It would go on to sell five million copies worldwide. Her first single, "Pieces Of Me," was a huge success as were her follow-ups "Shadow" and "La La." Was she a great singer? Hardly, but she brought a sound that was reminiscent of Gwen Stefani, and millennials loved it. And even though she clearly borrowed from artists, she came off as authentic, less derivative than appreciative. That is, until the fateful night of October 23, 2004.
I'm talking, of course, about her historic SNL performance. Having just performed her single "Pieces of Me," Ashlee returned to the stage to sing "Autobiography." Instead, though, the vocal track for "Pieces" came on, leading many to believe that she hadn't actually sung her first performance and had instead lip-synched. Realizing what happened, Ashlee stood around awkwardly and started doing a jig to distract from the mistake. But the damage had already been done.
Many cite her 2004 performance the beginning of the end. Kevin O'Keefe wrote for The Atlantic: "When the wrong track played on SNL, America saw the seams. And they didn't like what they saw." By the time Ashlee released her second album I Am Me, which did go platinum, her name was smeared. When it came time to put out her third and final album Bittersweet World—produced by Timbaland—everyone had already written her off. She even performed on SNL a year later as a sort of consolation. The performance went off without a hitch, but nobody cared. Ashlee was aboard a sinking ship, and no one was willing to throw her a life jacket.
I do believe, though, that if this same incident happened today, she would've at least been thrown a buoy of some kind. Don't get me wrong, her name would be trending on Twitter quicker than she could walk off that stage. But, her reputation would've experienced a ding rather than a massive blow. Think about it: Lana Del Rey was heavily criticized six years ago for her shaky SNL performance and, well, look at Lana Del Rey's career now. Mariah Carey—though she already has a very well-established career—is infamous for her lackluster performances, and we all still worship her. I don't think it's a coincidence that 2004 is also the same year Janet Jackson was vilified for "showing" her breast on national television during the Super Bowl. Her career, like Simpson's, never properly bounced back either. Nowadays, you can apologize, own up to your actions, and still be okay (just look at Katy Perry!). One bad performance won't be your downfall (just look at Rihanna!), and it definitely won't be the end of your career. Ashlee, it seems, was in the wrong place at the wrong time.
Funnily enough, Ashlee, now 33, married into music royalty. She hasn't put out music since 2012 (when she released a very forgettable single "Bat for a Heart"), but it's rumored she and her beau, Evan Ross (yes, son of Diana), are planning to do so soon. Is the world ready for an Ashlee comeback? Judging from the responses to the question we started with—"Was Ashlee Simpson Underappreciated?"—we think the answer is absolutely.