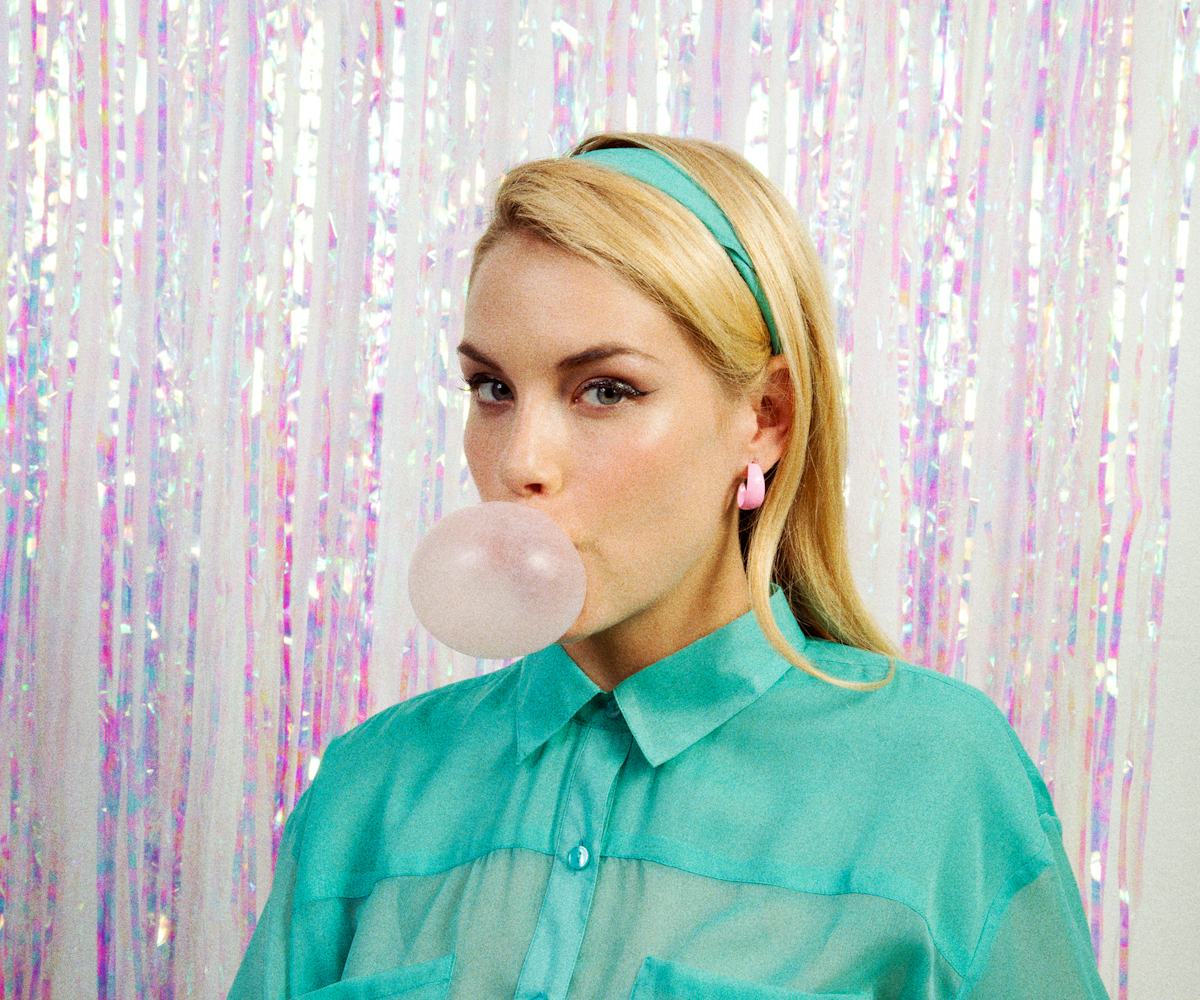 photo by sandy kim for rvca
first look: ashley smith for rvca
the cry baby-meets-clueless clothing line you need.
Ashley Smith's first collection for RVCA might not be revealed until tomorrow, but we've got an exclusive sneak peek of the campaign images today! 
In the photos, lensed by Sandy Kim, Smith channels her inner high schooler while showing off her pastel-hued, fall '14 designs for RVCA. Between the sheer blouses, knit shift dresses, and high-waisted shorts, there's a whole lot to love. It's sort of no surprise that Smith would have such a natural knack for designing, though--she does have some of the coolest personal style around and has plenty of experience working with RVCA as a brand ambassador. 
We hopped on the phone with the New York-based model to get more scoop on her collection, her inspiration, and what's next for her. (Hint: More designing!)
The campaign images have a subversive, high school vibe; why did you want to embody that mood?
In my own personal style, I feel like I have a little bit of a schoolgirl vibe, like high-waisted skirts, white socks, collegiate-looking shoes, and ponytails with headbands. I wanted to incorporate that into my first collection, and after the clothes were made, I thought, "What if we do this story: good girl vs. bad girl?"
When designing the collection were there any films or people that inspired you?
The first words I was using to describe my ideas were two film references:
Clueless
and
Cry Baby
. I think 
Cry Baby
more for showing both sides of the girl. In 
Cry Baby
, the good girl is so '50s with her poodle skirts, and then she falls in love with the bad guy and puts on a leather jacket. The collection for RVCA has this girly edge, but then there's a transformation to high-waisted skirts worn with a leather jacket. I was also inspired by Petra Collins. I was looking at some of her photographs, and they really inspired the mood and the imagery of the collection as well. 
Why did you want to work with photographer Sandy Kim on the campaign?
RVCA let me hire a photographer and a stylist, and I basically just hired my friends. Sandy is a really good friend of mine, and I've worked with her many times before. I love her style and I love how it's very representative of my life downtown. Her photos are very raw. I wanted to use her rawness in the campaign. We hung out in my apartment and around my apartment shooting, and it didn't feel like work. 
If a girl could only buy one piece from the collection, which piece should it be?
I really love the cropped sweater. It's different, and it's something I wear a lot. I have
so many
cropped sweaters in my closet. It's something I wear often because it's a versatile piece. You can wear it with leather shorts and look edgy, or you can wear it with a high-waisted skirt and look super cute. And because it's two different colors, it can appeal to both the bad girl and the good girl. 
Do you see more designing in the future for you?
This is my first of six collections for RVCA. That's three years! It's exciting for me because I get to show so many different sides of myself, and people get to watch me grow as a designer over the six collections. It's almost like the people who wear the clothes can go through my life and my transformations with me. I think it's interesting too that RVCA chose a model in New York, because the company is so rooted in LA. I get to show the world what I'm going through in New York, what I think is cool, what my friends are wearing, what represents being young and having fun in New York. I just finalized my designs for my second collection and I'm so excited about them, they look dope. 
What three songs would you put on an Ashley Smith for RVCA playlist?
"Corinne" by Metronomy because it's about a girl and the chorus is, "She just wants to dance all the time." This is hard. I have so much music! I'm thinking of fun melodies, something very colorful, so "Ooh La La" by Goldfrapp and "No You Girls" by Franz Ferdinand.