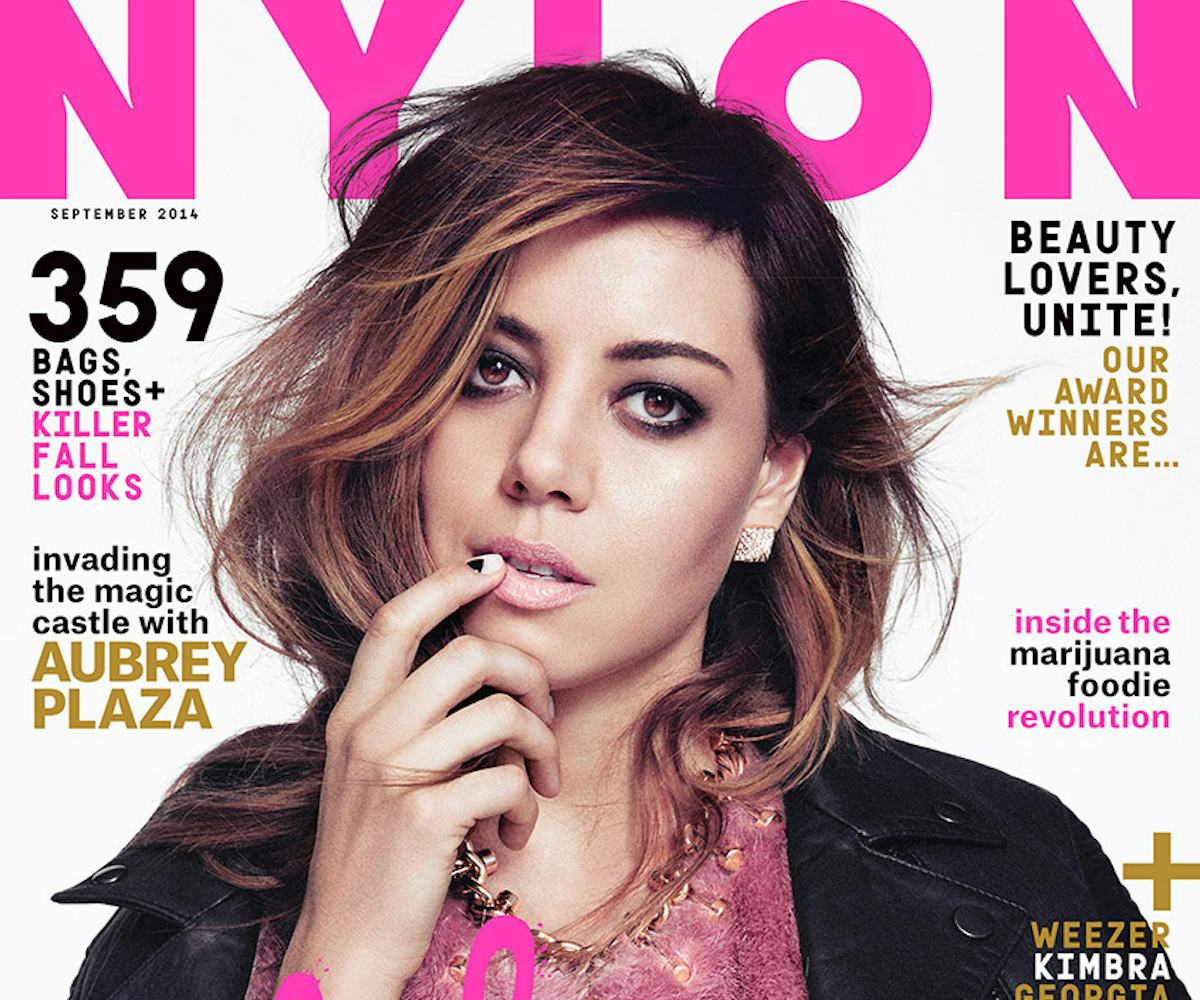 photos by zoey grossman
say hello to our september cover star
"I'm going to create my own opportunities. If I can't find the roles I want, I'll just make them."
With Fashion Week around the corner, everyone at NYLON is bustling around the office, nailing down schedules for runway shows, chattering about what we'll wear when we interview each designer backstage, and completely obsessing over our September Fashion Issue. It's not just because the nature of the issue is so aligned with Fashion Week--with pieces about our favorite beauty and fashion labels--but this year, it's because the cover features everyone's ultimate celeb BFF, Aubrey Plaza.
Otherwise known as a real-life Daria and on-screen April Ludgate, Plaza's exclusive interview with Margaret Wappler comes with just as much dark humor as you'd expect from Hollywood's favorite hilaroius emo-child: "I feel like a total failure. I haven't achieved anything that I wanted to achieve, and I feel like I should just give up now….I know it's ridiculous, but that's honestly how I feel," she says. But when it comes to her future, Plaza tells us "Hmm, hopefully when I'm 70, Anna Kendrick and I will have our multicam sitcom, exactly like The Golden Girls. We'll just be two fast-talking sexual ladies hitting on younger guys."
"[I still want to] finish a screenplay, write more in general, run for political office – I don't know, invent something?"
So good.
But if you want to read everything the Life After Beth actress told us behind closed doors, then you'll have to scoop up our September Issue, on newsstands next Wednesday. Until then, check out more exclusive quotes and swoon over Plaza's look as a ruby-red retro queen.
On choosing roles:
"The female love interest is boring to me. A female that's interesting, smart, funny – that's what I'm drawn to. I wouldn't say that every character has to be smart, but she has to have one trait I can relate to."
Of the final season of Parks & Recreation:
"I'm really scared and sad." Then, striking her patented sweet spot between wry and tender, she adds, "I just can't imagine not being forced to be with those people for most of the year." Plaza says co-star and friend Amy Poehler taught her "how to be a leader with grace and generosity."
On children:
"I really weirdly want them right now, but it's not great timing. But I also feel, like, when is it ever good timing?"
"Aubrey has a wolflike quality onscreen. She's gorgeous and majestic in repose, but mostly you're hoping to see her tear something's throat open." - Anna Kendrick
NYLON September 2014 hits newsstands on August 27.