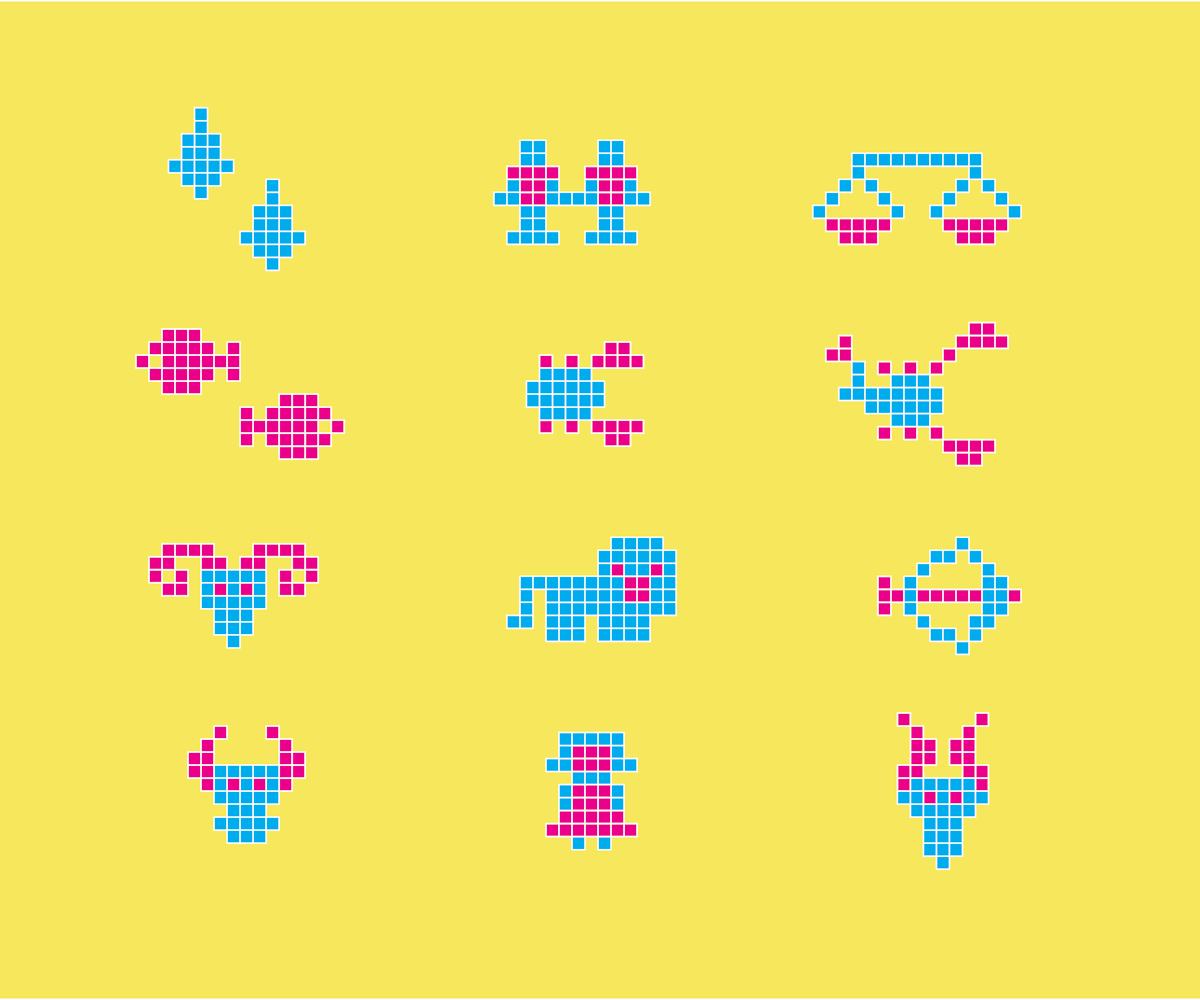 Illustrations by Sariel Friedman
your august horoscope says this month will be huge
We may feel like we're in a slump during these last dog days of summer, but the excitement of the season isn't over just yet. Venus, the sensual ruler of love, romance, comfort, and money, will travel retrograde through Leo all month, a provocative aspect for rewiring any of these parts of your life that need repairs. This will be an extremely revelatory month, so if you're unsure if any of these areas need revamping, you'll know soon enough. 
Jupiter steals the show on August 11, when he moves on from his fortuitous, yearlong stay in Leo and into meticulous and earthy Virgo. Until September 2016, all 12 of the zodiac will have golden opportunities to put matters related to health, daily routine, and work life under the microscope. Everyone will experience more support in these areas, but this will be felt especially strongly on August 26, the luckiest, sunniest day of the entire month for all signs. 
August 14 boasts a bold and brilliant new moon in fiery Leo, clearing the way for some well-deserved excitement. You'll be handed a clean slate to start fresh in matters of the heart and creative pursuits. Seek out anything that brings you the most pleasure and joy (safely), this month. You simply won't be able to resist hedonism's last siren song of summer. 
The month's end will be focused on ironing out communication static, along with escaping. Mercury will enter congenial Libra on August 27, making collaborations and partnership negotiations buttery-smooth. Once the Pisces full moon closes the month on the 29th, you'll be beyond stoked to sit by the beach or the pool. Whatever your druthers, make sure to spend that weekend relaxing—you'll need to restore your energy for an even busier September. 
Leo
August will feel like you're taking a giant step back (and you will be—kind of), but it will all be in the name of essential self-growth. Venus, who's normally in good spirits, will be moving backward through your sign until next month, giving you a perfect opportunity to reassess your life. Consider this month a chrysalis period in your self-worth journey: You have a lot to offer the Universe.
Despite feeling a little grey early in the month, you'll be primed to amp up your earning potential, particularly after the 8th when Mars lends your sign a much-needed confidence boost. A golden new moon in your sign on August 14 further bolsters this energy, ushering in a new phase of your life. You'll be feeling yourself for what you truly are—bold and brilliant.
Even better, on August 11 lucky Jupiter will hang his hat in your second house of income and talents for a full year. This hasn't happened in 12 years, so take advantage of the next year as a time to boost your cash flow. Once September hits, you'll be in an extraordinarily desirable position to make more money. 
Virgo
You won't be able to ignore your tangled love life anymore this month, Virgo. Though it may seem like you're on a fresh page of your life, there's so much snarled in your past requiring resolution. Past heartbreak, betrayals, or unresolved conflict will need to be dealt with in order to move forward. Seeking professional counseling would be helpful—or simply having a frank conversation with someone who hurt you—can do wonders now. Either way, facing these issues head-on will set you free from the kind of isolation you've imposed on yourself for the past year or so.
If you've been blindly hanging on to a dead-end relationship, expect to have your eyes opened once and for all in August. Virgos love a good project, but trying to change anyone is a fool's errand. This awareness, which may deal a heavy blow, will also be essential for moving forward in September.
Overall, August will be an illuminating crossroads for your sign, all in the name of positive changes. Jupiter, the god of blessings and good fortune, will shine his light on your sign for the first time in 12 years on August 11. He'll remain there until next month, making you unstoppable. Expect to meet new and influential people during this phase—particularly when it comes to the dating scene. 
Libra  
The careful reevaluation and pruning of your social scene continues in August, a smart choice when it comes to surrounding yourself only with those that lift you higher. There's no need to keep dead weight around, Libra—you know you deserve better.
Being a balance-oriented sign, many Libras may feel compelled to go within themselves and duck out of the social scene altogether. Spending alone time will be beneficial until the atmosphere lightens up next month. Solitude filled with spiritual reflection and growth is the most healing thing you can do for yourself right now, Libra. Be gentle. 
Your love life might resemble a flip-flop this month, too, especially if you've been going back-and-forth about possible feelings—deeper, romantic *~feelings~*—about a close friend. Time will tell whether or not it's an intelligent decision to transition that relationship, but wait until September before making any final calls. Your ruler, Venus, will be in retrograde until then, meaning that no decisions around love or money will be truly "final" (are they ever?).  
Scorpio
Last month was chockablock with hints (like, really obvious hints) that your career was in need of a facelift, or even a complete overhaul. In August, you can no longer ignore any of those nagging feelings and will need to get serious about seeking out a professional path that truly fulfills your soul, especially as Venus backtracks through your 10th house of profession and honors. Do what you love. 
Sparkling professional opportunities will be ripe for the picking all month, but especially after the new moon in Leo on August 14. If you've been looking for a job to no avail, an offer may literally fall into your lap after the 19th. 
Whatever improvements happen this month, career-wise, they'll revolve around who you know. After August 11, Jupiter, the harbinger of luck, good fortune, and expansion, will perch in your social-life sector for the first time in 12 years. He'll hang out for a full year, so expect to be networking heartily well into 2016. In fact, you should insert yourself into as many social events as possible in the next year. You never know who you might meet—or how they might make your fantasies a new reality…
Sagitarrius
Those of you who've been mired in relationship struggles this summer will likely see a turning point in August. This month will be a time of reckoning for any floundering relationships; you'll either need to cut your partner loose for good, or find a lasting resolution. Your decision won't be an easy one, especially if the crux of your relationship static has been centered around vastly differing or incompatible life philosophies.
But you are not one to change your mind fluidly when you're set on something, Sag. While you're fine to agree to disagree until something shifts, it simply won't be possible this time—and your sweetheart will be just as stubborn as you. This standoff will likely be called off after the new moon in lovable Leo on August 14. A fairytale ending is possible, as long as your love for each other is more powerful than the fight.
The rest of this month should be reserved for focusing on improving your career prospects. Later on, Jupiter, the luckiest planet out there, will grace your 10th house of career and success for the first time in 12 years. You're bound to stand out, so if you've been thinking about starting a new business, go for it. Otherwise, keep your eyes peeled for a prestigious promotion—along with a raise! 
Capricorn
Any looming financial problems you've been ignoring can no longer be swept under the rug in August. Though it may seem dire, your money troubles are completely fixable—as long as you're willing to put in some elbow grease. Sending your finances to the guillotine might be a little painful, but be confident in your decisions—it'll be exactly what you need for a fresh start.
Those of you who've been hankering for more adventures and knowledge will have plenty of opportunities to cast off the "blahs" of late summer with coursework or a new hobby. You'd do well to stimulate your mind this month, Capricorn. You may even have a once-in-a-lifetime opportunity to travel some place exotic. Say yes and figure the details out later. You deserve to feel joy and euphoria. 
Aquarius
The partnership troubles you've been experiencing in the past few weeks will bleed into this month as Venus continues to retrograde all August, whether it be with a romantic or business partner. A financial disagreement may be what's behind conflicts in business, and if so, you'll both need to pay extra attention to honoring and respecting each other to make it work. Money should be balanced in a way that acknowledges and appreciates one another's efforts, otherwise the relationship is likely doomed. 
Romantically, coupled-up Aquarians may feel like they've been stuck in the muck all summer, or worse: You might feel like you are no longer compatible with bae. Love is likely still present, but the reality of life as a couple has dulled the fairytale shine. If that sounds like you, August is the month to add some much-needed excitement into the mix. Active Mars will lend his support to your love life on the 8th, bolstered by a friendly new moon on August 14 in Leo.
After the 11th, Jupiter, the giver of good fortune and abundance, will set up shop in your 11th house of combined resources until September 2016. Investments—or other sources of income outside of your work—will be an extraordinarily fruitful feather in your financial cap.  
Pisces
Pisces that have been neglecting their health or wellbeing will no longer be able to do so in August. You'll need to give yourself a healthy dose of attention this month, whether that is focused on your physical body's health, your mental health, or your spiritual health. All summer long, the Universe has been shining lights on the darkest, most neglected corners of your life, and it's time to get serious about making changes.
If you've been working with a friend or close partner on an important professional project, it's possible that your relationship could begin to sour as a result. Alternatively, you could be dealing with slacker coworkers and colleagues bringing you down at work. This month will be all about taking an uncomfortable look at the incompatibilities you've been noticing in the workplace.
Jupiter will enter the relationship sector of your chart for the first time in 12 years after August 11—something that should be skywritten for you all over town! Jupiter will stay here until September 2016, and both your business and personal life will flourish, thanks to this aspect. The next year will be all about spectacular growth, especially in your love life. Single Pisces can bet on a stellar year for dating and meeting new characters, possibly even someone you can build a promising future with. Those of you in relationships could see an engagement in the next year, or even welcome a visit from the stork! The full moon in your sign on August 29 will close out the month on a spiritual note, leaving you more open to possibilities than ever this year.  
Aries
Your creative streak is on fire this August, Aries, and your passion knows no bounds. Despite sultry Venus backtracking through your fifth house of pleasure and romance, love will take the spotlight. Venus will urge you to conquer any fears or hesitancy you've been experiencing around these areas and take a dive headfirst into exciting, unknown waters. If you've been gun-shy about getting back into the dating scene, falling in love, or committing yourself to a creative passion project, this month is primed for shaking off insecurities and charging in like a true Ram.
Clear your schedule for a healthy dose of hedonism until October, especially if you feel that opportunities for pure fun have been few and far between, lately. On August 8th, your ruling planet Mars will inject a huge dose of decadence into your social and sex lives.  
All play and no work make Aries just plain weird, but after August 11 your sign will experience a rare surge of power in your career. Jupiter hasn't been this magnanimous to you in 12 years, so if you're hoping to find a new job or additional freelance work, you are in an enviable position—just be prepared for the floodgates to open over the next year. If business negotiations are on the horizon, try to hold off until the month's end when Mercury backs your interests. 
Jupiter's position will also lend a hand to any medical issues, so if you've been having health troubles, August is a shimmering time to find a new doctor, naturopath, or acupuncturist. 
Taurus
A plush home life is still on the brain in August as Venus makes moves backwards through your fourth house of domestic life, and you know exactly what needs to change. But instead of stubbornly delaying the inevitable (a trademark Taurus trait), you'll be the one aggressively initiating change, horns-first. Whatever major changes you make to your domestic situation will stick, thanks to Mars, who will help you remain in control of your surroundings and decision-making processes until late September.
Expect Venus' retrograde period to lend an air of urgency—especially when it comes to mending your family relationships—until mid-September. The new moon on August 14 will solidify your efforts to improve family relationships, finally lifting any built-up tension and balancing your emotional life.
Even though your ruling planet Venus will be in retrograde most of August, love, romance, and creativity will be key players in winding down your summer sweetly. Taurus is in the best possible position for establishing true love this month, particularly after August 11. Coupled-up Bulls may decide to set their intentions in stone by cohabitation or getting engaged, but single Tauruses will have their pick of the crème de la crème.    
Gemini
August begins to unfold rather quickly, and you can tell right off the bat that it's going to be a busy, interesting month. Matters of communication and your home life will be flooded, likely flowing into early September. You may even notice yourself taking an uncharacteristically harsh tone with yourself regarding your money and self-esteem. The culprit? Foxy Venus' retrograde period.
Because your sign is so cerebral, it's easy to get caught up in a mindfuck this month. You may feel that you're being shortchanged, both in love and in your bank account, and you certainly deserve more. Something just isn't working for you anymore, Gemini, and now it's time to reimagine your ideal life. Expect that same brainy energy to carve out exactly what you want—your mind is a powerful tool.
Luckily, Mars will have your back, er, brain, swiftly changing your mindset from stormy to sunny after August 8. The new moon in bold Leo on the 14th will bolster that perspective further, likely planting the seeds necessary for change. 
If you're itching to move or change up your living situation, try to plan after August 11, when Jupiter moves into your fourth house of home and family. This will be Jupiter's first time hanging here in 12 years—and he is an incredible gift giver. Whatever changes you make to your abode now will set the mood for a magical fall. 
Cancer
This is it: The final straw in your financial woes has been dealt. August is your final respite in getting your money situation right, Cancer. In the last few months of summer, you've been thinking a lot about changing your career path for good. August will be your most marketable month yet.
You might've overlooked some choice opportunities to earn more money or change careers, simply out of fear. This month, you can no longer hide (nor will you want to!), and will have every chance imaginable to use those new (or newly tuned-up) job skills you've been working on. 
Thanks to action-packed Mars making moves on August 8, your ambitious spirit will be on fire. You may actually have a solid job offer land in your lap soon after, backed by the regal Leo new moon on the 14. Crabs happy in their current career could be surprised by news of a promotion or raise now, too, especially as this golden energy crests on August 19. Either way, expect to be busy until next September—as in 2016.