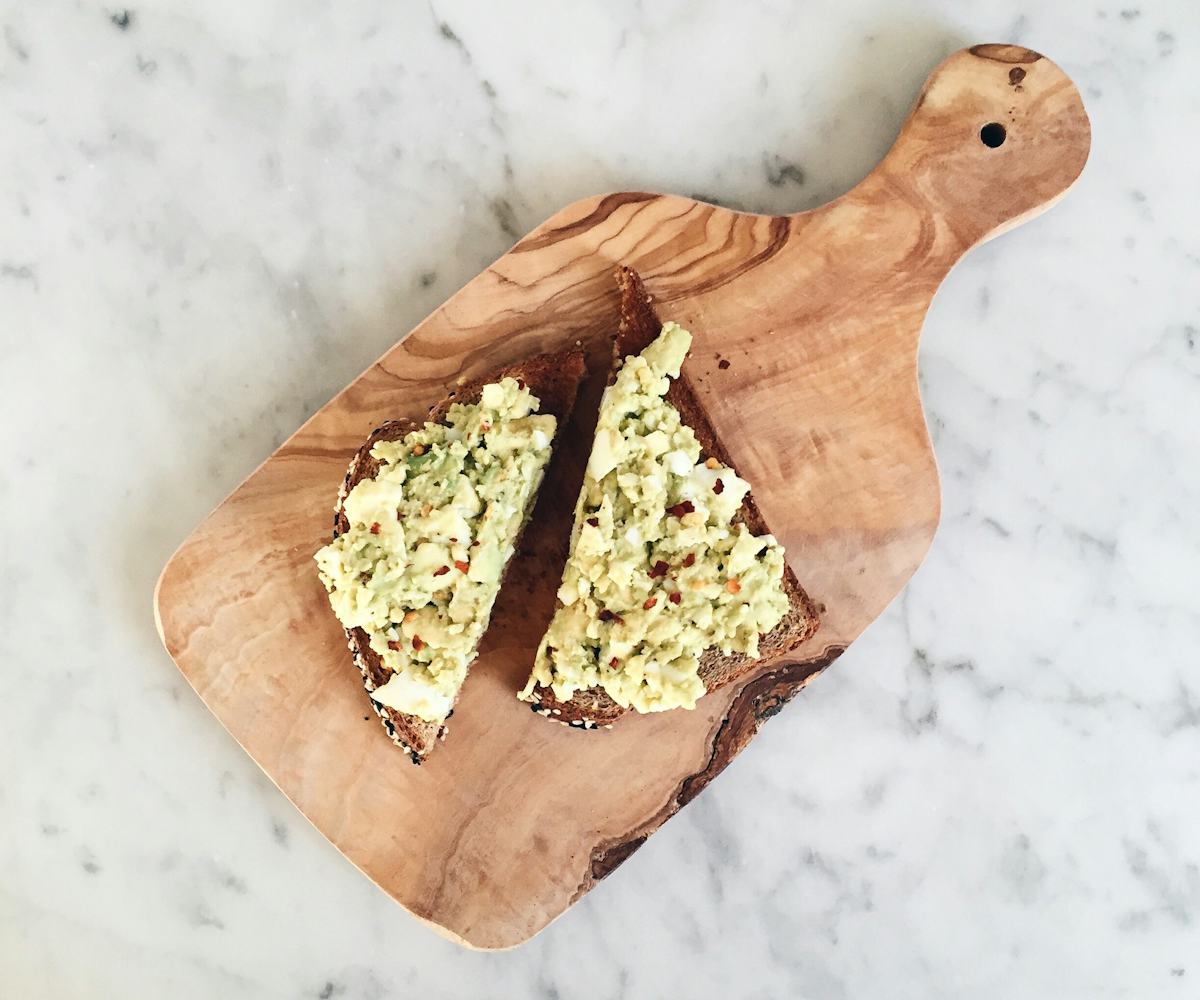 Photo by Brittany Bennett
5 Brilliant Ways To Use Avocado That Aren't Toast
Maybe you've noticed that your Instagram feed is clogged with shots of toast smothered with heaps of mashed avocado. While these make us drool, we want to let you in on other ways to enjoy the superfood.
It doesn't wear a cape, but the avocado does come with powers. The fruit (yes, it's not a vegetable) contains healthy monounsaturated fats and is loaded with vitamins and antioxidants that help boost the immune system and improve skin health. Hey, we love it when eating becomes part of our beauty routine too.
To get that avo glow, you can easily incorporate the fruit into your favorite dishes. Go green on pasta night, and toss spaghetti in a homemade sauce that doesn't need time to simmer or thicken. These recipes are so easy to make, stepping into the kitchen after work won't feel like unpaid overtime.
Expand your use of avocados, shake up your Instagram feed, and eat healthy with one of these recipes starting tonight.
1. Chocolate Banana Avocado Pudding
This pudding is perfect in parfaits or just to enjoy by the spoonfuls straight from a bowl. Adding a banana to the blend lends a naturally sweet, fruity flavor to every bite. It also helps you double up on that potassium, which is known to bust stress and boost metabolism.
Ingredients:
2 medium ripe avocados, peeled and pitted
1 banana
1/3 cup cocoa powder
3 tbsp honey
1/4 cup coconut milk
1 ½ tsp vanilla
Directions:
In a food processor or blender fitted with sharp blades, mix the avocados, banana, cocoa powder, honey, coconut milk, and vanilla together until fully incorporated. Makes about 2 cups of pudding.
2. Avocado Hummus
No disrespect to guacamole, but, it's time to dunk your vegetables and chips into another kind of avocado dip. Take the plunge and marry avocado with tahini for a blissfully smooth texture.
Ingredients:
1 15.5-ounce can chickpeas, drained and rinsed
2 medium ripe avocados, peeled and pitted
1 garlic clove
1 tbsp tahini paste
juice of 1 lime
3 tbsp olive oil
1 tsp salt
1/2 tsp pepper
1/8 tsp cumin
1/8 tsp paprika
Directions:
In a food processor or blender fitted with sharp blades, add all the ingredients and blend until fully incorporated.
3. Avocado-Jalapeno Pasta Sauce
If you like sprinkling your avocado toast with chili flakes, you'll love the kick of spice in your avocado pasta sauce. This creamy sauce will coat your spaghetti and won't leave you feeling guilty.
Ingredients:
1 16-ounce box of spaghetti
1 large ripe avocado, peeled and pitted
1/2 cup parsley, loosely packed
1 small jalapeno, seeded and quartered
1 garlic clove
2 tbsp lemon juice (about 1 small lemon)
2 tbsp olive oil
salt and pepper, to taste
1/4 cup reserved pasta water
Directions:
In a medium saucepan bring water to a boil. Add spaghetti and cook, about 8 to 10 minutes.
Meanwhile, in a food processor or blender fitted with sharp blades, add avocado, parsley, jalapeno, garlic, lemon juice, olive oil, and salt and pepper. Blend until combined. Add more salt and pepper, if desired.
Drain the pasta, reserving 1/4 cup of pasta water. Add the water to the sauce in the blender and mix to incorporate. Makes about 1/2 cup of sauce.
Mix the avocado sauce into the spaghetti. Garnish with parsley, salt, and pepper.
4. No Recipe Avocado Tacos
An avocado on top of a taco is just as good as the cherry on the sundae. But make avocado the main event. Let your avocados shine in the spotlight by pan frying them for the filling of your taco. The avocado taco is perfect for breakfast, lunch, and dinner.
Ingredients:
1 medium ripe avocado, peeled and pitted
salt and pepper, to taste
1 egg
1/2 cup flour
1 cup Panko crumbs
vegetable oil
2 corn tortillas
cherry tomatoes, halved
cilantro
hot sauce (optional)
Directions:
Slice an avocado into 1/2-inch slices. Season with salt and pepper.
Crack and egg into a bowl and whisk until whites and yolks are incorporated. In another bowl, pour in the flour. In another shallow bowl, pour in Panko crumbs.
Dip seasoned avocado slice into the egg, letting the excess egg drip back into the bowl. Then coat with flour and roll in Panko crumbs. Repeat with other slices.
In a skillet, over medium-high heat, heat vegetable oil. The frying oil should coat the bottom of the pan and come to a simmer. With tongs, slowly lower the avocado slices to the pan to avoid being burned by spitting oil. Fry until browned, about 45 to 60 seconds per side. Flip using the tongs to brown the other side.
Move slices to a paper towel to dry.
In a corn tortilla, place three fried avocado slices, and top with cherry tomatoes, cilantro, and hot sauce.
5. Avocado Egg Salad
Need a healthy alternative to traditional egg salad? Substitute mashed avocado for mayonnaise.
Ingredients:
2 hard-boiled eggs
1/2 of 1 large, ripe avocado, peeled and pitted
salt and pepper, to taste
Directions:
Bring a pot of water to a boil over medium-high heat. Add two eggs, cover, and reduce heat to a simmer. Cook for 8 to 10 minutes for a hard boil.
In a small bowl, add the avocado and mash until smooth. Add salt and pepper, to taste.
When the eggs are boiled through, peel and mash them with a fork in a medium mixing bowl. Add the mashed avocado and mix. Season with more salt and pepper. Enjoy between slices of whole grain bread.