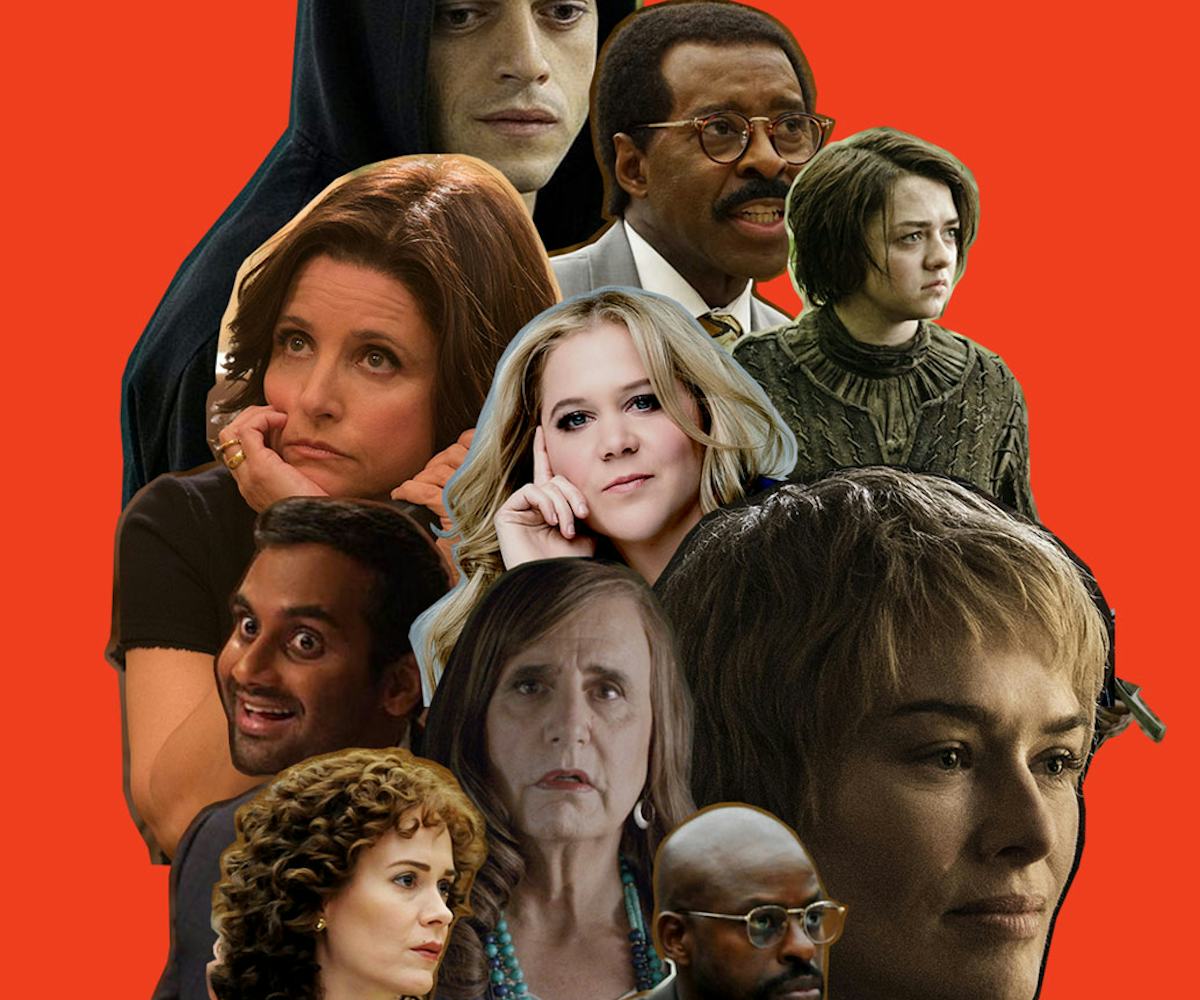 Photos via Netflix, HBO, Amazon, and USA
Why It's Time To Get Rid Of Gendered Categories At Awards Shows
This Sunday, a who's who of television's luminaries will parade down the red carpet on their way to attending the 68th Annual Primetime Emmy Awards. The night celebrates the achievements of everyone from producers and directors to writers and editors, but—let's be honest here—most of us tune in specifically for the acting categories. It's particularly satisfying to see which of our favorite characters, the ones we invite into our homes for hours upon hours over the course of months at a time (or sometimes over one long, binge-watching weekend), will be accordingly honored.
But beyond standing out for being audience-favorites, the Emmy Awards' multiple acting categories are worth noting for another reason as well: They alone are separated by gender. The Emmys aren't singular in this, of course; the Academy Awards, Golden Globes, Independent Spirit Awards, Tony Awards, and Screen Actors Guild Awards also separate actors from actresses.
While gendered categories have long been a tradition in awards shows, with a separate category for best actress existing as far back as the first Academy Awards in 1928 (men won 14 of the other 15 categories), recent years have seen a push for gender-neutral performance categories at awards shows, the sole honorifics to still be designated by gender.
In 2011, the Grammy Awards embarked upon a massive upheaval of their categories, and removed gender-based distinctions in categories like pop, country, and rock; additionally, the Grammys have long had men and women competing against each other for Album of the Year. And while nobody would say that the Grammys are now flawlessly decided or that there is anything in its awards distribution resembling parity—and not just when it comes to gender, of course, racial representation is a huge issue too—the fact remains that audiences are able to better determine where the problem lies when it comes to evening the playing field. This is all to say that the problems that exist in creative industries are not because of awards categories, rather they are reflected in them. The problems are systemic, and must be addressed as such. 
A quick look at gender-neutral awards show categories—directing, writing, editing—reveals that men overwhelmingly win when pitted against women. The Oscar for Best Director, for example, has only gone to one woman, Kathryn Bigelow, in the 86 years that it has been awarded. (Only four women have even been nominated.) And for screenwriting? Vocativ reported in 2015:
Of the 160 screenwriters credited for the 100 films nominated between 2005 and 2014, only 18 were women. Those women contributed to 16 films—or 16 percent of nominated screenplays—two of which won Oscars (Juno and Brokeback Mountain). And 11 of the 18 female screenwriters were over the age of 40 at the time of their films' nominations.
All of this explains why many industry people are hesitant to get rid of the few remaining gender-distinguishing categories: What if no woman ever won an acting award again? What if few were ever even nominated? Or: What if that was a catalyst to discuss the inherent gender bias toward women at awards shows in a similar way that the #OscarsSoWhite campaign from earlier this year has done when it comes to racially diverse representation? It's probably no coincidence that the 2016 Emmys have one of the most racially diverse groups of acting nominees ever.
The fact is that there is no way of easily fixing what are long-standing, entrenched problems in our society, issues that revolve around centuries of discrimination, oppression, and cultural appropriation and invalidation. But separating people from one another because of constructed differences like gender or race is actually another way of perpetuating an unjust system, and serves only to place a Band-aid over the bullet hole that is our bleeding society. Even if it takes women years to win in acting categories when pitted against men, what does it matter? All that it will prove is that there are larger problems that need to be addressed, namely making sure that the kind of complex, weighty roles which are so often created for men are also created for women.
It's easy around awards shows to dismiss the pageantry and the pomp as being trivial and of no significance in our daily lives. But, awards shows are just a glimpse at the surface of multi-billion dollar industries; they might be superficial, but they also reveal something of the problem-filled depths beneath. And so, maybe it's time to get rid of some of the shine, take away the film and television industry's ability to pretend that everything is okay, because look, just as many women are winning awards as men. But that would be buying into the lie that there really is anything resembling workplace or economic equality in this country. The truth is there's not, and it's time we face up to that. Even if it does mean that Meryl Streep might not get her fourth Academy Award anytime soon.