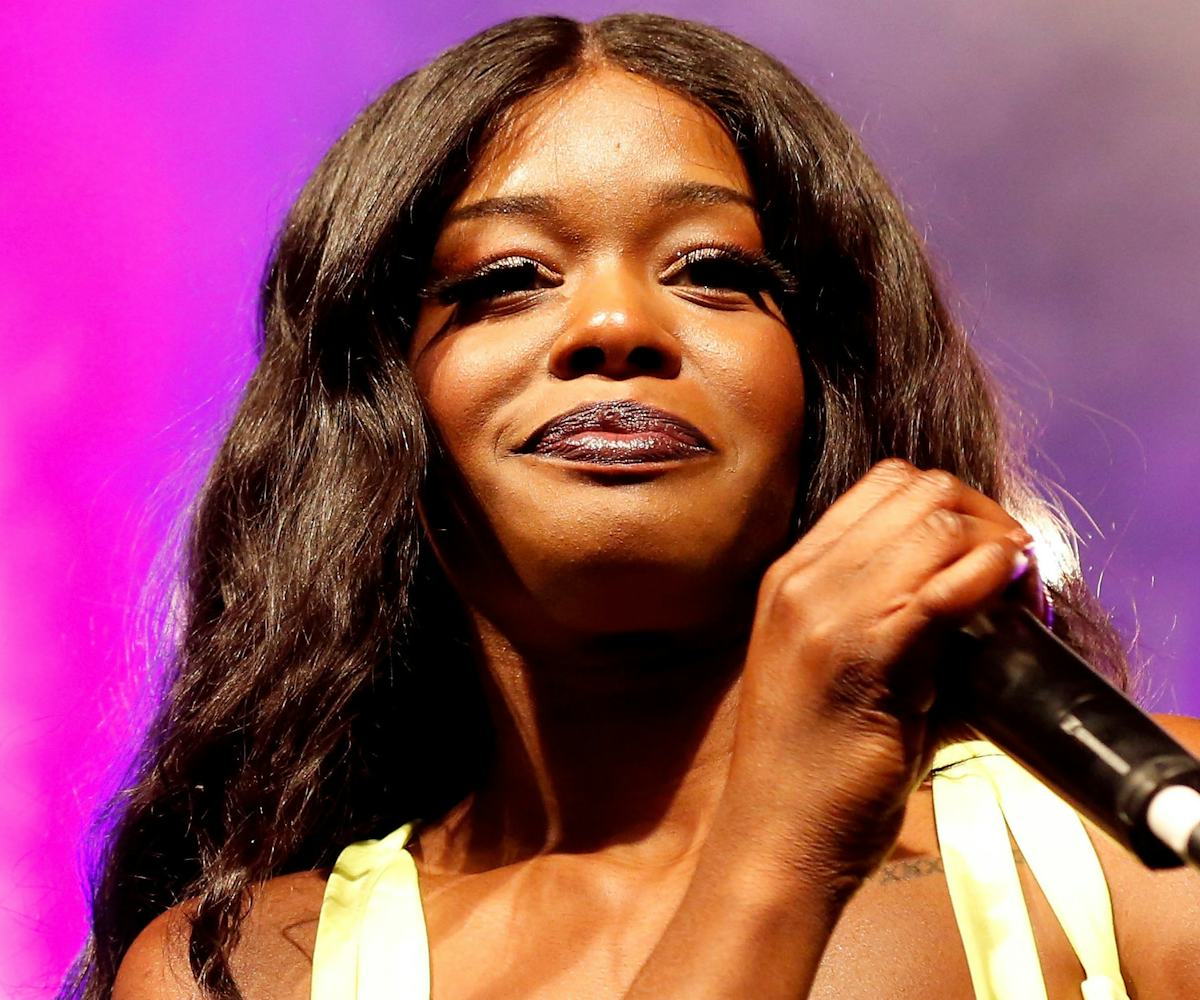 Photo By Simone Joyner/Getty Images.
Azealia Banks Slams Nicki Minaj's Controversial 6ix9ine Collaboration
"Lol the pedophile and the pedo apologist. LINK UP!"
Earlier this week, rapper 6ix9ine released a new song and accompanying video, "Fefe," which features Nicki Minaj. However, the collaboration is incurring some serious backlash given 6ix9ine's past sexual misconduct.
According to court documents obtained by Jezebel, 6ix9ine, whose real name is Daniel Hernandez, previously plead guilty to the Use of a Child in a Sexual Performance. In October 2015, 18-year-old 6ix9ine took three videos of a 13-year-old girl which he then uploaded online. Per the complaint, amongst the disturbing footage is a video of the child, completely nude, performing oral sex on another defendant, Taquan Anderson, and 6ix9ine making "a thrusting motion with his pelvis and [smacking] her on her buttocks."
Yet, despite these horrific findings, 6ix9ine has continued to experience success in the music business, as evidenced by the release of "Fefe" and Minaj's participation. The release of the song's colorful, child-friendly music video had led many to criticize Minaj's decision to work with the rapper in the past couple days. Including Azealia Banks.
As reported by VladTV, Banks recently left a comment on a clip from 6ix9ine and Minaj's new video that read, "Lol the pedophile and the pedo apologist. LINK UP!" Her comment references Minaj's silence on her brother's sexual assault trial. Jelani Maraj was convicted of endangering the welfare of a child and predatory sexual assault on a child younger than 13 last year, per People. 
But Banks didn't stop there. She also took to her Instagram stories and Twitter yesterday to share a message for Minaj and the "new queen of rap" she hopes replaces her soon. As an influential rapper with a powerful platform, Minaj, according to Banks, is meant to protect "the rights, safety, and well beings [sic] of young women of color, " and, as such, shouldn't be associating with "known pedophiles." Hinting that Minaj was desperate for relevancy, Banks said it was basically a slap in the face to all her young female fans, who undoubtedly take what Minaj has to say to heart.
Banks also wrapped up her Minaj critique with a broader statement about the way she believes hip-hop is the only contemporary genre that normalizes abusers—a statement that's misguided, to say the least. After all, as one Twitter user wrote, "misogyny and violence against women is the only thing that crosses all genres and all cultures," and by perpetuating the myth that hip-hop is a genre known to be a safe haven for abusers, Banks is treading into dangerous and, as one person put it, "anti-Black" territory. Perhaps, she should have just stuck with her words about Minaj.