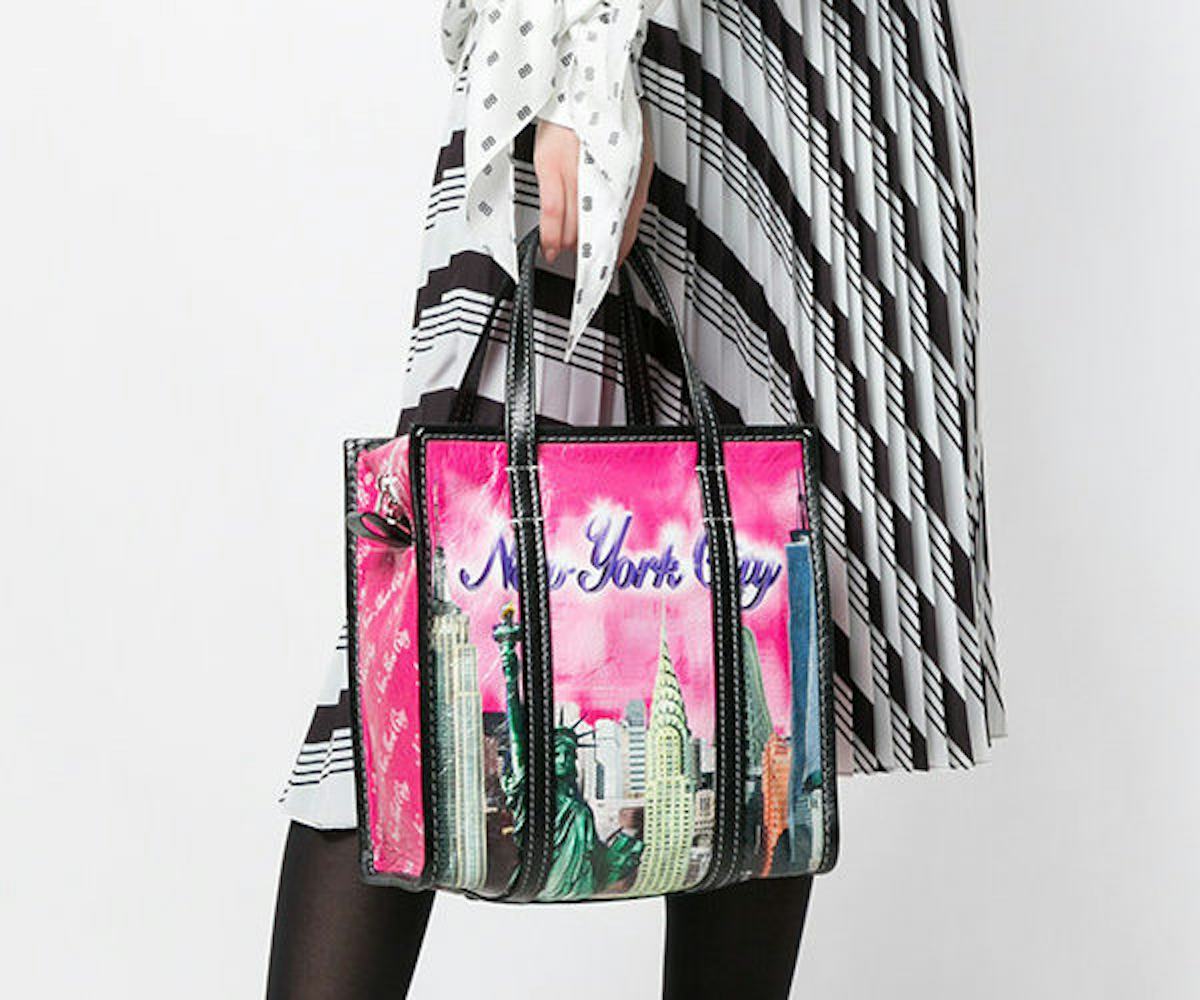 Photo via Farfetch.com
Balenciaga Is Sued For Allegedly Knocking Off This Tourist Souvenir
Copyright infringement within the fashion industry is nothing new—luxury fashion designers and fast-fashion retailers have been knocking off indie brands and smaller labels since forever. However, this news marks something new: A major fashion player has been accused of knocking off a tourist souvenir.
Last Friday, a formal complaint was filed against Balenciaga for allegedly copying a design created by City Merchandise Inc., a souvenir merchandise wholesaler, for its Resort 2018 collection. The collection, which featured a number of bags inspired by cities like New York, Paris, Milan, and Tokyo, included a graffiti bag featuring the New York skyline that, according to the plaintiff, is "virtually indistinguishable" to the one on its designs, that can be found in your average Times Square or airport tourist shop.
According to Edward Toptani, City Merchandise's attorney, "Balenciaga's outside counsel contacted me in response to a demand letter that was sent to the company. At the time, I was advised that my client's claims would be reviewed and a response would be forthcoming. Thereafter, two weeks passed with no further communication from their attorney. As such, it appeared that Balenciaga was needlessly delaying and my client instructed me to commence the lawsuit."
While the tourist merch is priced from $5.99 to $19.99, Balenciaga's bag retails for a lot more—like, $2,000 more.
Now, this isn't the first time designer Demna Gvasalia has been inspired by pop culture and everyday items (ahem, remember that time he was "Feeling the Bern," or the $2,145 Ikea-inspired tote bag?). But, as pointed out below, the similarities between the Balenciaga and the City Merchandise bags are uncanny—and the New York-based souvenir supplier isn't happy about it.
Photo courtesy of Edward Toptani, Toptani Law PLLC
Did Gvasalia take it too far this time? Balenciaga has not yet made an official statement on the allegations, but we'll update this article as new information emerges.