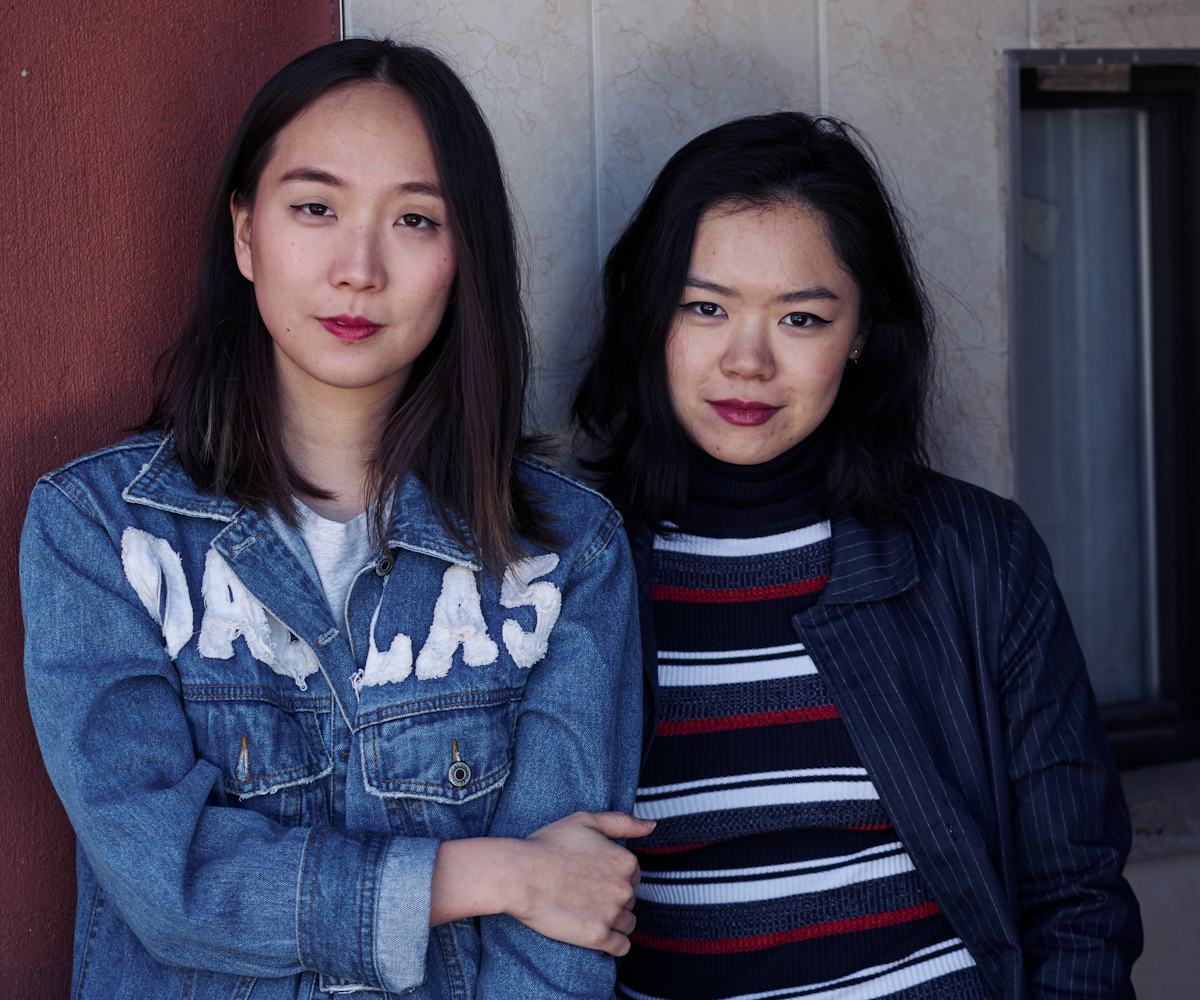 'Banana' Is Highlighting The Asian-American Experience In A Whole New Way
Vicki Ho & Kathleen Tso peel back the layers
In 2014, first generation Asian-Americans Vicki Ho and Kathleen Tso launched Banana Magazine, a lifestyle magazine dedicated to Asians that explore both Eastern and Western cultures. This week, the creative duo is on track to release its third annual issue of Banana, which includes pieces grappling with topics like Asian-American identity, as well as a guide to New York City's Chinatown and a look at different takes on the traditional Asian hot pot.
"Kathleen and myself are still trying to figure out our identity as well learn more about Asian culture, as we build each and every issue," says Ho. "We by no means are experts at Asian culture or history or anything like that, so it's really cool, 'cause we get to discover all these things at the same time that our readers do."
By day, Tso is a strategist at a digital media agency and Ho works at a fashion PR company, but they are both extremely hands-on with Banana. While most of the administrative tasks for the brand are handled internally, the majority of the content comes from an external network of contributing writers, artists, and designers. 
"We work pretty seamlessly together, and we even share that one email together, to make sure that we're both signing off and agreeing on things together," Ho says. "I'm more business-oriented, so I do more of the operational things—I take on more of a managing editor role. [Kathleen] takes more of a creative role, she works closely with our art director who's designed our last two issues."
Issue 003 of Banana is available to pre-order now. Tso and Ho will also be hosting a pop-up shop for the zine and an "All Things AZN" marketplace at Canal Street Market in New York on April 29 and 30. Learn more about what the co-founders have in store for us in the interview, below.
What are some of your favorite pieces in this issue?Vicki Ho: We have a story about exploring the Asian-American identity and what that exactly means. A lot of first-generation Asian-Americans feel this way, where they don't truly feel American but they don't truly feel Asian either, so we've kind of explored this third identity of being Asian-American and what that means. We also talk a lot about the identity of being Asian overseas. We have a piece by this British writer, and she talked a lot about growing up in a Chinese takeaway. A lot of things are threaded throughout the theme of identity. We have another story called "China's Next Great Export," which is a first-person view of rap and hip-hop in Asia and China specifically—the bubbling industry of it, how they perceive American rap, how they are breaking the barriers of hip-hop in Asia, and how they're influenced by American rap. And then we have an interview with this illustrator and artist, Shawna X, who is also our cover artist for Issue 003, and she talks a little bit about identity as well.Kathleen Tso: "Welcome to Chinatown" is definitely a favorite. We asked Issue 002's Wilson Tang to curate a group of movers and shakers he believes are helping pave the way for Manhattan Chinatown's future—Sophia Ng of Po Wing Hong, Phil Chong of Canal Street Market, Calvin Ng of Nom Wah Nolita, director Evan Leong, photographer An Rong Xu, and Christopher Wong of Breakroom and L.E.S Kitchen. I also love "Asian Glow," where we invited friends, family, and industry folk to get wasted with us and get their photo taken with their Asian glow. We want to celebrate the symptom, rather than hide it with this photo series. 
How is this issue different than the previous ones?KT: We say this every issue, but this is our best yet. The talent of our contributors keeps leveling up, and the stories we tell are becoming better and better. There's been quite a learning curve for us building a magazine, and though we're still learning, we're starting to get the hang of it.VH: The issue itself has been growing in pages and in stories since Issue 001, so now we're at 12 stories.
Have you seen any improvement in terms of representation for Asians and Asian-Americans in mainstream media?VH: I think there is definitely an improvement. I mean, we started [Banana] ourselves 'cause we were very inspired by Eddie Huang and what he's been doing with his book, the TV show, his channel on VICE, and his own social channels. We look at people like Awkwafina, who has been a huge supporter of ours, and she's been getting so much press. She was just on a billboard in L.A. doing something with Comedy Central; like, she has her own talk show. Things are definitely getting out there, and I feel like, especially in the time that we're in, a lot of people are frustrated and angry but also inspired to voice their opinions and feeling positive about being true to their identity and exploring their culture more. I see more bylines from Asian writers, which is really exciting, and more Asian leadership in top companies, which is a really big deal too. It's slow and steady, but I think right now is a really good time for more Asians to speak up and really be proud of their heritage.KT: There are definitely improvements, year after year, since the days where we only had Jackie Chan, Lucy Liu, and a few others to look to in the media. We still have a looooong way to go, but with figures like Eddie Huang, Constance Wu, John Cho, and more, we're definitely getting more representation in the media. We're seeing more Asians cast in relatable roles, and even more male lead love interests cast with Asian actors, like Vincent Rodriguez III in Crazy Ex-Girlfriend and Aziz Ansari in Master of None. However, missteps like Ghost in the Shell are still happening, so there's still work to do. 
What are you hoping to accomplish or achieve with Banana?KT: I hope to give something back to my community that I didn't have growing up—something that Asians across the globe who are caught between the East and West influences can fully relate to.VH: I really want to get it as big as possible, so that people all over can read it and relate to it. Everyone in the Western hemisphere is really intrigued by what is happening in Eastern culture, and then everyone in the Eastern culture is very inspired by what's happening in Western culture. With the internet and social media, it's so easy to reach someone in Seoul or Shangdu and to be able to relate to each other. My hope is to really get Banana out globally so that we can all collect our stories on our collective identity together, and it's not a segmented thing between Asian-Americans and Asians because there's so much inner-connectivity between the two. Secondly, we want [Banana] to be something that people can look at 10, 20, 30 years down the line and know that this is what was happening in Asian culture during that time and this is what was interesting at that time and this is what people our age and our generation were interested in.
How has Banana impacted your community?KT: It still humbles and surprises me when we get emails from Asians from all different countries who take the time to write us, thanking us for creating a magazine that they feel truly represents them. I hope to achieve that feeling with every issue.VH: As far as reactions from readers and supporters, it's been tremendous. I didn't think anyone would write us emails, like personal emails or anything, but we have consistently been receiving really personal emails from total strangers from around the world. Most of them are just like, "Thank you for making this magazine. Nothing like this exists, and I wish I had this when I was growing up or like I'm so glad I have it now." There was one email that really stuck out to us; this one girl emailed us saying that she was so inspired by the magazine that she came out to her parents that week because she wasn't afraid to be who she really was. I was shocked. The fact that we are really helping people feel like there's a community and a voice out there really changed everything for us, and it proved to us that we had to keep doing this. 
How have your families reacted to the magazine?KT: They're completely supportive. My oldest sister Stephanie actually helped us come up with the name, and my other sister Tiffany contributes her talented writing to every issue! There's also a pretty great cameo of my mom in Issue 002.VH: They're super stoked. I don't think [my family] realized how much I appreciated the history and the heritage behind being Chinese until they saw the magazine come out, and they were like, "Oh, didn't know you were that passionate about it," and I was like, "Yeah, it's cool to be Asian." I think Asian-Americans do struggle with appreciating it and realizing that it's really cool to know a different language and to have a different culture and to have different traditions. After I put out the first issue, I appreciated it even more. 
Where do you hope to see Banana a year from now?KT: Issue 004! We also hope to continue to get involved in our community by hosting more panels and meetups.VH: I'd love to expand it into something more than just a magazine. Right now it's a platform, and one of the outlets is a print magazine, and we also have a monthly newsletter and our social channels to grow. Hopefully, within the next year, we can turn it into more of a brand. We're working on a few cool merch items for the launch of Issue 003. We have a Baesian nameplate that's coming out, for which we partnered with this really awesome jeweler we featured in Issue 002 called Tommy the Jeweler based out of Chinatown. We have a few T-shirts coming out and things that you could own outside of the magazine that will make you really feel part of the community and part of the message and the brand.