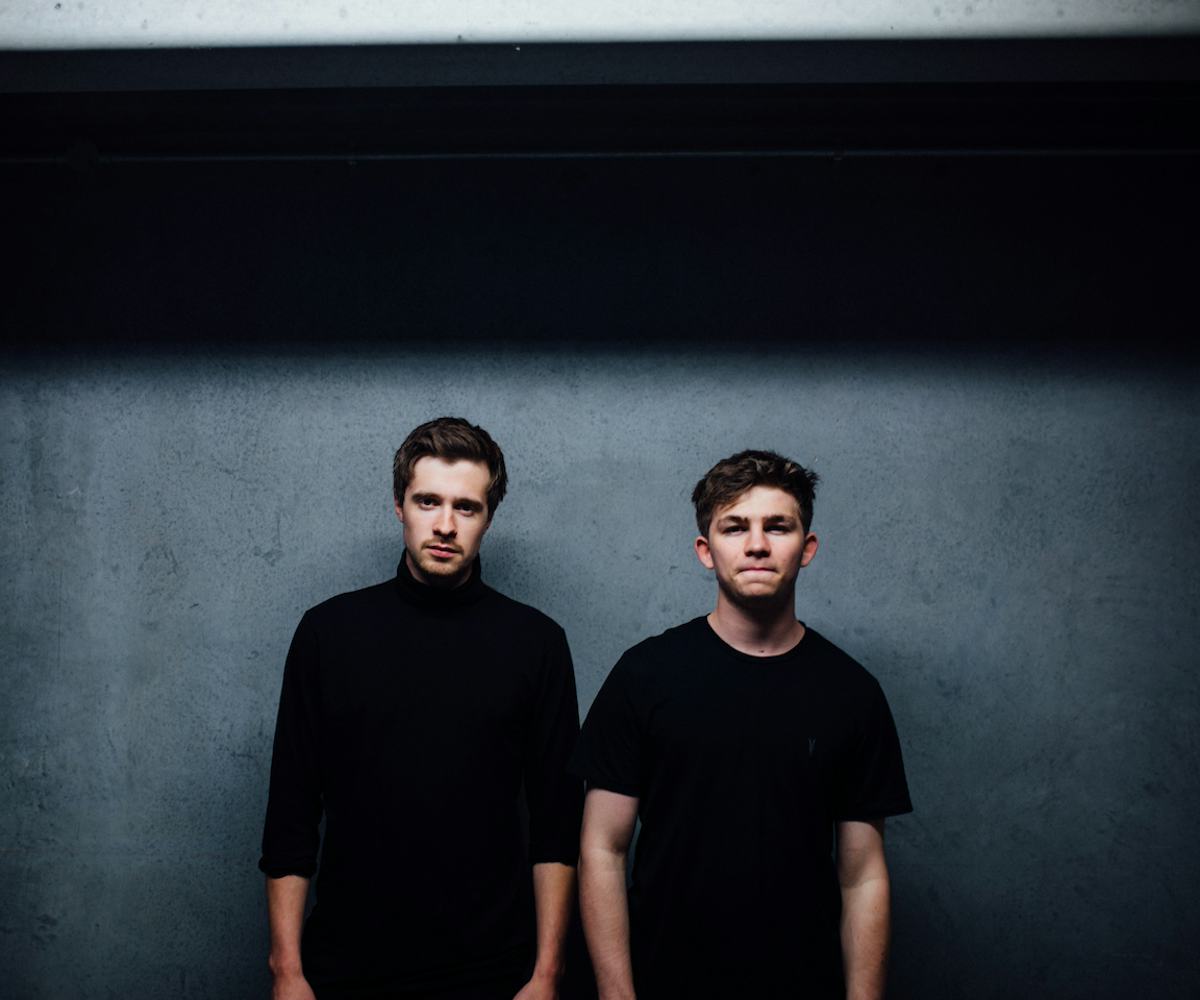 Photographed by Harvey Pearson.
Aquilo Is A Master Duo Of Dreamy Electropop
influenced by metal + grunge
After ending 2015 with their latest Painting Pictures of a War EP, Aquilo is well on their way to becoming one of the faces of the dreamy electropop scene that is defining the mid-2010s, and making a breakthrough in mainstream music at the same time. Made up of twenty-somethings Ben Fletcher and Tom Higham, the duo hails from the Lake District of England. With their hometown tucked within a mountainous region, it makes sense that their music would tread on the more ambient side, which is why we were surprised that their distinctive sound was inspired by two polar-opposite genres: metal and grunge.
So, how exactly did that xx-esque sound come to be? We caught up with the band to find the answer. In the interview below, we talk about their humble beginnings, their favorite new music, and some of their greatest influences. (Aquilo also recently released Midnight, a live EP!)
Where did the name "Aquilo" come from?
Ben: 
We both had a few names but they were pretty bad. We originally called ourselves Vague Abyss. Not quite sure how that ever came about. Eventually, Tom's mum suggested Aquilo. We laughed at it for a while but it grew on us. It's Greek mythology for a northerly wind… It all just seemed to work, as we're from the north of England.
Separately, the two of you were involved in pretty different genres before forming Aquilo and making this new sound. So, just how did your sound come about?
Ben: 
I was in a grunge band and Tom was in a sort of metal band. It's bizarre to think those older days have an influence on what we are now, but they really do. The sound we have now and the transition from the sound we had before Aquilo felt very natural. The electronic elements came about in our music as we couldn't afford to produce our own big rock albums, so we started writing music to fit the instruments we had. A piano, acoustic guitar, electric guitar, and a drum machine.  

Did either of you ever have any hesitation in transitioning from your solo work to a duo?
Tom: 
Not really. For some reason, it all just happened without thinking about it. We both lived across the road from each other in Silverdale, so one day Ben just popped over and we started making music together.
Has your music evolved since the two of you first started working together?
Yeah, of course. We both influence each other with music we discover and grew up with, so we suppose our music is always slightly evolving.
Your sound has been described as "Justin Timberlake trying to out-falsetto Jeff Buckley." What are your thoughts on that comparison?
That is an incredible comparison. We'll take that, ha! Jeff Buckley was one of our biggest early influences, and who doesn't like a bit of JT?  
Who would your consider to be some of your greatest influences?
Jeff Buckley (obvs), Nirvana, Radiohead, Pink Floyd, Steely Dan, Mount Kimbie, Bonobo, Scott Matthews, Explosions in the Sky...
Talk about Painting Pictures of a War. Where did the inspiration for the EP come from?
They're all inspired by situations we've found ourselves in or, more so, what we were going through at the time we wrote them.
If each of you were to choose one word to describe your aesthetic as a duo, what would they be?
Ben:
Cinematic.
Tom:
Thoughtful
.
What's been some of your favorite recent music?
We hear people commenting on how music is in a bad place at the moment, but we honestly think thats a load of rubbish. We are in such an exciting era for music. Tame Impala's new album
Currents
is really good—definitely think the first album of theirs is the best, though. Olafur Arnalds and Nils Frahm have just recently done an EP together, which is bloody stunning. Two incredible music minds.
Sound and Colour
by Alabama Shakes is a masterpiece of this year. We both fell in love with Nick Hakim this summer too.