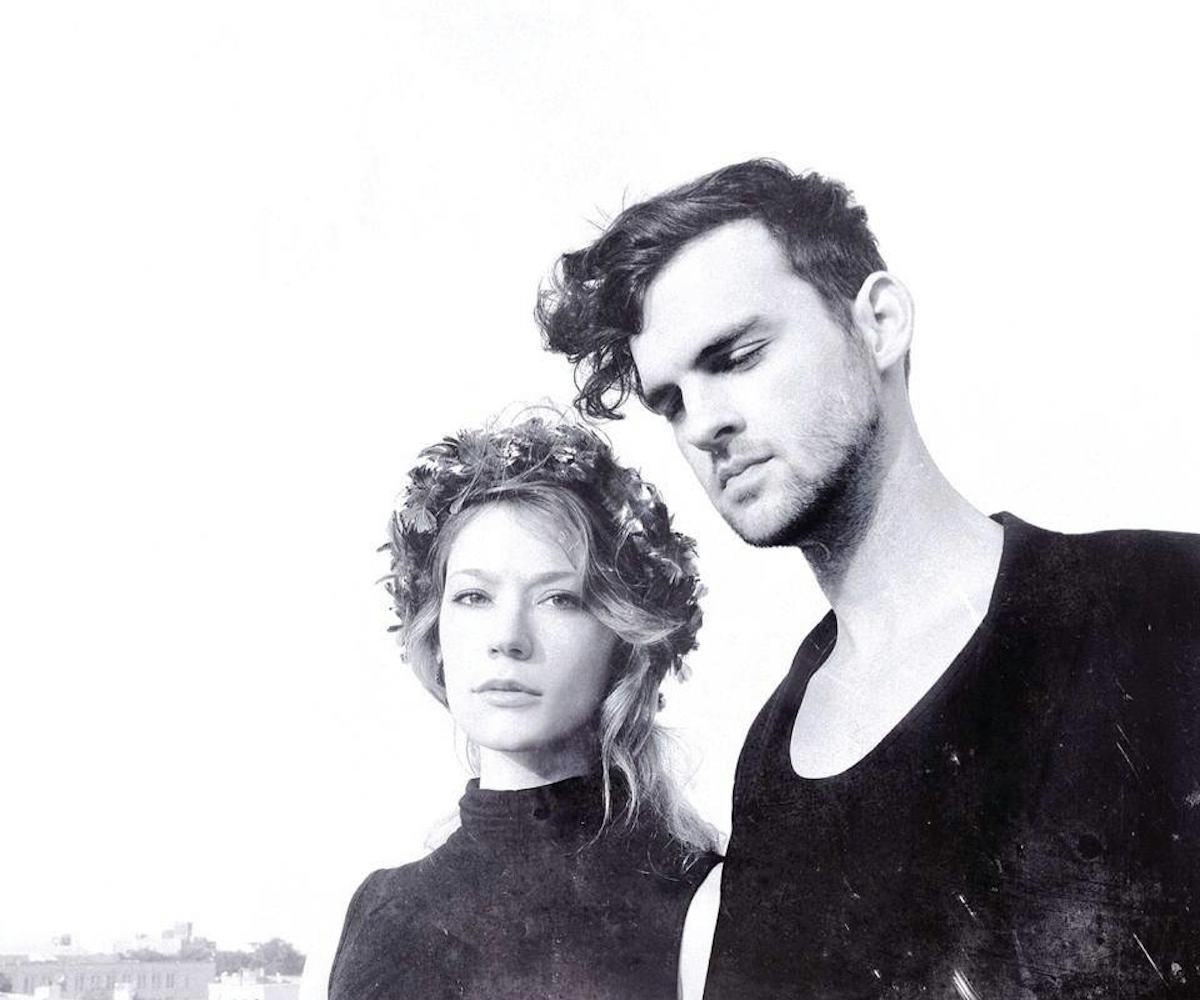 photo by shervin lainez
band crush: prom
dream-pop infused with piano and whiskey.
What happens when you mix piano folk with a little electro-pop inside of a tumbler filled with small-batch whiskey? Brooklyn-based duo, Prom.
I had the chance to sit down with Ella Zoller and Gabriel Stanley, two musicians who met through friends at a Miniature Tigers show a few years back, and who have just dropped their first EP, Keeping Company, as a duo today.
We spent the night at Brooklyn Star in Williamsburg, to sip on house cocktails made up of spicy agave syrup, draught cider, and grenadine—and to chat about everything that's happened since that Miniature Tigers show.
How did Prom first come about?
Gabriel: We met through friends of friends at a Miniature Tigers show. Ella started as a solo project called Prom. I had been looking for someone to collaborate with and wanted to make some music. She sent me some songs, one of her singing with a piano in a really echo-y room. I took one of them and did a bunch of stuff to it and sent it back to her and didn't say anything for a couple of days. She replied saying, "Yep, we're a band."
Ella: I have training in experimental theatre. When we started working together I was still doing that kind of music, very folk-based because we had a piano in our acting studio and it's what I would use. Once I met Gabriel, we started doing what we do now. He introduced me to the world of electronic pop music.
How did you get your band name?
Ella: Someone misheard me say the actual band name and I liked Prom better.
You're Instagram has so many awesome pictures of drinks. Are you really into cocktails?
Ella: He's the whiskey guy, I'm the cider person...wine, Prosecco. We like cocktails a lot.
Gabriel: We have a different bottle of whiskey for all the songs we do. I buy in small batch, so that's a studio thing. As we recorded the album, we took a bit of time on each song and spaced them out time wise, so I'd buy a bottle of whiskey for each song. The liquor store across the street sells these premade cocktails with these crazy physics labels on them.
Are you guys from New York?
Ella: No, I was born in Delaware but I moved around a lot. If you get to the right areas with the sprawling green landscapes, it's just so pretty. My grandparents live there still and they have really beautiful gardens. That's what my grandma does and it's just perfect.
Gabriel: I'm from Mississippi. Just wait, my accent will come out.
Where have you guys toured as a band so far?
Gabriel: Not so many places as Prom yet, but we travel together a lot. We have a bunch of videos that are going to be up in our live set.
Ella: Every time we travel, we take these GoPro cameras with us. We like to go to lakes, and we'll take them into the water with us. There have been five or six different instances where we've done that in the past few years.
Gabriel: All the oceans…we flew through a lightning storm and I stuck a camera to the window of a plane and just let it roll for like an hour.
Ella: We like to do a lot of our own video stuff.
Do you also do your own album art?
Ella: Yes the EP art was actually a photo that was taken by our friend Ian Perlman.
Gabriel: We are both in that photo with a bunch of our friends at a music festival.
Who are some of your favorite bands right now?
Gabriel: Actually I've gotten really into A$AP Mob this year. I also really like Sylvan Esso—it's really interesting because it was the first electronic album I heard that was like, folk music. XXYYXX is also amazing.
Ella: I discovered Phantogram in February and I can not find a song that I don't completely vibe with. I just really love their music. I love what they do.
How do you think know you'll know that you've made it?
Ella: If I can cook the Trout Salad from Brooklyn Star, I'll know I've made it. My mom would always cook out of those illustrated magazines. She has a seven-year collection of those. She is really good at salads. There's really one salad I can do because she taught me.
Gabriel: I don't know what "made it" means.
Stream Keeping Company below and scoop up your own copy right here.
How To Make Ella's Favorite Salad:
All you need is romaine lettuce. Then you make the dressing up of green onions, mustard, lemon, olive oil, red peppers, hummus, cheese, olives, cucumbers.